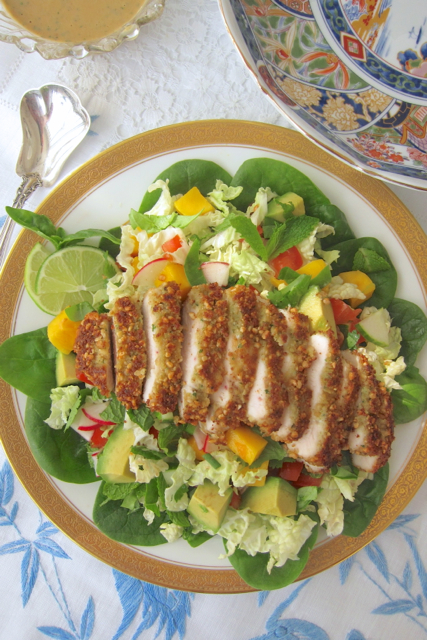 Salad
Ingredients
Napa cabbage, cut in half lengthwise, then sliced thin
spinach
green onions, sliced thin
sliced radishes
cucumber, diced
tomato, diced
avocado, diced
mango. diced
fresh mint, sliced into slivers or small pieces
fresh basil, sliced into slivers or small pieces
fresh cilantro, sliced into slivers or small pieces
lime
100% buckwheat soba noodles, cooked and chilled (optional)
salted roasted peanuts, cut into pieces (optional)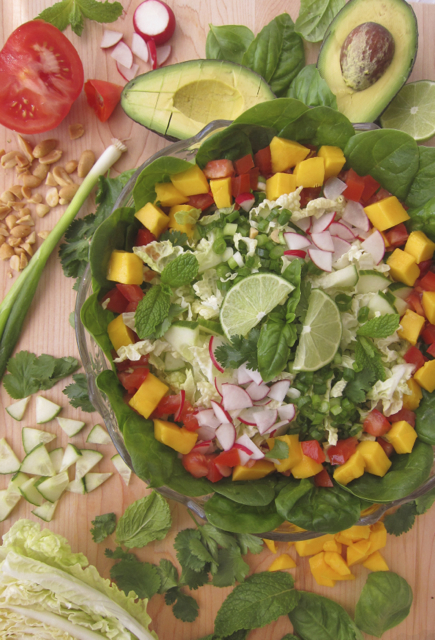 Peanut Crusted Chicken Breasts
Ingredients
4 chicken breasts
2/3 cup gluten free bread crumbs
2/3 cup peanuts
6 fresh basil leaves
1 teaspoon salt
1/2 teaspoon pepper
1 large egg, beaten
1/4 cup rice flour
2 tablespoons unsalted butter
3 tablespoons olive oil
Instructions
Slice chicken breasts down the middle, place in a plastic bag and pound evenly to 1/2″ thick. Place bread crumbs, peanuts, basil leaves, salt and pepper in a food processor and process until crumbly. Put beaten egg in a pie plate or a dish. Sprinkle nut mixture on another place and  the rice flour on another. One at a time dust the chicken breasts with the rice flour, dip in the egg, then set in the nut mixture and bring some of the mixture over the top and press the mixture evenly around each piece. Set on a plate in one layer and chill in the refrigerator for an hour. Heat a non stick sauté pan for 5 minutes on medium high. Add the butter and oil. (If you don't have a large enough sauté pan, use two sauté pans so you can do all eight pieces at one time, dividing the butter and oil between the pans). When the butter and oil are hot carefully slip the chicken off the plate into the pan (it should sizzle) and cook 4 minutes on each side. Let rest for 2 to 3 minutes before cutting the pieces into strips.
Thai Dressing
 Ingredients
1/2 cup unsalted peanut butter (chunky is fine)
1/4 cup rice vinegar
1/4 cup lime juice
6 tablespoons grape seed oil or light olive oil
2 tablespoons Coconut Secret Coconut Aminos (soy free 'soy sauce')
2 tablespoons honey
3 cloves garlic, minced
2 tablespoons fresh ginger, cut into small pieces
2 teaspoons salt
1 teaspoon Sriracha chili paste
1/2 cup loosely packed fresh cilantro leaves
Instructions
Blend in a food processor until almost smooth. It's better to use a food processor and not a blender so the cilantro will be small flakes and the dressing will be a nice color.
Assembly
Arrange the salad on a plate, drizzle with dressing  and lay the chicken strips across the top. Or pass the dressing and drizzle it on the salad (not the chicken).