Easy Pot Roast and Mashed Cauliflower With Boursin Herbed Cheese
Picking out a good roast is like learning how to pick a ripe avocado. Every butcher I've talked to have been very nice and they show you what you need. You can use any kind of chuck roast for this recipe. Today I went to two stores to find a nice roast. I spoke with a butcher about a roast with a label that read "USDA Choice Chuck Pot Roast Boneless." He said that this is the classic pot roast. It's flat and looks like a very big steak. I prefer the taller and rounder chuck roasts because I use a small pot.
When looking for a good roast the next thing to look for is a roast that has some marbling. Pot roasts are cooked so long they are going to get tender, but marbling also adds flavor. It's fat so if you need to avoid beef fat, choose a roast with less marbling. You can google "marbled meat" and see images of what to look for or talk to a butcher.
Pot roast is traditionally served with quartered small potatoes and carrots cut into 3 inch pieces. If your pot has enough room, you can add them to the pot an hour or so before it's done. For something different that is really great, I am posting a delicious cauliflower recipe. Anyone who says they don't like cauliflower will completely change their minds. They look just like mashed potatoes so you have to warn people so their taste buds are ready for it and they can appreciate how great they are when they take their first bite, instead of their eyebrows crossing wondering what they are eating.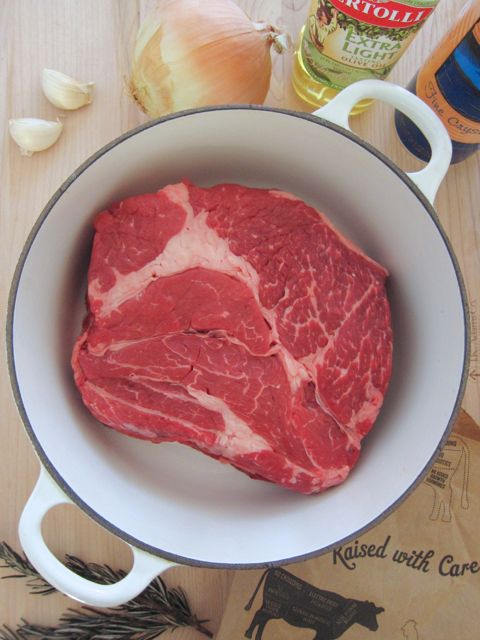 Easy Pot Roast
Ingredients
1 2 1/2 – 3 1/2 pound chuck roast
salt and pepper
1 tablespoon olive oil
2 large cloves garlic, minced
1 onion
3 -4 inches of leaves from a sprig of rosemary
Instructions
Heat oil in a 3 1/2 quart dutch oven. Rinse roast and dry with paper towels and sprinkle with salt and pepper. Sear roast on both sides, all sides if you have a taller or more round roast. Spread minced garlic on the roast and add the sliced onion and rosemary. Cover pot, turn heat down to simmer and cook until tender, about 3 to 4 hours depending on the size and shape. Remove roast. Strain juice and season with salt and pepper for au jus. If you want gravy, heat the juice in a small pan and thicken with a little flour mixed with water.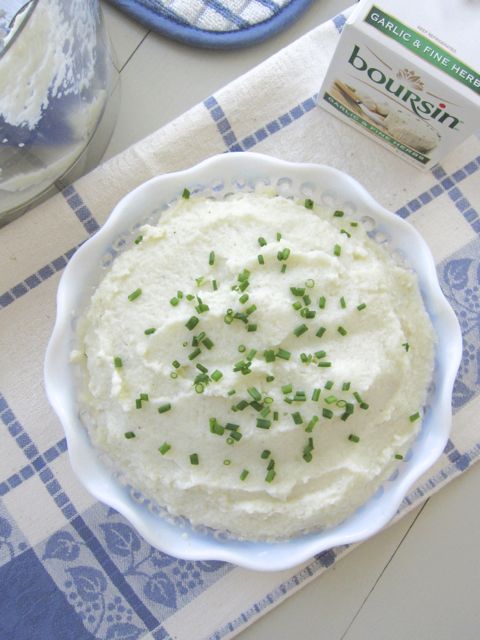 Mashed Cauliflower With Boursin Herbed Cheese
Ingredients


cauliflower florets from 1 head of cauliflower
3 tablespoons Boursin Garlic and Fine Herbs cheese (This flavor of Boursin cheese does not have additives the other flavors do.)
2 tablespoons butter
1/2 teaspoon salt
1/4 teaspoon pepper
chives, sliced thin
Instructions
Steam cauliflower florets for 20 minutes or until tender. Place in a food processor with the cheese, butter, salt and pepper. Process until desired creaminess.
Serve with minced chives.