Persimmon and Pomegranate Salad
Persimmon and Pomegranate Salad
Salad
Ingredients
Fuyu persimmon*, peeled, cut into four slices widthwise and cut each slice into 8 pieces
pomegranate seeds
baby lettuce mix and arugula
green onions, thinly sliced
Dressing
Ingredients
1/2 cup light olive oil (like Bertolli)
3 tablespoons red wine vinegar
1/2 teaspoon salt
1/3 teaspoon pepper
1 garlic clove, minced
2 teaspoons clover honey
Instructions
Put all ingredients in a jar and shake until well blended.
Assembly
Arrange the amount of greens you would like on a plate and sprinkle with the sliced onions. Drizzle with the dressing and place the sliced persimmons and pomegranate seeds on the side.
*There are two kinds of persimmons that you find in stores. Hachiya persimmons are acorn shaped and you wait until they are very soft, cut them in half and scoop out the insides and puree them for baking. Fuyu persimmons are shaped like tomatoes and are eaten staring when you can slightly press into them but the are still basically firm.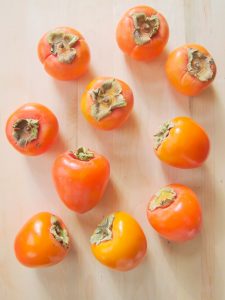 Fuyu persimmons are at the top and Hachiya are on the bottom.