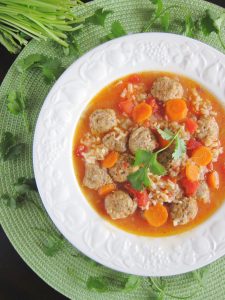 Albondigas Soup
Meatballs
Ingredients
1 pound ground turkey
1 egg
2 slices Nutritious Gluten-Free Bread (June/2014) or crushed tortilla chips*
1/2 cup red onion, finely chopped
1 tablespoon cilantro, finely minced
1 tablespoon fresh oregano, finely minced
1/2 teaspoon cumin
1 teaspoon salt
1/2 teaspoon pepper
Instructions
Process bread in a food processor into crumbs. Place all ingredients in a glass or ceramic bowl. Mix well and chill 1 hour.
Soup
Ingredients
1 cup onion, diced
1 garlic clove, minced
5 small carrots, sliced into coins
3 small celery stalks, diced
1 tablespoon avocado or olive
7-8 cups chicken broth
1 14 ounce can mini tomatoes
1/2 cup brown rice, rinsed
1 teaspoon honey
1/2-1 teaspoon red pepper flakes or 1/4 cup fresh Anaheim chili, chopped fine (red pepper flakes are hot and the chili is mild)
1 bay leaf
Instructions
Sauté onion in oil for 5 minutes. Add garlic, carrots and celery and sauté for 3 minutes. Add rice, tomatoes, broth, red pepper flakes or chili, honey and bay leaf and simmer 30 minutes. Form meat into 1″ balls and drop into simmering soup. Bring to boil, cover, turn down to simmer and cook 20 minutes more.
Serve with fresh cilantro leaves.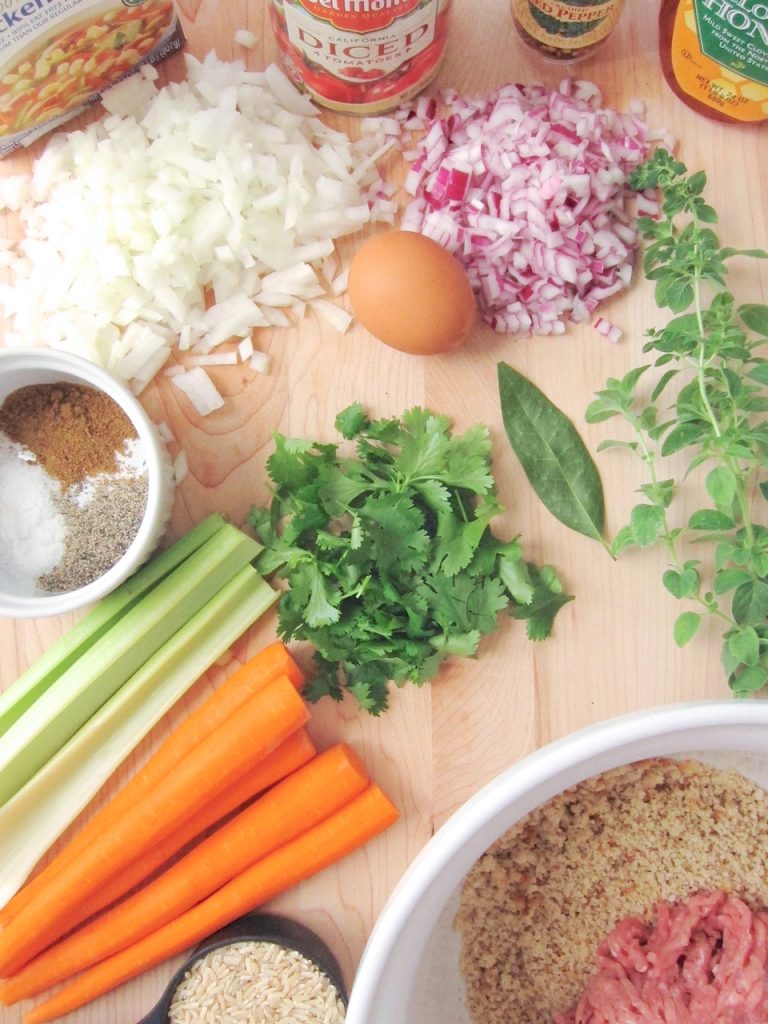 *Use plain tortilla chips. Heavily flavored chips will overwhelm the soup's flavor. Whole Foods 365 Organic Tortilla Strips and Trader Joe's Organic White Corn Tortilla Chips are good.