Spinach and Feta Quiche with Dill and Garlic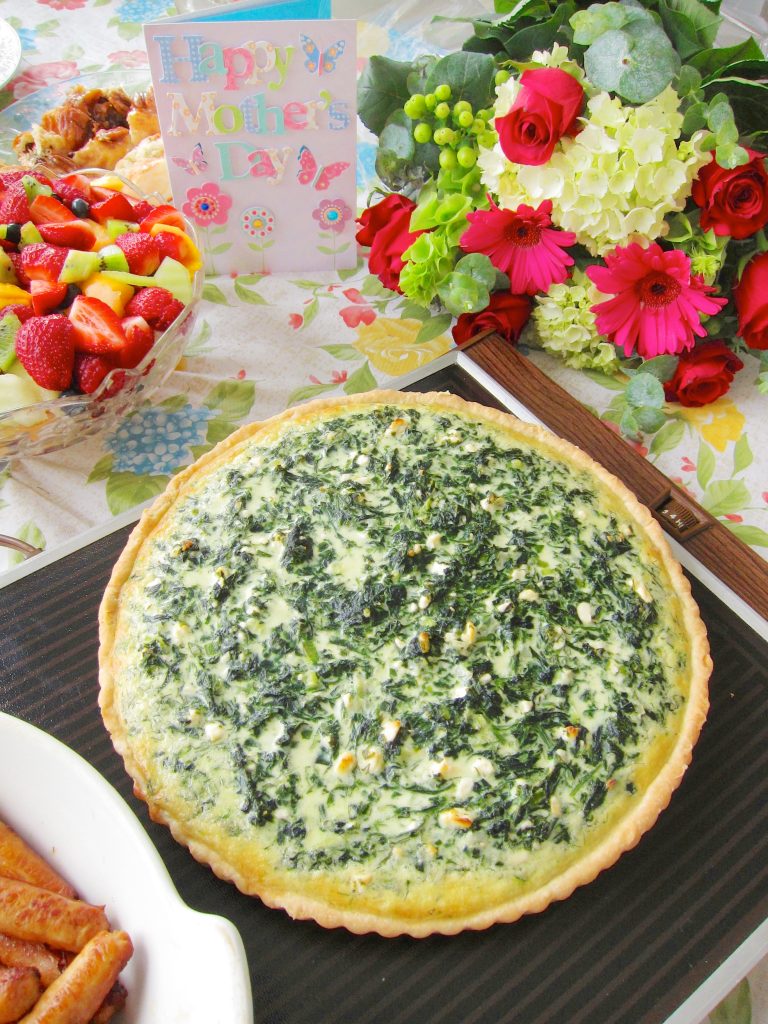 Spinach and Feta Quiche
Ingredients
1/4 cup yellow onion, chopped fine
1 green onion sliced thin
1 clove garlic, minced
1 tablespoon butter
16 ounces fresh spinach, steamed, squeezed dry and chopped (it should measure 1 1/2 cups)
1/2 cup fresh dill, chopped fine
4 large eggs
1 cup half and half
1/2 cup heavy cream
1/2 to 1 teaspoon pepper (use 1/2 teaspoon if you don't like heat)
4 ounces feta cheese, crumbled into small pieces
3/4 cup Jarlsberg cheese, grated
pastry crust (below)
Instructions
Line an 11 inch tart pan with pastry crust below. Trim the crust leaving about a 1/2 inch and fold this in and press to make the sides sturdy. Then press a piece of aluminum foil, shiny side down, on to crust and freeze for 30 minutes. Fill with pie weights (dry beans). Bake in a 425 degree oven for 15 minutes, remove weights and foil and bake another 5 minutes. Sprinkle the swiss cheese on the bottom. Turn oven down to 375 degrees. Meanwhile, saute the onion, green onion and garlic in butter until translucent (don't brown). Let cool. Whisk eggs, half and half and cream in a mixing bowl. Add the spinach, dill, pepper, feta cheese and onion mixture and mix with at fork. Pour into baked shell and bake 35-40 minutes or until center is set.
Pastry Crust
Ingredients
1 3/4 cups flour
1 stick plus 3 tablespoons cold butter, cut into pieces
1 egg yolk
5 tablespoons cold water
Instructions
Place flour, butter, and egg yolk in food processor. Process until blended (do not allow to begin to stick together). While running add the water. Stop the processor just before the mixture starts to ball. Remove and roll out to about 13 inches on a floured bread board.