Fresh Berry Tea Cakes With Almond
Need something red, white and blue for a fourth of July picnic? These yummy cakes are made with coconut flour and flavored with almond, coconut and fresh blueberry and raspberries.
Coconut flour is very different to bake with because it is very absorbent. What you will notice when you run across a recipe made with coconut flour is there are a lot of eggs and the ratio of liquid to dry ingredients is much higher. For every one cup of coconut flour you use, you can expect to see 5 -6 eggs and 1 cup of liquid such as almond or coconut milk. Since you cannot substitute coconut flour for a grain based flour at anywhere near a 1:1 ratio, it's best to use recipes that have already been worked out to avoid a lot of expense and time trying to convert a recipe or develop a recipe on your own.
Coconut flour is gluten free and high in fiber and protein and low in carbs. It's good for digestion. The high amount of coconut oil in it makes it good for heart health. Being low in carbs it helps to balance blood sugar levels and is good for weight management. The high fiber and fat make it a very filling which is also good for weight management. So when you need a treat on a diet, these little cakes are great.
Red Hill's Organic Coconut flour acts a little different and has a very strong taste. I recommend Coconut Secret's Raw Coconut Flour, Trader Joe's Organic Coconut Flour or some other light colored coconut flour.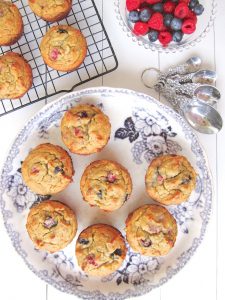 Fresh Berry Tea Cakes
Ingredients
1 cup coconut flour
1/2 teaspoon baking soda
1/2 teaspoon salt
3/4 cup melted honey*
1/2 cup avocado or light olive oil*
5 eggs
1 cup canned coconut milk
1/2 teaspoon vanilla
1/2 teaspoon almond flavoring
1/4 cup chia seeds
1/2 cup raspberries, cut in pieces
1/2 cup blueberries (cut if half if they are large)
Instructions
Butter a muffin tin and set aside. Mix flour, baking soda and salt and set aside. Whisk the honey, oil, eggs, coconut milk and flavorings together. Whisk the dry and wet ingredients together and fold in the chia seeds and fruit. Bake in a 350 degree oven for 25 minutes or until tops springs back when you touch them with your finger.
*Heating the honey and oil allows you to blend the ingredients easier and the dough is less stiff so the tops of the cakes look nicer. Don't let them get hot, just warmed.