Roasted Kohlrabi and Radishes
Purple kohlrabi is now in season at Whole Foods! If you don't yet know about this vegetable, you are in for a treat. I've been watching for them ever since I bought them last time and discovered how special and very tasty this vegetable is. According to the produce man the season will last from one week to a month. He says they sell out fast because of their growing popularity.
Kohlrabi, 'German turnip,' is a biennial vegetable. It is a member of the cabbage family along with broccoli, cauliflower, kale, collard greens, and Brussels sprouts. The bulbous part is actually the swollen stem of the plant. Uncooked it tastes like a sweeter milder version of broccoli stems, and just like broccoli stems you need to peel off the tough outer skin because it's very fibrous. The inside of the 'bulb' is denser than its broccoli counterpart so when it's cooked the texture can almost remind you of white potatoes and you can make a puree with it like you can with cauliflower. Like rutabaga, kohlrabi can be very woody. The smaller 'bulbs' are better.
For foodies around the world this alien-looking but beautiful vegetable of many varieties, both pale green and purple, is valued for both its many ways of being cooked — steamed, sautéed, stir fried, roasted, boiled and turned into veggie burgers, stuffed and baked, thinly sliced and made into chips, cut up for salads or slaws or to make 'french fries,' spiraled into 'noodles,' and put into soups and stews — and for its nutrition. Kohlrabi's nutrients include copper, potassium, manganese, iron, and calcium, and vitamin C, B-complex vitamins, vitamin A, and vitamin K. It's high in dietary fiber and antioxidant compounds.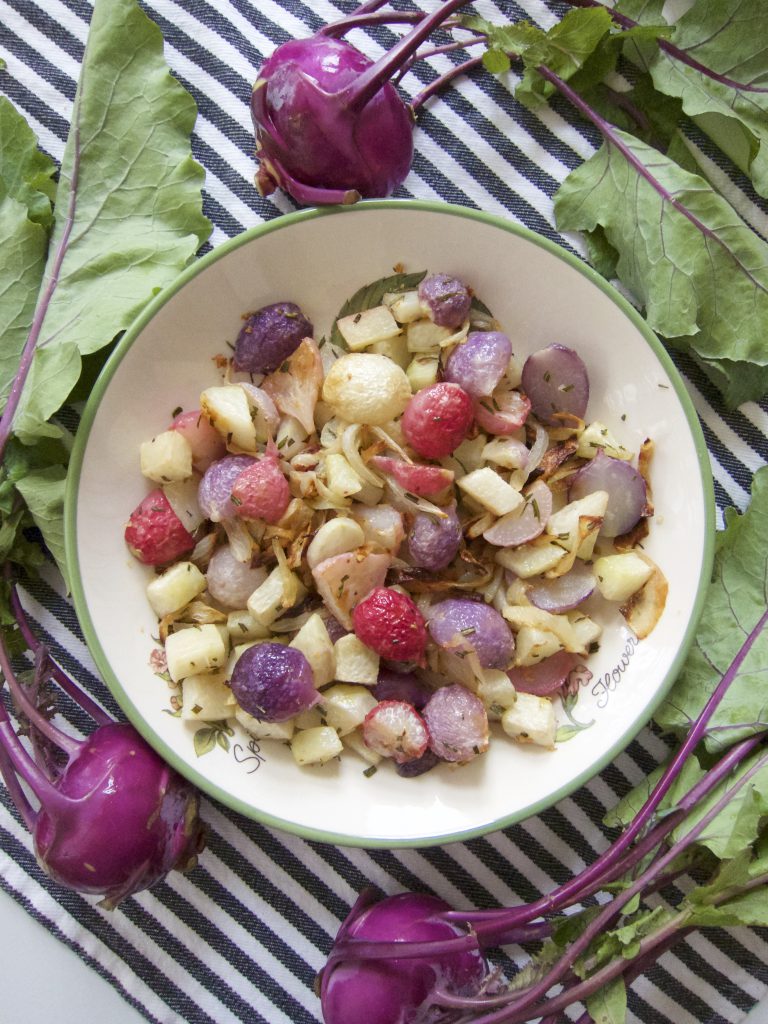 Roasted Kohlrabi and Radishes
Ingredients
 
3 purple or green kohlrabi, peeled (use a knife), and cut into 1/2″ cubes, steamed for 5 minutes, cooled (This will allow it to become tender the same time as the radishes.)
2 bunches radishes, tops and tails trimmed off, and cut in half
1/2 large yellow onion, sliced
2 tablespoons avocado or olive oil, divided
4 garlic cloves, minced
1 tablespoon chopped rosemary
salt
Instructions
Line a large cookie sheet with foil or parchment paper. Place kohlrabi and radishes in one bowl and onion in another bowl. Sprinkle 1/2 tablespoon of olive oil over the onions and mix with your hands to spread the oil over all the pieces. Spread the onions on the prepared cookie sheet and roast in a 450 degree oven for 8 – 10 ten minutes or until the edges start to brown. In the meantime measure the remaining oil into a small bowl and add the garlic and rosemary and mix. Pour mixture over the kohlrabi and radishes and mix with hands to coat all the pieces. Spread the kohlrabi and radishes amoung the onions turning the radishes cut side down. Sprinkle with salt. Roast for an additional 30 – 35 minutes or until lightly browned making sure the kohlrabi is very tender and sweet. This is high heat so keep an eye on them so they don't burn.
For an additional side dish, kohlrabi greens are similar to collard greens and kale and can be cooked. Cut the leaves off either side of the stem and place them in a steamer basket. When tender, top with chopped garlic sautéed in butter and sprinkle with salt. Kohlrabi greens are very mild tasting but fibrous and can take longer to cook than collard green and kale.