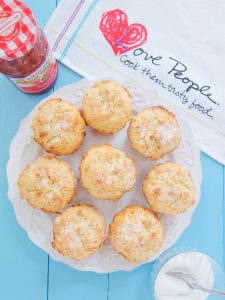 Surprise Almond Muffins
Ingredients
1 3/4 cups flour, spooned into measuring cup
1/2 cup sugar
2 teaspoons baking powder
1/2 teaspoon baking soda
1/2 teaspoon salt
7 ounces almond paste (not marzipan), grated

1 cup plain yoghurt
grated rind of one lemon
1 egg
1/4 cup butter, melted and cooled
1/2 teaspoon almond extract
1/2 teaspoon vanilla extract
Smucker's Red Raspberry Preserves or other good jam
additional sugar
Instructions
Grease a muffin pan.
Place flour, sugar, baking powder, baking soda and salt in the bowl of a food processor and process a few seconds to blend. Add the grated almond paste and process 1 minutes until blended.
Place the yoghurt, egg, butter and extracts in a medium bowl and whisk together. Add the dry mixture to the yoghurt mixture using a fork. It will be like a heavy, sticky dough.
Fill the muffin pan about 2/3's full and make a slight indentation in the middle of each muffin. Spoon a heaping teaspoon of raspberry or strawberry jam in the indentation. With the remaining 'dough' make 1 1/2 – 2″ caps of dough with your fingers and place them over the jelly. Press all around the sides of the caps to seal the dough.
Bake in a 375 degree oven for 16 minutes or until lightly browned. Don't overcook or they will be dry.