Mashed Sweet Potatoes With Crème Brûlée Topping
As I was looking through mashed sweet potato recipes, I came across a picture of a delicious looking sweet potato crème brûlée at southernplate.com. I'd never seen a recipe for this before and because there was a layer of sweet potatoes with a creamy top like marshmallow topped mashed sweet potatoes, I thought it was a warm side dish. But after looking at other recipes for sweet potato crème brûlée, I wasn't sure if it was a side dish or a dessert. I saw that normally sweet potato crème brûlées call for less mashed sweet potato, and instead of being a layer on the bottom, it's usually blended with the custard, then served cold or at room temperature as a dessert just like the classic crème brûlée.
Southern Plate's recipe I'd see first called for two large sweet potatoes and apparently my Whole Foods large sweet potatoes are bigger because I ended up with more of the sweet potato layer than in the video. Since it reminded me so much of the popular mashed sweet potatoes with the marshmallow topping, I decided to try it as a side dish with Christmas dinner and see what people thought. The consensus was first of all, everyone loved it, and we all preferred it as a side dish rather than a dessert.
Serving this at room temperature made it really easy because you take it out of the refrigerator, do the caramelized topping and then it can sit for a couple hours on the counter while you are making the rest of the food or visiting.
It worked very well as a side dish at room temperature but I also wanted to see what it would be like a little bit warm. So the next day I set the leftovers in a 300 degree oven for 20 minutes and the two layers heated nicely but the candied caramelized crust melted. If it's being served warm, the topping needs to be put on after the casserole is taken out of the refrigerator. After the experiment, I thought it's best to stay with serving it room temperature.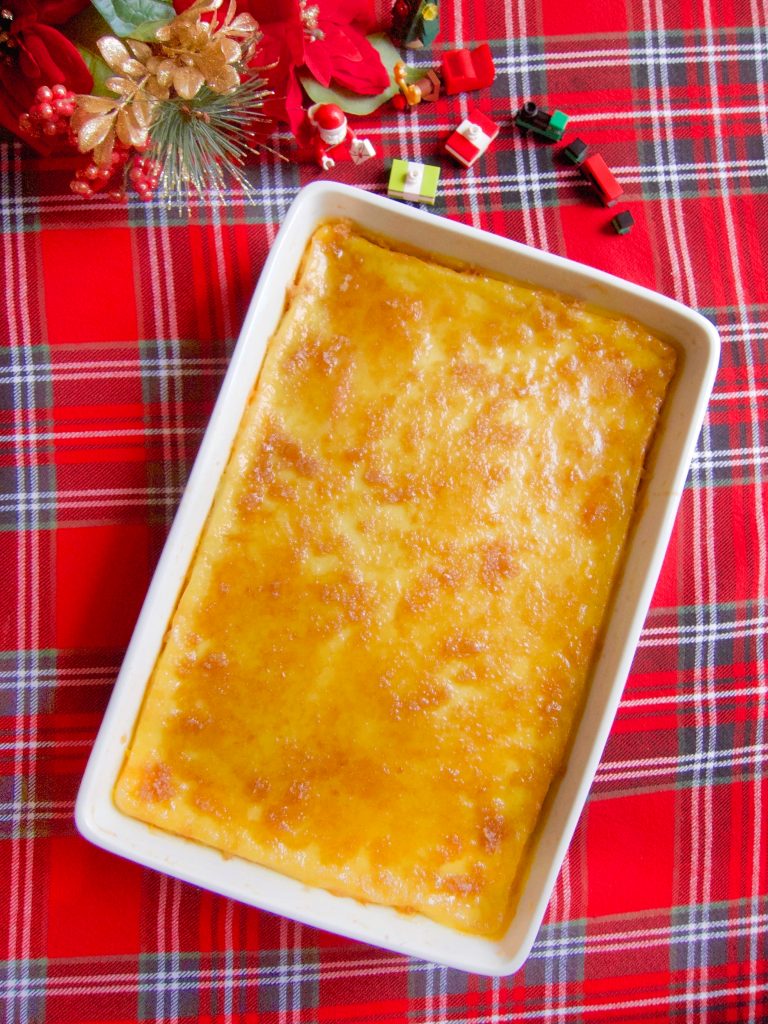 Mashed Sweet Potatoes With Crème Brûlée Topping
Ingredients
2 large (2 – 2 1/2 pounds) garnet sweet potatoes
1 1/2 teaspoons fresh lemon juice
1/2 cup light brown sugar
1/4 cup butter, melted
1/2 teaspoon cinnamon
2 eggs

For topping:

2 cups whipping cream
1/2 cup sugar
4 egg yolks
1 teaspoon vanilla

For caramelized crust:

1/3 cup light brown sugar
Instructions
Set an 8″ by 12″ casserole inside of a larger pan or casserole.
Wrap the sweet potatoes in foil and bake the sweet potatoes in a 425 degree oven until tender, 70 to 90 minutes. Let cool and refrigerate for an hour or overnight.
Make a slit down the center and slip off the skin and place in a standing mixer with the whisk attachment. Sprinkle with the lemon juice and mix for a minute. Add the brown sugar, melted butter, cinnamon and 2 eggs and whip until light and fluffy. Spoon into the bottom of the casserole.
Heat 4 cups of water in a sauce pan.
Place the whipping cream, sugar, yolks and vanilla in a bowl and whisk together. Using a measuring cup or ladle, spoon the custard over the sweet potatoes. Fill the outside pan or casserole with the hot water until it's about an inch up the sides of the inside casserole. Bake in an 325 degree oven for 1 hour. Cool, cover and refrigerate overnight.
This dish is best served at room temperature or warmed up a little by baking it in a 300 degree oven for about 20 minutes. You don't want it hot, just warm.
Before serving sprinkle the 1/3 cup light brown sugar evenly over the top and run it under the broiler until it bubbles and there's a caramelized sugar crust.