Christmas Panettone French Toast
Panettone is a sweet, brioche-like, yeasted bread with dried fruit from Italy that is on the shelf everywhere at Christmas time.
"As legend has it, Panettone's roots date to the 15th century. As John Mariani wrote in The Dictionary of Italian Food and Drink and the Washington Post subsequently highlighted, 'the cake derives its name from a 15th-century legend of an Italian baker named Toni. His beautiful daughter was courted by an aristocrat who offered to work as an apprentice in the bakery, just to be near the object of his affection. The apprentice created a very rich and very popular cake that came to be known as 'pain di Toni,' or bread of Tony. (In today's English, the name of the bread is typically pronounced 'pan-neh-To-nay.')'"
– Town and Country
Panettone comes in different flavors and at a lot of different prices. William Sonoma has coffee and hazelnut flavored panettones they sell for $49. I've been told the hazelnut is excellent. I've seen chocolate, pear and chocolate, fig and chocolate, apricot, cherry, lemon, limoncello (Italian lemon), cranberry, and you'll find it with all different types of nuts and some with brandy. The quality of the ingredients varies a lot, but the price differences also have to do with the time involved in making panettone which the Town and Country article explains.
Whole Foods Traditional Panettone flavored with candied orange does not have the additives that many of the brands have which is why I chose it. It's slightly smaller and sells for $7.99. I'm sure the Italian $150 orange and sultanas is fabulous but I found the Whole Food's version of this traditional flavoring to be absolutely delicious. Sultanas are a raisin but even if you aren't a raisin fan, they are very tender, blending right into the bread, and I don't think you will mind them. I highly recommend making french toast with it for a special Christmas time breakfast.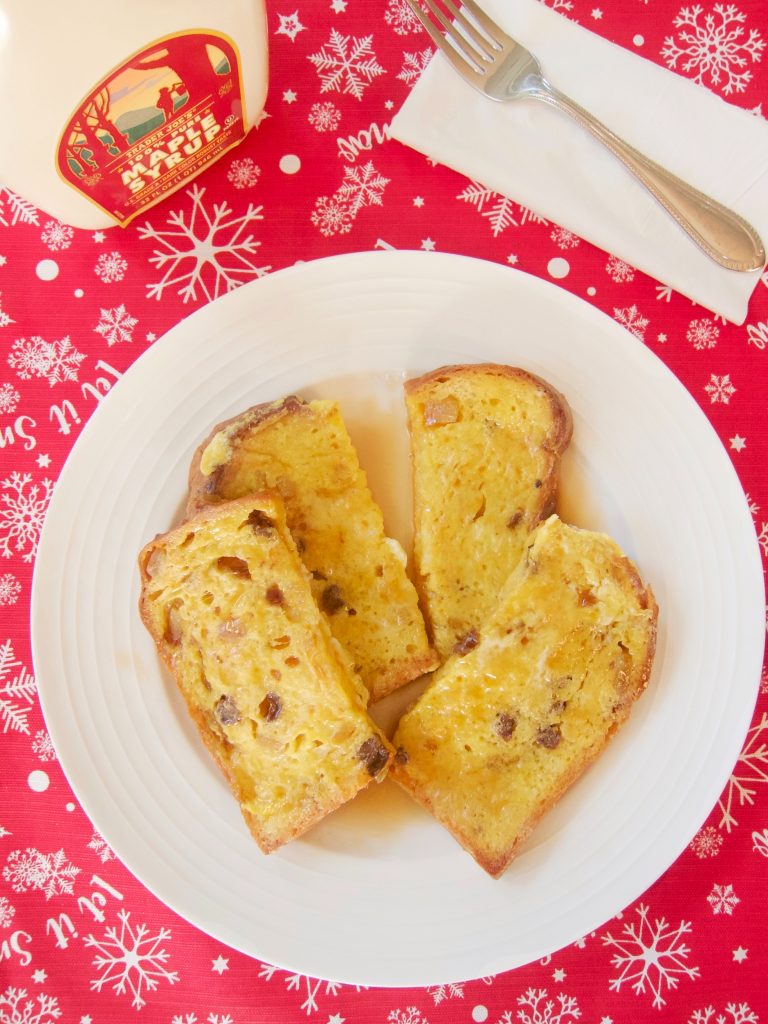 Panettone French Toast
Ingredients
You will use one large egg per whole slice of bread.
Whole Foods Traditional Panettone with candied orange and sultanas, sliced
eggs
butter
maple syrup
Instructions
Heat a skillet on medium heat like you would for scrambled eggs. Beat the eggs into a shallow bowl or plate with a lip. Whisk the eggs with a fork. Add butter to the skillet. Dip the slices of panettone in the eggs until both sides are completely covered, and place in the skillet. Cook until lightly browned on both sides.