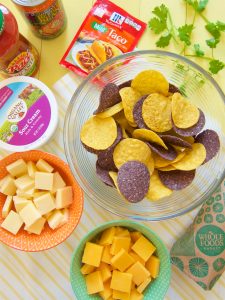 Checkerboard Nachos
Ingredients
1 pound ground beef
1 packet Lawry's Taco Spices and Seasonings
2/3 cup water
yellow and purple corn tortilla chips
1 sixteen-ounce can refried beans
cheddar cheese cut into small squares
Pace Picante Sauce, (most people like the medium amount of heat)
sour cream
fresh cilanto
Instructions
Brown meat, drain if necessary, add Spices and Seasoning and water, bring to a boil, turn heat to low and simmer 15 minutes. Mix in refried beans.
Preheat oven to 375 degrees. Spread Tostitos Scoops on cookie sheet. Fill with meat and top with cheese squares. Bake until cheese is melted.
Serve with sour cream, picante sauce and cilantro.