Aunt Chris' Holiday Salad
Aunt Chris made this as the first course to a family Thanksgiving dinner and it was wonderful!
If you want to use fresh peaches, peel and slice the peaches and blend two slices (in place of the juice) along with the rest of the salad dressing ingredients in a blender until smooth.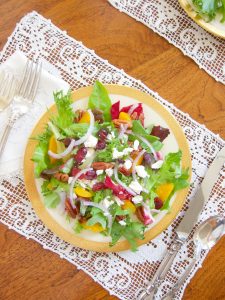 Aunt Chris' Holiday Salad
Salad
Ingredients
mixed garden greens
red onion, thinly sliced
feta cheese, crumbled
fresh or canned peaches in heavy syrup (sweetened), cut in small pieces
dried cranberries
candied pecans from the store (or homemade, see recipe below)
Instructions
Arrange salad ingredients on a plate and drizzle with dressing.
Dressing
Ingredients
2 tablespoons peach puree or juice from canned peaches
3 tablespoons lemon juice or white balsamic vinegar
1/2 cup light olive oil (like Bertolli) or grapeseed oil
1 1/2 tablespoons honey
1/2 teaspoon salt
1/4 teaspoon pepper
Instructions
Place all ingredients in a jar and shake until well blended.
Candied Pecans
Ingredients
2 cups pecans
1/4 cup maple syrup
1/8 teaspoon salt
Instructions
Heat maple syrup in a sauté pan until bubbly. Add nuts and salt and cook until dry, about 5 minutes. Use medium heat so it won't burn. Three minutes will make them glazed and in about 5 minutes you should begin to see crystals and the nuts will separate and be candied. Transfer to a plate and let cool. Store in the refrigerator.