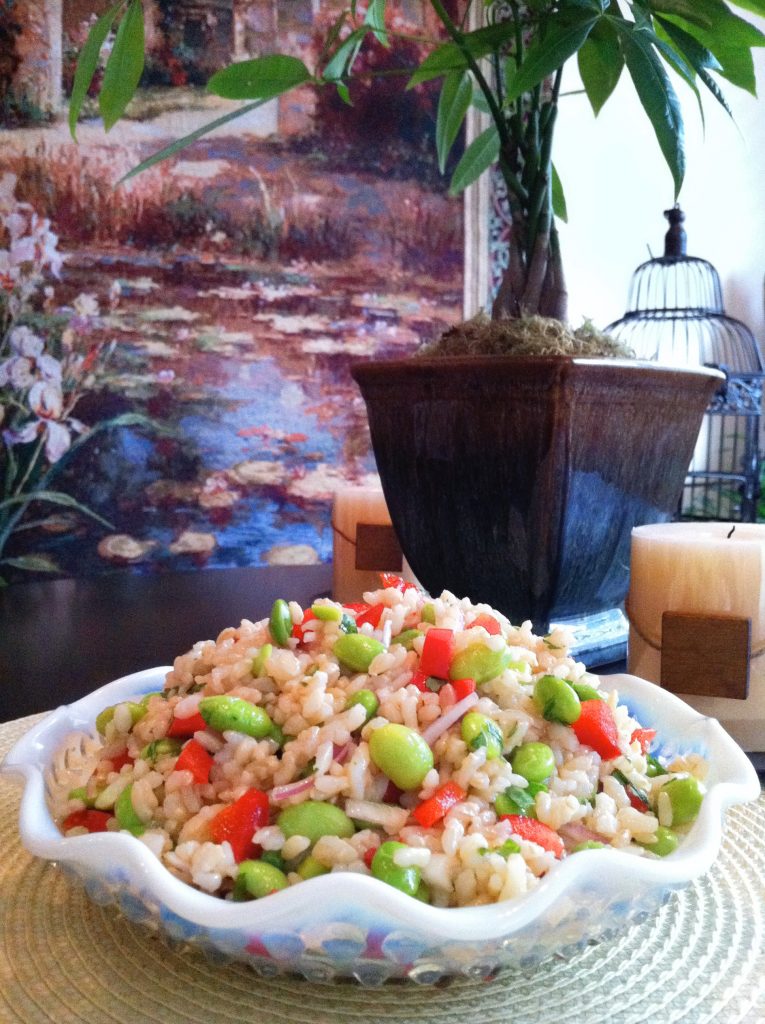 Edamame Rice Salad
Salad
Ingredients
1 cup brown rice
1 9 ounce Trader Joe's Shelled Soybeans Edamame
1/3 cup red onion, finely diced*
1/2 red bell pepper, diced
1 clove garlic, minced
1/4 cup cilantro, chopped fine
Instructions
Cook rice (recipe below) and chill. Combine rice with all remaining salad ingredients in a bowl.
*You can soak the onions for 10 minutes or pickle them for 15 minutes to temper the bite of the raw onion and possibly make them easier to digest if you have problems with raw onions.
Dressing
Ingredients
2 teaspoons sesame oil
2 tablespoons grape seed oil or light olive oil*
2 teaspoons Coconut Secret Aminos or Bragg Liquid Aminos All Purpose Seasoning
Instructions
Stir dressing ingredients together in a small bowl. Pour over the salad and mix well.
Easy Brown Rice
To cook rice, fill a saucepan with a tight fitting lid three quarters full with water and bring to a boil. Rinse the desired amount of rice with water using a sieve. Once the water is boiling, add the rice. Let the rice boil uncovered for 35 minutes, then remove from heat and drain all the water out. Put the lid on the saucepan and let stand for 5 to 10 minutes. Remove lid, sprinkle the rice with a half teaspoon of salt and fluff the rice with a fork.
*Trader Joe's Trader Grotto's Sicilian (cold pressed) Extra Virgin Olive Oil is a blend of three olives from Sicily, packaged in Italy in a beautiful bottle. It's light and delicious. Store it in the dark and use up within a month.