Poached Salmon and Watercress Salad With Tarragon Dressing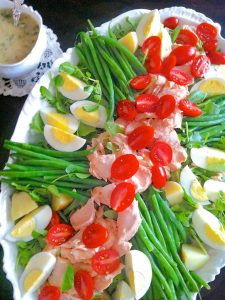 Poached Salmon and Watercress Salad With Tarragon Dressing
Poached Salmon
Ingredients
1 pound salmon filet
1 onion
1 carrot
1 celery stalk
2 tablespoon olive oil
4 cups water
2 tablespoons parsley, minced
1 bay leaf
2 teaspoons salt
3 peppercorns
pinch of cloves
Instructions
Rinse salmon and wrap in cheesecloth. In an 11″ skillet, saute onion, carrot and celery in olive oil for 5 minutes. Add water, parsley and spices and bring to boil. Gently lay salmon in boiling broth, turn heat down, cover and simmer for 10 minutes. Transfer salmon wrapped in cheesecloth to a plate, cover with foil and chill in the refrigerator.
Dressing
Ingredients
1/2 cup grape seed oil or light olive oil
1/4 cup Spectrum Organic Brown Rice Vinegar
1/4 cup shallots, chopped fine
2 teaspoons minced fresh tarragon
2 tablespoons Dijon mustard
1 teaspoon salt
3/4 teaspoon pepper
Instructions
Shake all ingredients in a jar until well blended.
Dill Sauce (optional)
Ingredients
1/2 cup creme fraiche or sour cream
1/4 cup Grapeseed Veganaise
1 teaspoon lemon juice
1/4 teaspoon salt
1/8 teaspoon pepper
1 green onion, chopped fine
1 tablespoon fresh dill, chopped fine
Instructions
Mix all ingredients together in a small bowl.
Salad
Ingredients
1/2 lb french green beans (hericots verdi), steamed 5 minutes and chilled
4 hard cooked eggs, chilled, quartered
2 bunches watercress, large stems removed
1 head butter lettuce
10 1 1/2 " white potatoes, boiled, chilled, quartered
10 mini tomatoes, halved
Assembly
Arrange salad ingredients on a large platter and remove cheesecloth from salmon and break into pieces. Or serve on separate plates, spoon the dressing over the salad, placing the dill sauce on the side for the salmon.