An enchilada is a corn tortilla rolled around a filling of meat, fish, cheese, beans, or potatoes with a pureed chili pepper sauce. Enchiladas Rancheras are enchiladas with a chunky Mexican ranch style sauce made with tomatoes, onion and a variety of peppers. It's a delicious change from the traditional chili pepper enchiladas sauce.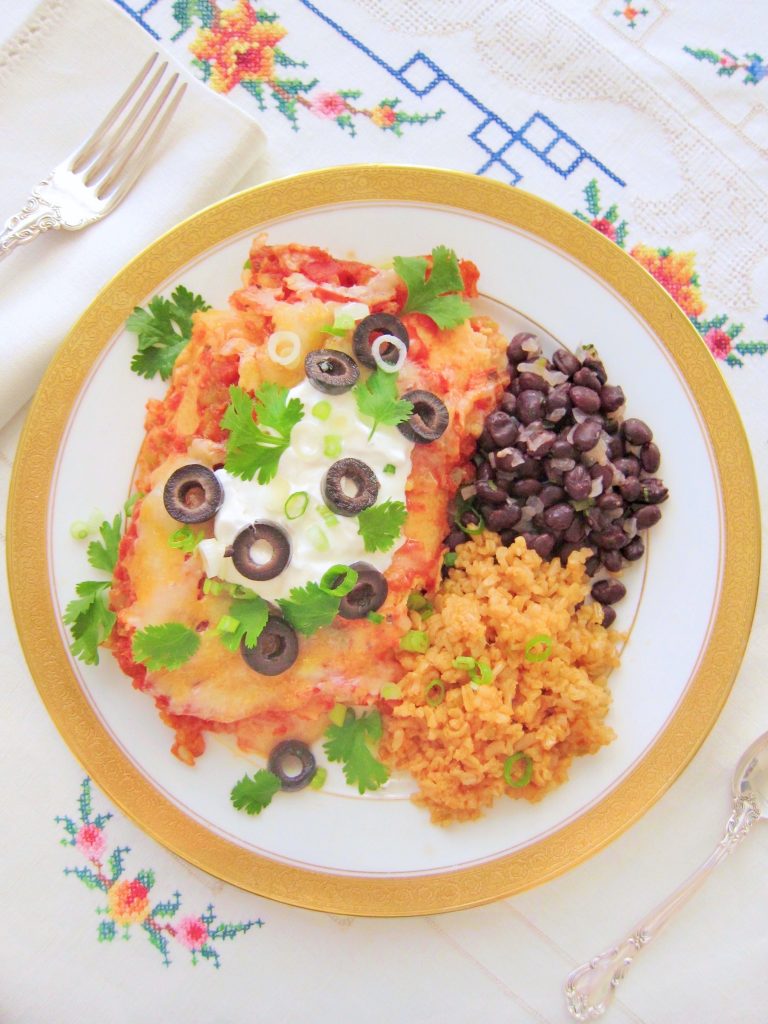 Enchiladas Rancheras
Rancheras Sauce
Ingredients
3/4 cup onion, diced
1 clove garlic, finely diced
1 1/4 cups celery, sliced
3/4 cup green pepper, diced
3 tablespoons light olive oil
3/4 teaspoon cumin
3/4 teaspoon oregano
1/3 teaspoon black pepper
3/4 teaspoon salt
1 28 oz can crushed tomatoes
1 1/2 cups Pace Chunky Salsa, Mild
1/2 cup water
Instructions
Saute onion,garlic, celery and green pepper in oil for 5 minutes. Add cumin, oregano, salt and pepper and stir 1 minute. Add crushed tomatoes, salsa and water. Bring to boil, turn heat down and simmer for 30 minutes.
Enchiladas
Ingredients
16 corn tortillas
1/3 cup light olive oil
1 1/2 pounds poached chicken tenders or one small roasted chicken, torn into bite-sized pieces, seasoned with a little salt
8 ounces jack cheese, divided
8 ounces mild cheddar cheese, divided
Instructions
To poach the chicken tenders, sprinkle lightly with salt (about 1 teaspoon per pound). Heat a large skillet and add 1 tablespoon butter. Add the tenders. They will begin to release juices. Gently poach in the liquid a couple minutes, turn them over, and continue cooking until the pink is gone. This will take less than 10 minutes. Don't overcook them or they could become tough. You can test for doneness by cutting a piece open. Cool and tear into bite-sized pieces.
Fry tortillas in oil for a few seconds to soften them and set them on paper towels to drain. Cut jack cheese and cheddar cheese into 16 'fingers' with enough cheese leftover for 1 cup of grated cheese topping. Spread 1 cup of sauce in the bottom of a large casserole. Fill the tortillas with one of each finger of cheese and the chicken pieces and lay them on the sauce. Spread the remaining sauce on top. Cover casserole with foil and bake in a 350 degree oven for 25 minutes. Remove the foil, sprinkle with the grated cheese and return to the oven for 5 minutes or until the cheese melts.
Serve with sour cream, sliced black olives, sliced green onions, cilantro, Spanish flavored rice and beans.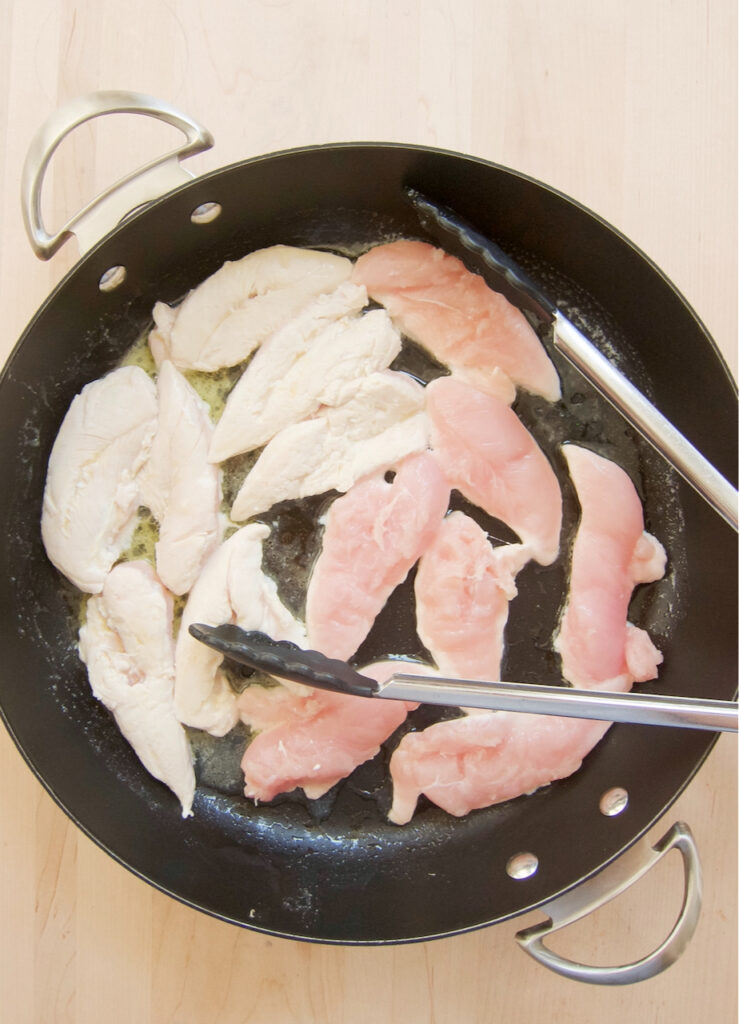 Spanish Brown Rice
Ingredients
3/4 cup long grain brown rice
2 teaspoons butter
1/3 – 1/2 of a fresh jalapeño diced (depending on how hot the pepper is), finely diced
3 green onions
1/4 teaspoon paprika
pinch of salt
1 1/3 cup chicken broth
2 teaspoons tomato paste
Instructions
Preheat oven to 350 degrees. Rinse rice and dry on paper towels. Spread on a cookie, set in the oven and turn oven off. Let dry in oven for 30 minutes. Thinly slice the white part only of the green onions and put with the chopped jalapeño and garlic. Thinly slice the green onion tops and set them in a dish in the refrigerator. Melt butter in a saucepan with tight fitting lid on medium heat. Add rice and stir to coat all the kernels (this will keep the rice kernels from sticking to each other.), Add the green onion whites, jalapeño and garlic. Saute for 5 minutes. Add the cumin, paprika and salt and sauté 30 seconds. Add the chicken broth and tomato paste. Stir until blended. Bring to boil, reduce heat, cover and cook for 35 minutes. Do not disturb lid. Remove from heat, keeping tightly covered and lest rest for 10 minutes. Fluff rice with a fork. Sprinkle with reserved green tops.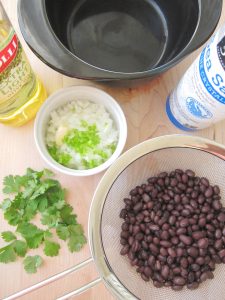 Black Beans
Ingredients
2 cans black beans
3/4 cup onion, finely chopped
1 garlic clove
1 tablespoon fresh jalapeño, finely chopped
2 tablespoons cilantro, finely chopped
salt to taste
Instructions
Saute onion, garlic and jalapeño until translucent, about 5 minutes. Add beans and cilantro and cook until hot. Season with salt.