Middle Eastern Lamb and Eggplant With Fresh Tomatoes
This is the dish for featuring beautiful summer beefsteak tomatoes. I didn't like tomatoes until I when to school in Virginia and lived with a family on farm property. The father had grown up on a farm in Ohio and he really knew how to farm. All eight of his children, down to the one and a half year old little girl, would come out to poke holes in the freshly made furrows and bury the seeds under the soil. I took my first bite of one of the tomatoes and they were nothing like the tomatoes we had in Los Angeles. It was the dark and rich Virginia soil. Now I've discovered local farmers here in Southern California, who set up booths at an outdoor market on Sundays near the post office, who know how to take care of their soil and the tomatoes are great. So wherever you are, find the good tomatoes! They are completely different than the tomatoes in the grocery stores.
Like the recipe for maklube which I figured out from a brief visit with my Syrian friend's mother, I also made this lamb dish. The preparation takes time because of the eggplant but you'll be hooked on the Middle Eastern flavor and want to make it again and again while the tomatoes are in season.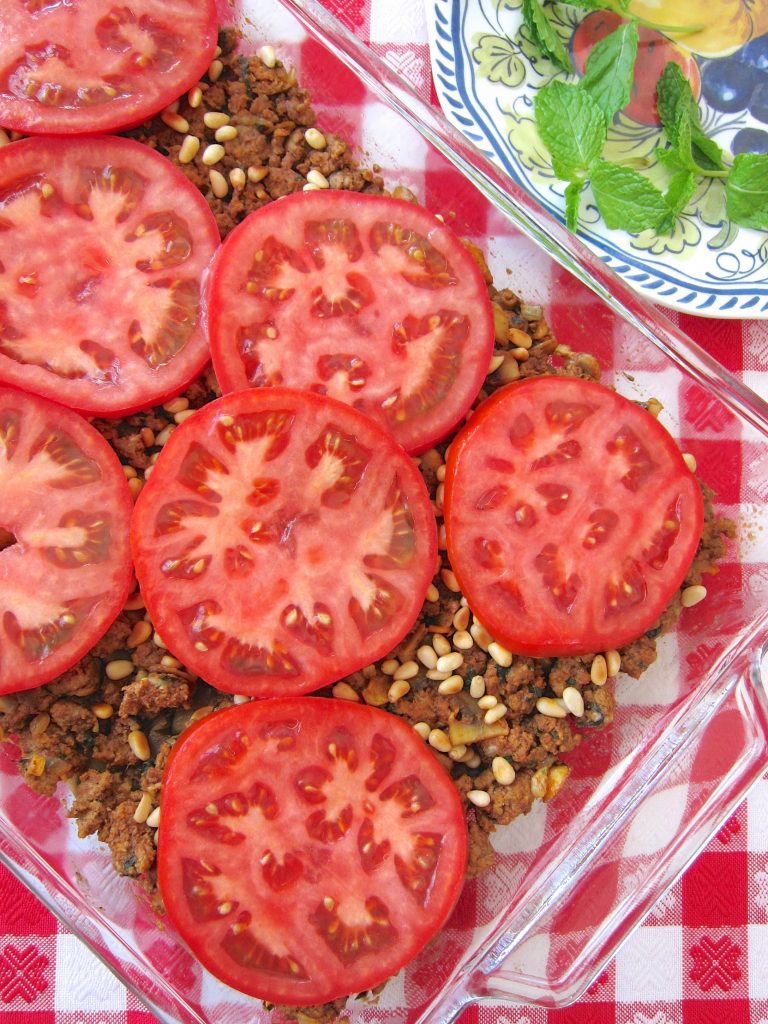 Middle Eastern Lamb and Eggplant With Fresh Tomatoes
Ingredients
2 eggplants, peeled and cut into 3/4 inch pieces, 1/2 inch thick
2 tablespoons butter
olive oil as needed
1 1/2 lbs ground lamb
1 cup onion, diced
3 garlic cloves, minced
8 oz mushrooms, halved and sliced
2 tablespoons butter
1 8 oz can tomato sauce
1/2 teaspoon cinnamon
1/2 teaspoon coriander
1/4 teaspoon turmeric
1/8 teaspoon cloves
1 1/2 teaspoon salt
1/2 teaspoon pepper
2 tablespoons minced fresh parsley
2 tablespoons minced fresh mint
1/3 cup pine nuts, toasted
2-3 large firm tomatoes like beefsteak, cut into 1/3 inch slices
Instructions
Place eggplant in a colander set on a plate, sprinkle with salt, toss and let sit for 30 minutes so it drains some of its liquid. Using medium heat, melt 1 tablespoon of butter with 1 tablespoon of olive oil in two pans. Divine the eggplant between the two pans and slowly saute the eggplant, moving the pieces around the pan and turning them over until they are very dark. Eggplant gets sweeter when it's cooked a long time. Spread in the bottom of a 3 quart casserole.
Cook lamb and drain, if necessary, and set aside. Heat 2 tablespoons butter in a pan and add onions, garlic and mushrooms and saute until brown and reduced to about a cup. Add cooked lamb, tomato sauce, cinnamon, coriander, turmeric, allspice, salt, pepper, parsley and mint. Simmer on low for 30 minutes. Spoon meat mixture over eggplant, sprinkle with toasted pine nuts, then slices of tomatoes. Bake in a 350 degree oven for 35 minutes.
Serve with brown basmati rice and tzatziki sauce.
Easy Brown Rice
To cook rice, fill a pot three quarters full with water and bring to a boil. Rinse the desired amount of rice using a sieve. Once the water is boiling, add the rice. Let the rice boil uncovered for 35 minutes, then remove from heat and drain all the water out. Put a lid on the pot and let stand for 5 to 10 minutes. Remove lid, sprinkle the rice with a half teaspoon of salt and fluff the rice with a fork.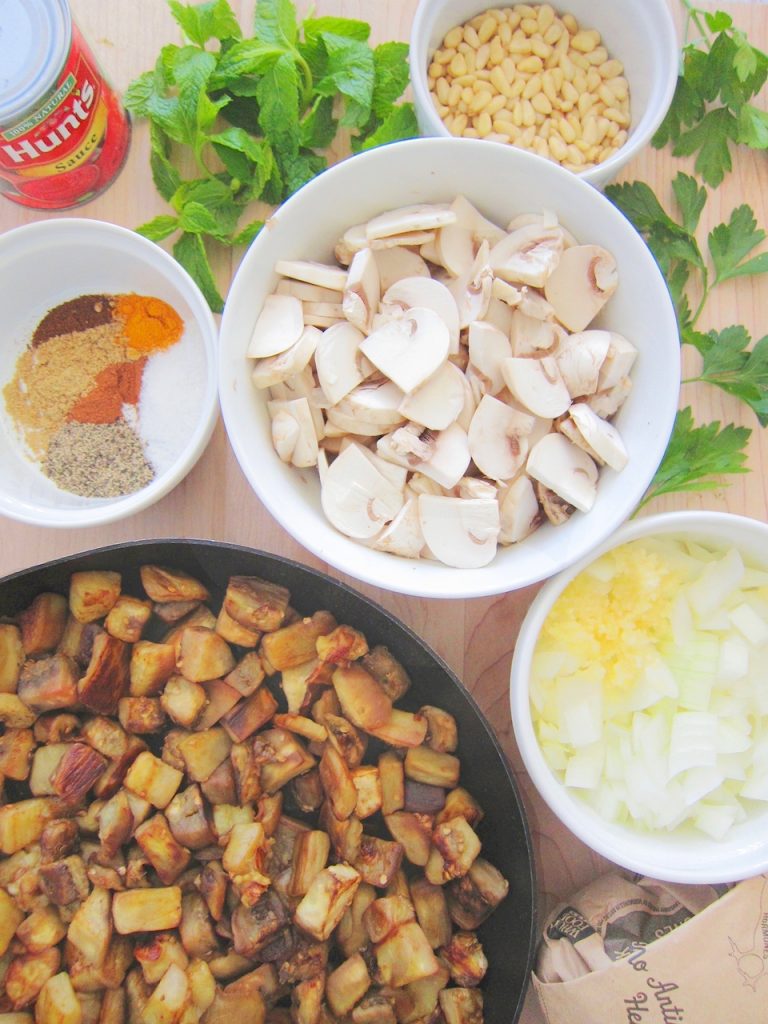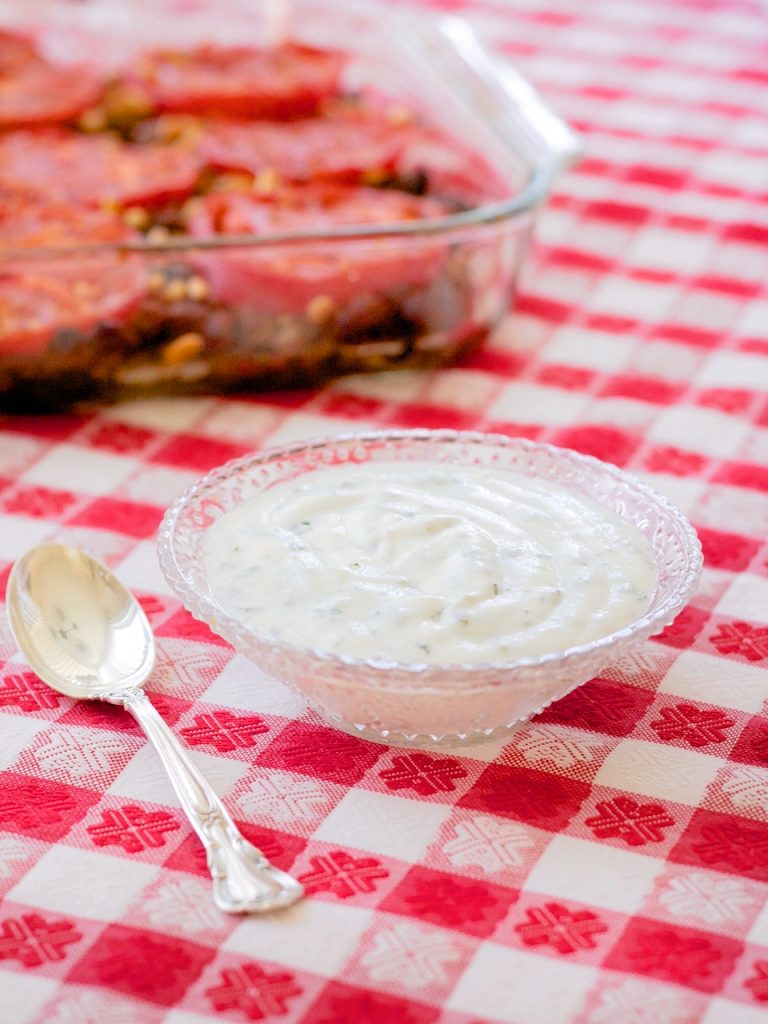 Tzatziki Sauce
Ingredients
1 cup drained plain whole milk yoghurt* or lebni
1 tablespoon olive oil
2 tablespoons lemon juice
1/4 teaspoon each salt and pepper
2 tablespoon chopped fresh mint or 1 teaspoon dried mint
1 small clove garlic, minced
Instructions
Let the yogurt drain through cheesecloth for 8 hours to reduce water. (You can do this by laying a piece of cheesecloth on a steam basket in a pan, or across the bottom of a double boiler with holes, spoon yoghurt on to cheesecloth, cover and refrigerate. I prefer this to using stained Greek yogurt that can be bitter.) Mix all ingredients together and chill for 1 hour.
Note: It's better to make this dish a day ahead of time. Great leftovers. It keeps getting better.
*Abali whole milk yogurt is great. You can find it in a Middle Eastern market.