Tetrazzini is an American dish named after an Italian opera star, Luisa Tatrazzini. It's unclear whether it was originally invented at the Palace Hotel in San Francisco or the Knickerbocker Hotel in New York City but chicken tetrazzini was made famous by Chef Louis Paquet.
If you are feeding a crowd, this great dish (another family favorite) pairs nicely with baked salmon, blanched or steamed broccoli, an Italian salad and fresh fruit salad. Although this one does fairly well, when you use gluten free pasta in a casserole, you will find that it doesn't keep and reheat as well for leftovers so you will need to invite a lot of people when making these casseroles.
The original recipes had white wine in them. If you have the time to roast the chicken yourself and use homemade stock, I recommend Trader Joe's organic brined chickens and I have posted a delicious recipe for roasting them under Roasted Chicken and Potato Hash where the stock has a wine flavor. It really adds a lot to the taste. You can also add a couple tablespoons of Mercado wine to the can of broth that you boil down.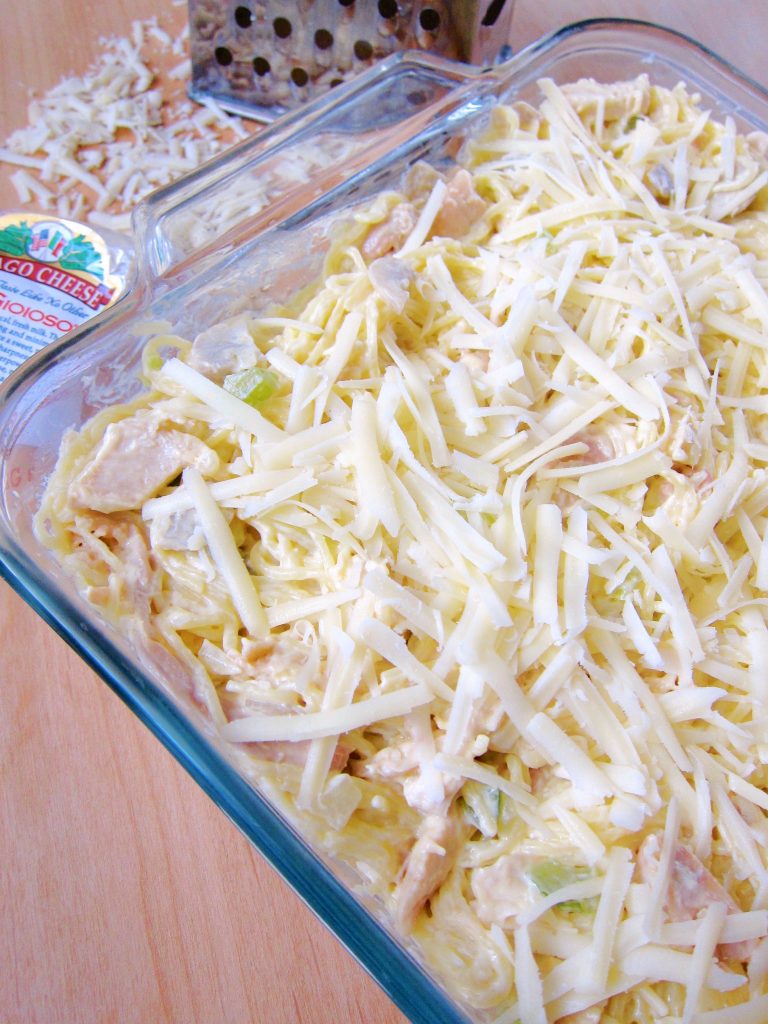 Chicken Tetrazzini
Ingredients
1 onion, chopped
2 stalks celery, chopped
8 mushrooms, sliced
1 cup butter
1 pound angel hair pasta or fettucini noodles (for gluten free use Trader Joe's Brown Rice Spaghetti)
1 roasted chicken, meat removed from bones and cut in to bite sized pieces
2 cups sour cream
2 cans Campbell's Cream of Chicken Soup (for gluten free use

velouté

sauce below)
1 14 ounce can chicken broth or homemade
1/2 cup asiago cheese
toasted slivered almonds (optional)
Instructions
Saute onions, celery and mushrooms in butter for 10 minutes and set aside. Mix the sour cream and cream of chicken soup in a bowl. Pour chicken broth in a small saucepan and boil down to 1/3 cup. Cook pasta according to directions, drain and put into a large bowl. Pour the vegetable butter mixture over the pasta and mix in. Then fold in the sour cream and soup, the condensed broth and the chicken pieces. Spoon into a 10 by 13 casserole. Sprinkle with asiago cheese. Bake at 300 degrees for 1 hour. Sprinkle with almonds, if desired, and serve.
Notes: You can substitute peas instead of celery. Thaw them and add them when you are mixing everything together. Also for something different, use buttered bread crumbs for the top in addition to or instead of the asiago cheese.
Velouté Sauce
2 tablespoons butter
6 tablespoons brown rice flour, divided
4 cups chicken broth (homemade works best)
Put about 1/2 cup of the broth in a jar with 4 tablespoons of the rice flour and shake. Melt butter and add the remaining 2 tablespoons of the flour and cook for 1 minute. Add the broth and the contents of the jar and cook until it thickens.