English Trifle With Amaretto Liqueur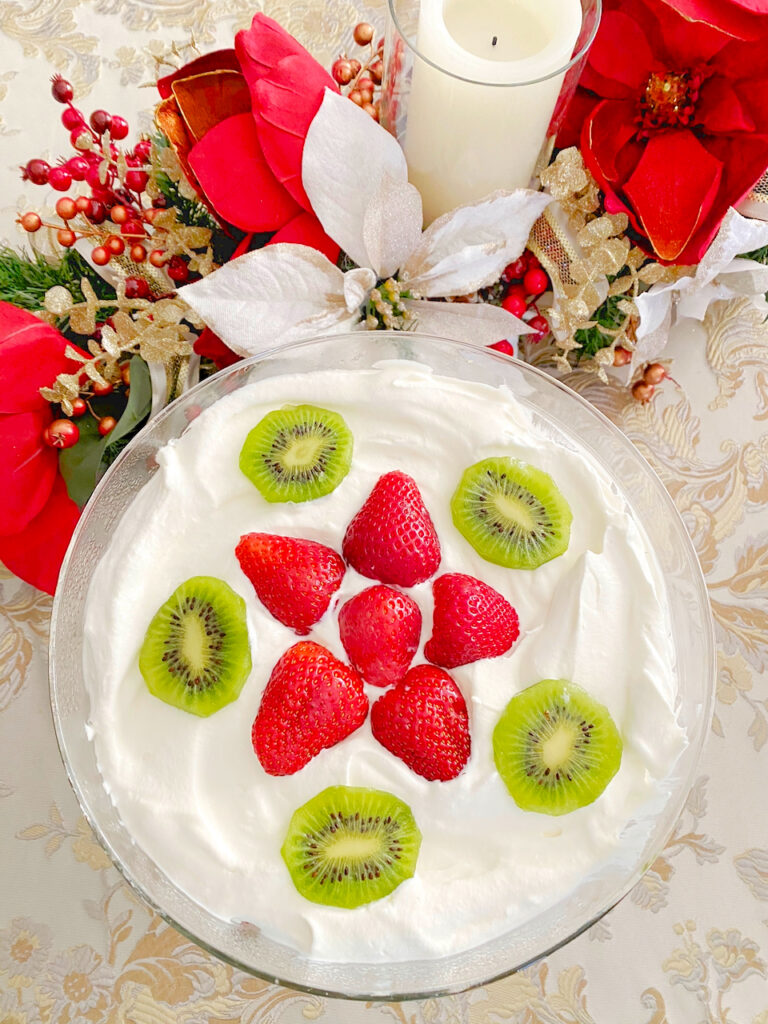 English Trifle With Amaretto Liqueur
Ingredients
1 Sara Lee Family Size (16 ounce) Pound Cake
1/2 cup Amaretto (almond) liqueur
3/4 cup raspberry jam, melted and strained through sieve to remove seeds, divided
1 batch of custard
sliced strawberries
sliced kiwi
2 cups whipping cream
1/2 cup powdered sugar
1 teaspoon vanilla
1 16 ounce package frozen raspberries
1/3 cup water
3 tablespoons sugar
Custard
Ingredients
1 package gelatin
1 cup sugar
5 tablespoons flour
3 tablespoons corn starch
1/2 teaspoon salt
4 cups milk
6 egg yolks
2 teaspoons vanilla
Instructions
Place yolks in a bowl and set aside. Using a whisk combine gelatin, sugar, flour, cornstarch and salt in a heavy saucepan. Add milk and heat, whisking constantly until it's bubbling and getting thick. Whisk 1/4 cup of the milk mixture into the egg yolks, then combine the mixture with the rest of the milk mixture. When bubbling again, cook another 2 minutes. Remove from heat, add the vanilla and cool, whisking occasionally so it doesn't form a thick layer on the top.
Assembly
Place 1/2 cup of the jam in a container. Remove the crust from the pound cake and slice into 1/2 inch slices. Cut pieces to tightly fit the bottom of the trifle bowl. Brush the cake with half of the Amaretto liqueur. Spread half the jam on the soaked cake. Place sliced kiwi around the sides touching the cake. Fill with half of the custard. Repeat the layers beginning with the cut pieces of cake only place sliced strawberries along the side. Chill. When ready to serve whip the cream adding the powdered sugar and vanilla just before you finish whipping. Serve with raspberry sauce.
To make the raspberry sauce, place the remaining 1/4 cup jam, the water and sugar in a small saucepan and heat until it boils. Cool. Thaw the raspberries and stir in the cooled jam mixture.