Carrot Cake With Spiced Whipped Cream
Carrot Cake With Spiced Whipped Cream
Cake
Ingredients
1 1/4 cups light olive oil
4 eggs, separated
2 cup sugar
2 teaspoons vanilla
1/4 cup water
2 cups whole wheat flour (For gluten-free use 2 1/4 cups brown rice flour or part gluten-free oat flour)
2 teaspoon baking powder
1 teaspoon baking soda
1/2 teaspoon salt
1 1/2 teaspoon cinnamon
1 teaspoon nutmeg
3 cups grated carrots
1 cup walnuts, chopped
Instructions
Butter 2 10″ round cake pans, line with waxed paper, butter paper and dust with flour. Combine flour, baking powder, baking soda, salt, cinnamon and nutmeg in a bowl and set aside. Beat egg whites until stiff and set aside. Beat oil and yolks for 1 minute. Add sugar, vanilla and water and beat until blended. Add flour mixture and blend. Add carrots and walnuts. Fold in beaten whites. Divide mixture between the two prepared pans. Bake in a 350 degree oven for 50 minutes (40 minutes if you are using rice flour). Remove from oven, cool 2 minutes and invert on to cookie rack. Cool completely.
Icing
Ingredients
1/2 c butter, softened
8 ounces cream cheese, softened
1 teaspoon vanilla
4 cups powdered sugar
Instructions
Place cream cheese and butter in mixer bowl and whip until fluffy. Add the vanilla and sugar and whip until blended.
Place one layer of cake on a plate. Frost the sides and top with half of the frosting. Place the other layer on top of the first one and repeat. Decorate sides with chopped nuts and serve with whipped cream sprinkled with cinnamon or nutmeg.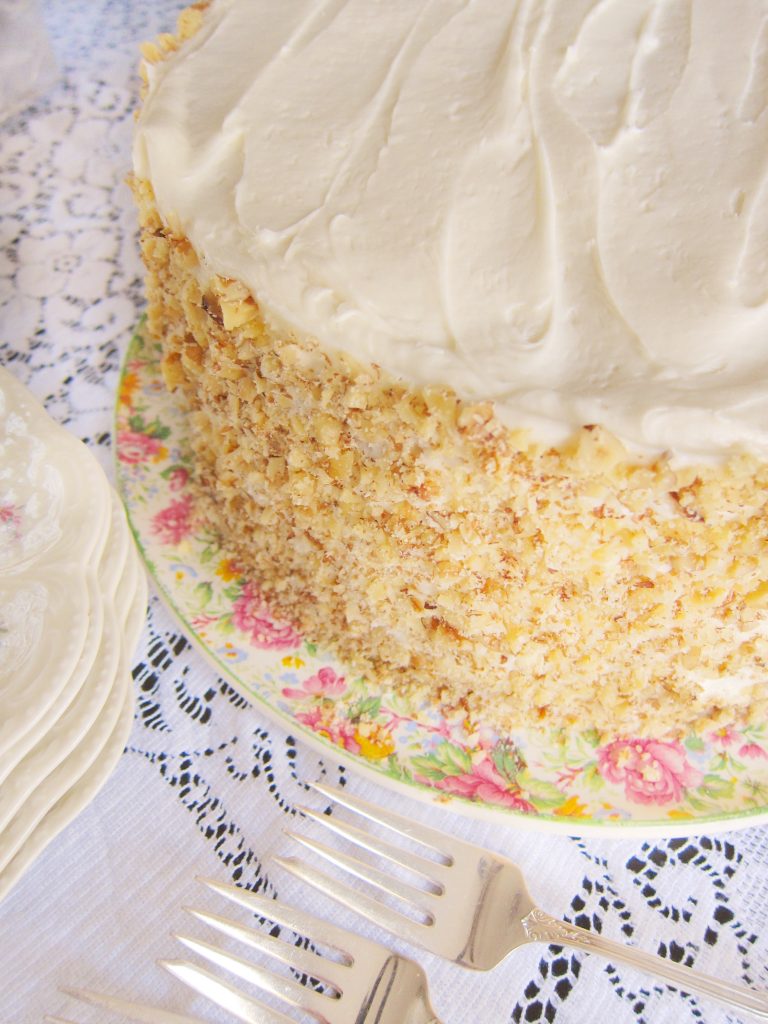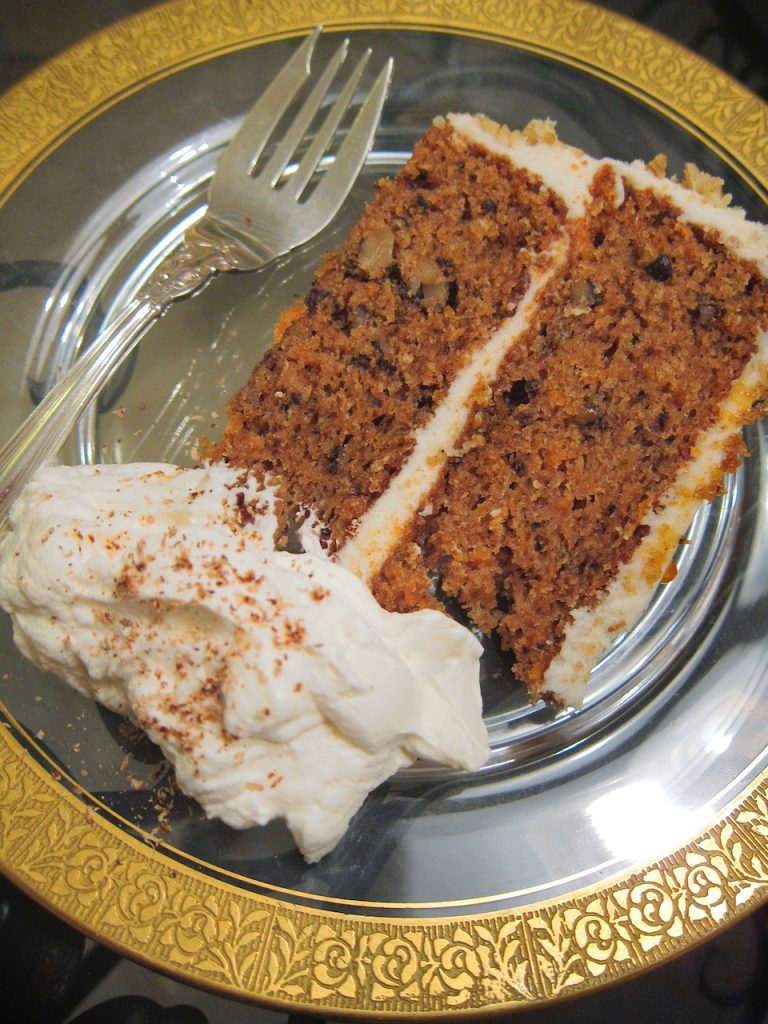 Whipped Cream
Ingredients
2 cups heavy cream
1/2 cup powdered sugar
1 teaspoon vanilla
Instructions
Pour the cream into the mixer bowl. Whip for several minutes until peaks are starting to form. Add the sugar and vanilla and continue beating until the cream changes from very soft looking to stiff, before it starts to become butter. At this perfect point the whipping cream will have a very buttery taste and it will hold for more than a day before it starts to separate.