Almond Cheesecake With Lime
"Over 4,000 years ago in the fifth century BC, the ancient Greeks on the island of Samos created the earliest known cheesecake. This rudimentary cheesecake was made with patties of fresh cheese that were then pounded smooth with flour and honey. The creation was then baked on an earthenware griddle before being enjoyed by the masses. Back then, cheesecake was considered a great source of energy and there is evidence showing it was served to athletes during the first Olympic Games in 776 BC. Cheesecake was also popular as a wedding dessert!"
jonathanlordcheesecake.com
I had collected 90 recipes for cheesecake before I realized that I would never use any other recipe than this one. It's a perfect cheesecake. Its flavor and creamy texture is wonderful. Putting it in the refrigerator right out of the oven was to avoid it cracking, but may also be what makes its texture so exceptional.
The changes I made to the original one that was given to me by a neighbor when I lived in Texas, was more almond flavoring and switching from graham crackers to short bread cookies. Taste the cookies first and make sure you like them. Pepperidge Farm are good. The other change is the canned fruit toppings to the beautiful fresh ones being used on cream filled tarts and cakes.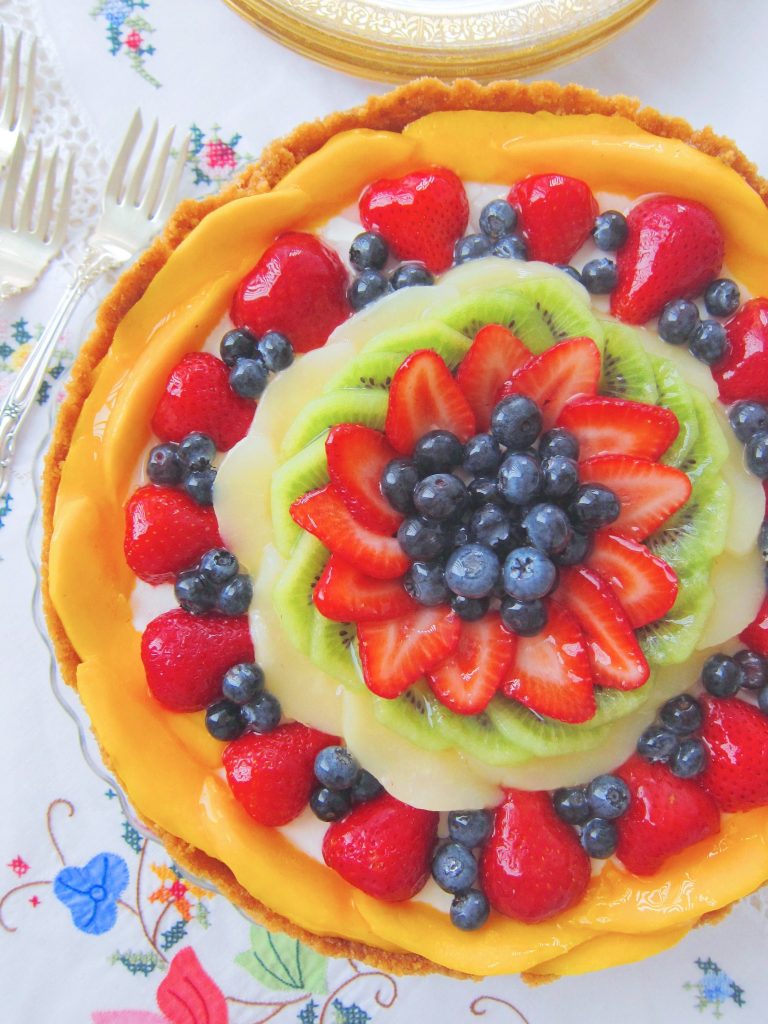 Almond Cheesecake With Lime
Crust
Ingredients
2 cups crushed vanilla wafers, graham crackers or vanilla cookies (if the vanilla cookies have a lot of fat like Lorna Doone Shortbread, cut back on the butter)
1/4 cup melted butter
1/4 cup light brown sugar
Instructions
Press mixture over the bottom and up the sides of a 10″ spring form pan. Bake in a 350 degree oven until very lightly browned around the edges, approximately 8 minutes.
Filling
Ingredients
4 8 ounce packages cream cheese, room temperature
1 1/2 cups sugar
4 large eggs, room temperature
1 teaspoon vanilla
1/2 teaspoon almond extract
1 1/2 tablespoon fresh lime juice
pinch salt
Instructions
In a mixer combine cream cheese and sugar and beat for 2 minutes. Add flavorings, lime juice and salt and blend. Add eggs, one at a time, keeping mixer on lowest speed mixing only long enough to incorporate the egg into the batter. Pour filling into crust, place a piece of foil (turning up the sides) under pan to catch any drips, and bake 350 for around 50 minutes. Use an oven thermometer or keep an eye on it in case your oven cooks hot. The cake will get puffy and should get brown and set in the middle when you jiggle it. Remove from oven and let stand 10 minutes while you prepare the topping.
Topping
Ingredients
2 cups sour cream, room temperature
1/4 cup sugar
1/2 teaspoon almond extract
Instructions
Combine ingredients and spread evenly over filling and return to 350 degree oven for 10 min. Remove from oven and place directly into the refrigerator. This prevents cracks from forming. Cake should be refrigerated 24 hours before serving. Decorate with fresh fruit. Brush with clear glaze.
Glaze
Ingredients
1/2 cup water
1/4 cup sugar
1/2 tablespoon cornstarch mixed with 2 tablespoons water
Instructions
Heat water and sugar and when it comes to a boil add the cornstarch mixed with 2 tablespoons water. Boil 5 minutes. Cool.