Turkey Meatloaf Bolognese With Roasted Red Potatoes and Green Beans in Sautéed Garlic
Northern Italian food has a French influence. The famous ragu a la Bolognese is a meat sauce for pasta with butter and milk in it. The authentic recipe for ragu Bolognese does not have garlic or spices but chefs everywhere are doing there own thing and still calling it Bolognese. Some use white wine and others red, some both. Many chefs leave out the butter and milk. Some put garlic in the mirepoix. Some use thyme instead of rosemary. Some think grated nutmeg is the key ingredient. I also saw cinnamon. So don't be afraid to make substitutes.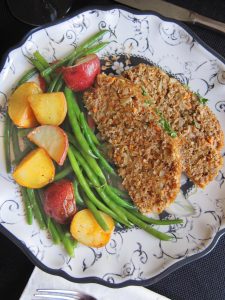 Turkey Meatloaf Bolognese
Ingredients
1/2 cup finely diced onion
1 carrot, finely diced
1 celery stalk, finely diced
1 tablespoon avocado or light olive oil
1 tablespoon butter
1/4 cup Cinzano vermouth (red)
1/3 cup tomato sauce
1 lb ground turkey
1 egg
2/3 cup bread crumbs or whole gluten-free oats, processed*
1 teaspoon salt
leaves from a sprig of fresh rosemary, finely chopped (about 2 teaspoons)
4 leaves of fresh sage, finely chopped
1/4 cup milk or cream (opt.)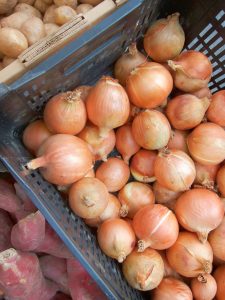 Instructions
Make a mirepoix by melting the oil and butter in a pan, adding the onion, carrot and celery and sautéing for 2 minutes. Add the vermouth and cook down. Add tomato sauce, cook 1 minute, turn off heat and let cool.
Place turkey meat in a bowl. Add egg, oats, spices, milk and cooled mirepoix and mix well.
Line the bottle of a broiler pan with foil to catch drips. Form meatloaf and place on pan.
Bake in a 350 degree oven for 60 – 75 minutes, or until internal temperature is 170.
Let stand 5 minutes. Sprinkle with chopped parsley, slice and serve.
Can be made a day ahead of time and baked. Makes great leftovers. Just reheat slices in a pan.
*Start with 3/4 cup of whole oats in a food processor. Pulse processed for a few seconds, 5 or 6 times, stirring the oats around with a rubber spatula so they cut evenly, until there are no whole pieces left.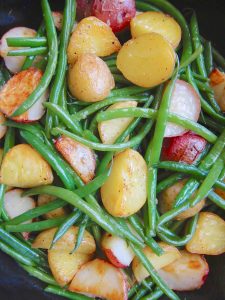 Roasted Red Potatoes and Green Beans in Sautéed Garlic
Ingredients
red potatoes or other small waxy potato
green beans or long green beans
butter
olive oil
garlic
salt and pepper
Instructions
Lay potatoes in a roasting pan and sprinkle with salt and pepper and drizzle with olive oil. Roast in a 350 degree oven for 45 minutes or until tender. Steam green beans. Melt olive oil and butter in a saute pan and add minced garlic and saute 1 minute. Add steamed green beans and roasted potatoes and mix until garlic butter is evenly distributed. Salt and pepper to taste.