A fond memory of my childhood was our special meal of meatloaf, potatoes and peas that we always had when my grandparents were coming over for dinner. I'm not sure if the best part was finishing my potato by slathering butter on the empty skins or having meatloaf sandwiches the next day.
In the health food nut days of old moms were soaking the egg shells in something, crushing them up and hiding them in meatloaf. That was that generation. With my generation it was just meatloaf (sans egg shells). The only hiding I did with my kids was crushing a pill they needed to take, slicing a Tiger's Milk Bar open, sprinkling the power inside and pressing the bar back together. But now my youngest son chops vegetables (even broccoli) really small and sneaks them in his meatloaf so his boys don't know.
Here's the basic recipe. Throw whatever you want in the food processor. I've heard mushrooms work.
Classic Glazed Meatloaf
Ingredients
2 pounds ground beef or ground dark turkey meat
1 medium onion, cut in pieces
1 small green bell pepper, cut in pieces
2 eggs
4 slices regular or gluten free bread (see Nutritious Gluten-Free Sandwich Bread), broken into pieces, (for grain-free crumble 4 Grain-Free Rolls)
2 teaspoon sea salt
2 teaspoon cumin
Instructions
Line the bottom of a broiler pan with foil for easy clean up. Place meat in a large bowl. Place all other ingredients in a food processor and process until smooth, scraping down the sides with a rubber spatula so there aren't any big pieces. (You want about 1 cup of this mixture per pound of meat.)
Pour over meat and mix well using a fork. Slide meat on to broiler pan and mold into a loaf using a fork. Bake in a 350 degree oven for 55 minutes. Ice with glaze below and bake an additional 20-25 minutes. (Cooking time may vary with different ovens. The meatloaf should be well done, brown, all the way through. I prefer to overcook it rather than under.) Let sit 5 to 10 minutes before slicing.
For glaze mix all these together in a small bowl.
2/3 cup catsup
2 tablespoon honey or brown sugar
1 teaspoon dry mustard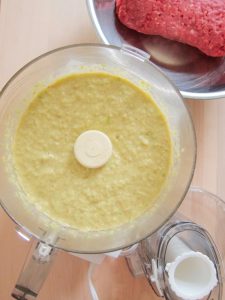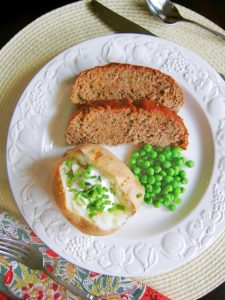 Perfectly Baked Potatoes
Ingredients
medium sized russet potatoes
avocado oil
salt
Instructions
Preheat oven to 425 degrees. Place a piece of foil on a baking sheet.
Rinse and scrub potatoes with a vegetable brush. Let them dry. Rub them with avocado oil and sprinkle them all over with salt. Prick in three places with a fork, going in about 1/8 – 1/4 inch (this keeps the steam from building up and the potato possibly exploding). Set the potatoes on the foil lined pan. You will be setting your timer to go off every 20 minutes so you can flip the potatoes over and move them around for even baking. Bake them in a 425 degree oven for 1 hour or until they can be pressed in easily because they are soft inside.
If you have different sizes, butt out the smaller ones and let the larger ones cook longer. If the potatoes are extra large in size, bake an additional 15 -20 minutes, then start checking for softness.
Sprinkle with salt and pepper. Place a piece of butter inside. Serve with sour cream and chives if you like.