Sweet Potatoes With Rainbow Quinoa Stuffing
Even if you aren't a quinoa fan, you'll will like this. Serve it with a turkey burger or roasted poultry and steamed kale drizzled with olive oil and sprinkled with salt and pepper. Yum!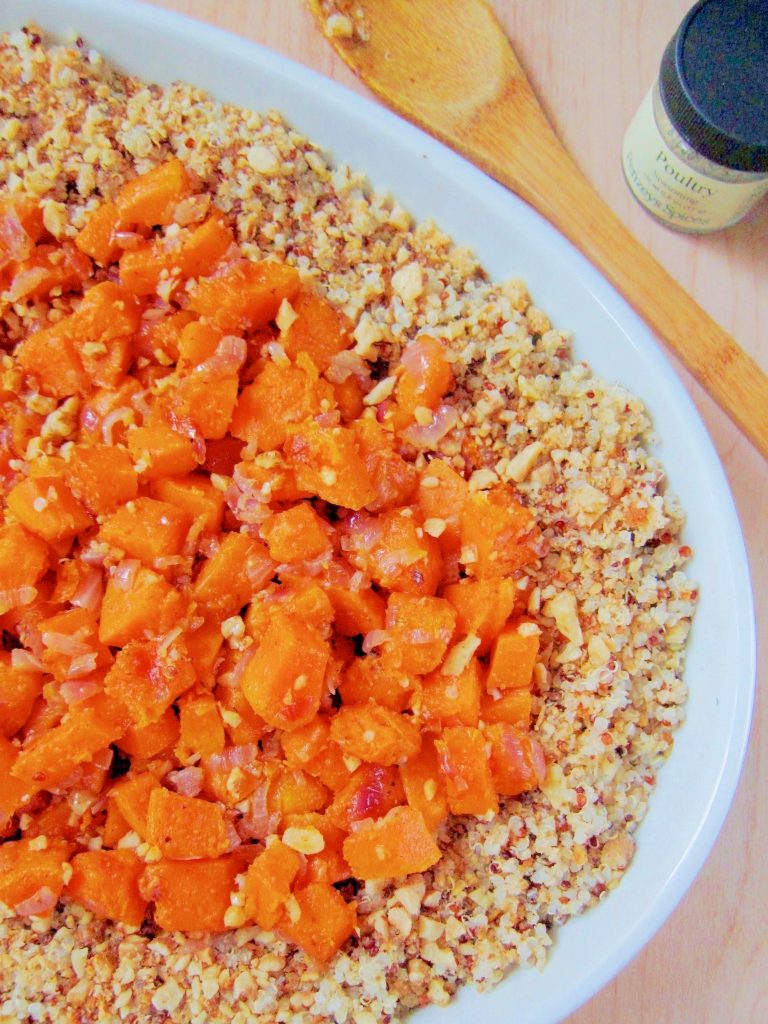 Yams With Rainbow Quinoa Stuffing
Ingredients
1 cup rainbow colored quinoa (or plain)
2 cups water
1/4 teaspoon salt
3 slices Nutritious Gluten-Free Sandwich Bread (June/2014)
3 teaspoons poultry seasoning (Penzey's Bavarian Seasoning is good)
2 large sweet potatoes
2 tablespoons avocado oil or light olive oil
1 red onion, diced
2 tablespoons butter
1 teaspoon salt
1/2 teaspoon pepper
1/2 cup chopped walnuts, lightly toasted*
Instructions
Parboil yams about 25 minutes, cool and chill. Peel and dice into 3/4″ pieces. Heat quinoa in water with salt and when it comes to boil, cover and cook for 20 minutes. Put bread in food processor and process until crumbly. Spread the crumbs on a cookie sheet and bake until very light brown. Heat olive and saute onions on medium low for 15 minutes, add butter, diced potatoes and sprinkle with salt and pepper. Cook for 20 minutes or until potatoes are tender. Mix bread crumbs with quinoa and poultry seasoning and spread in a casserole. Spoon the yam and onion mixture on top and sprinkle with the nuts.
Cover and heat in a 325 degree oven until hot but not dried out.
* You can do this in a saute pan on medium low. Stir constantly and watch carefully so it doesn't burn.