The original recipe of my grandmother's called for white sugar and white flour but years ago I began making it with whole wheat flour because I found that whole wheat flour made quick breads and muffins taste better. I've also switched to honey and coconut sugar for these recipes because of their rich taste and better nutrition. Spelt flour is an ancient wheat grain. It has less gluten than regular wheat and so it acts more like a gluten free flour in recipes. I buy sprouted spelt flour because it is the best. Think of sprouted grains as little plants that are gently dried and milled into flour. They are more nutritious and their starches has already been broken down by enzymes to they are easier to digest. It's more like eating a vegetable than a grain.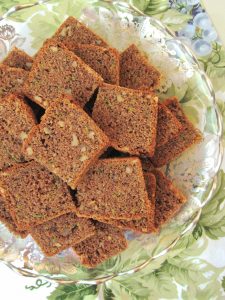 Zucchini Bread
Makes 2 short loaves if using 9″ by 5″ and taller loaves if using 8″ by 4″ pans.
Ingredients
3 eggs
1 cup avocado oil
2 1/4 cups sugar (or coconut sugar)
2 cups grated zucchini
3 teaspoons vanilla
3 cups flour (or whole wheat or spelt flour)
2 teaspoons salt
1 1/2 teaspoons baking soda
1/2 teaspoon baking powder
3 teaspoons cinnamon
1 cup chopped walnuts
Instructions
Cut pieces of waxed or parchment paper to fit the bottom of two loaf pans. Butter the pans, place the pieces of paper in the pans and butter the paper. Mix flour, salt, baking soda, baking powder and cinnamon in a bowl and set aside. Beat eggs until lemony but don't over beat and build up too much air or the bread will not have the right consistency. Add oil, sugar, vanilla and zucchini and blend well. Add flour mixture and mix until blended. Add nuts and mix until blended. Spoon into prepared loaf pans and bake in a 350 degree oven for 55 to 65 minutes or until center springs back when you touch it.