Delicious Mediterranean Cabbage Rolls
This recipe is an adaptation of Chef John's Lambage Rolls, Lamb and Rice Stuffed Cabbage Leaves With Almonds and Currants, replacing the white rice, almonds, currents and feta cheese in his recipe with brown rice, pine nuts and yoghurt, and baking it in a German clay pot.
If you like dolmas, this also has a wonderful Mediterranean flavor but is a fun and less tedious recipe than making dolmas because you only need to make ten rolls. You can make it in the morning and put it in the refrigerator until it's time to put it in the oven. The rolls can be served on a plate or in a wide bowl with some of the juice.
Lamb can have a wild gamey taste. I find that Whole Foods ground lamb is consistently good tasting and it's nice to be able to get the exact amount that you want for a recipe. Their lam is also lean. Lamb is a red meat which is a great source of protein but omega-6 is found in the fat of red meats which is why you look for leaner cuts when you are thinking about having the correct ratio of omega-3 and omega-6 in your diet. Since you are not cooking and draining the fat off for this recipe, you want meat that doesn't have a lot of fat.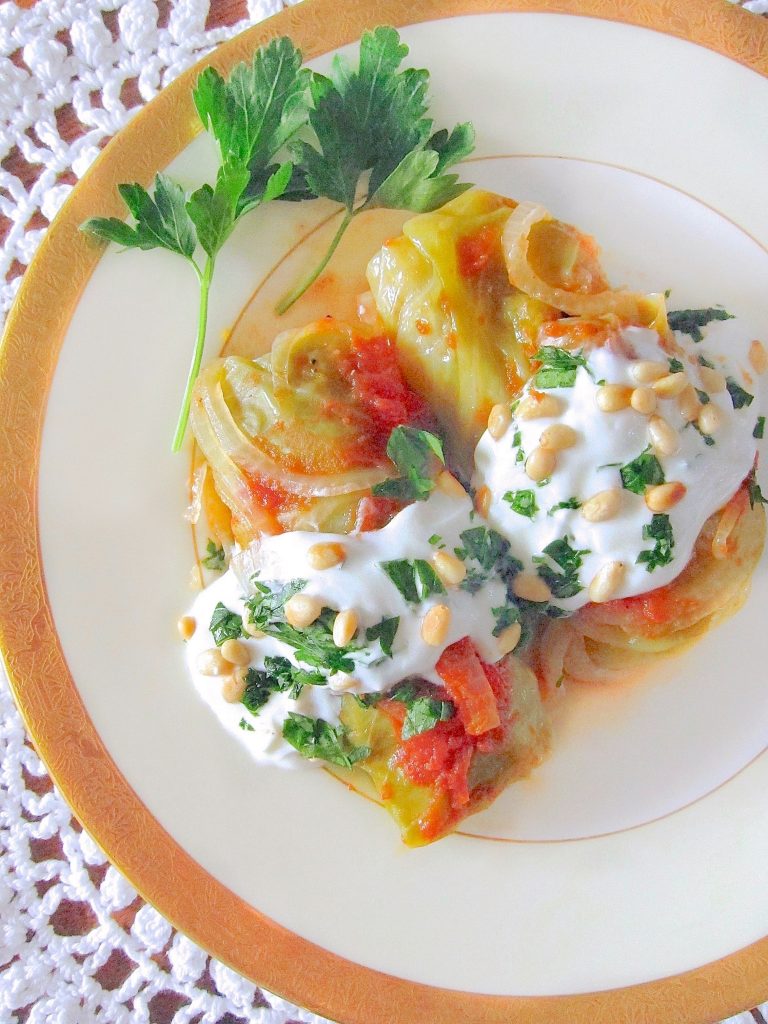 Delicious Mediterranean Cabbage Rolls
Ingredients
3/4 cup long grain brown rice
1 cup water
1/2 cup onion, diced
4 cloves garlic, minced
1/4 cup butter
2 tablespoons olive oil
1 teaspoon cumin
1 teaspoon pepper
1/2 teaspoon cinnamon
1/8 teaspoon cayenne pepper
1/8 teaspoon oregano
1 pound ground lamb
2 teaspoons salt, divided
1/4 cup Italian parsley, chopped
2 small heads of green cabbage
8 ounces tomato sauce
3 cups chicken broth
sliced onion
2 bay leaves
plain yoghurt*
toasted pine nuts
chopped Italian parsley
Instructions
Parboil the rice in the water with 1/2 teaspoon salt until the water is absorbed. Remove from heat and let cool. Saute onion and garlic in butter and oil for 5 minutes. Add cumin, pepper, cinnamon, cayenne pepper and oregano and cook 1 minute. Remove from heat and cool. Mix lamb, rice, remaining 1 1/2 teaspoon salt, parsley, and onion mixture. Set aside. Fill large pot 3/4 full with water and bring to boil. Remove the two cabbage cores and place the cabbage heads one at a time in boiling water. Using tongs remover the outer leaf and lay in on the counter. Continue until you've removed all usable leaves. Using a paring knife, sliver off part of the thick center of the leaf so that it is as thin as the leaf. Also cut down the larger leaves so there isn't too much cabbage when you form the rolls and use the pieces to line the pot. Form lamb mixture into 10 logs. Place a log on a leaf, fold in sides over log and roll up (see dolmas recipe). Place some extra leaves on the bottom of a dutch oven or clay pot. Fill with rolls. Sprinkle with salt and pepper. Cover with sliced onion and the bay leaves. Pour tomato sauce over the onions, then the chicken broth. Cover with more leaves. Put on the lid and bake in a 350 degree oven for 1 hour and 30 minutes. Remove from oven and let rest, covered, for 30 minutes. Serve with yoghurt, toasted pine nuts and chopped parsley.