Roast Chicken and Potato Hash
This is a wonderful comfort food you can make with leftover chicken or beef roast, but chicken is best. Like the traditional hash recipes, you can spoon the hash into a casserole and run it under the broiler, but it's not necessary to go through the extra fuss. It's yummy just the way it is. I am posting a recipe for roasting chicken below. Serve it with baked white sweet potatoes or yams and a salad then use the leftovers for hash the next day.
The hint of wine adds a wonderful flavor to all the recipes you can make with leftover chicken. Use the juices from the roasting dish for the 1/3 cup chicken broth in this recipe. Using the juices with the wine flavor is especially good in chicken tetrazzini and if you have the time to roast and chicken and make broth for soup recipes that call for chicken broth and cooked chicken, it makes them really good.
There are you tube videos showing ways to tie chicken legs.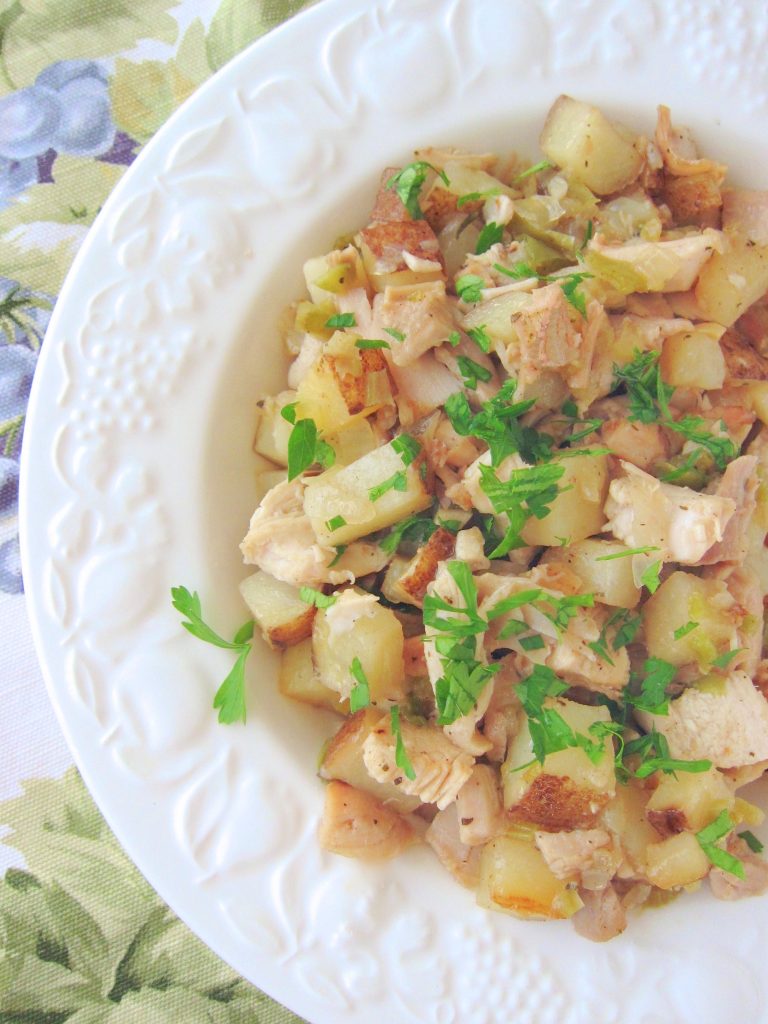 Roasted Chicken and Potato Hash
Ingredients
2 tablespoons butter
1 medium onion, diced
1 large garlic, finely chopped
1/2 green pepper, diced
1 celery rib, diced
2 medium russet potatoes, not peeled, cut into 1″ cubes
2 cups roast chicken pieces
1/2 teaspoon basil
1/2 cup chicken broth (or chicken glace and water)
1 1/2 teaspoons Worcestershire sauce
1 teaspoon salt
1/2 teaspoon pepper
pinch allspice
Instructions
Saute onion, garlic, green pepper and celery in butter for 5 minutes. Add remaining ingredients. Turn heat to low, cover and cook on low for 40 minutes or until potatoes are tender. If desired, transfer hash to a casserole and set under the broiler to make it a nice brown color and a crispy top. Sprinkle with chopped parsley.
Roast Chicken
Ingredients
2 1/2 -3 pound fresh organic chicken, brined (Trader Joe's carries these)
1 lemon, cut in half
2 tablespoons fresh rosemary leaves
2 tablespoons fresh thyme leaves
2 tablespoons butter (grass fed – Kerrygold brand)
1 head of garlic cloves, peeled, one minced and the rest whole or cut in half
avocado or light olive oil*
salt
paprika
1/2 cup Moscato wine
Instructions
Rinse chicken and pat dry with paper towels. Sprinkle the inside with some fresh rosemary and thyme, place the half lemon inside. Using your fingers, loosen the skin of the two breasts creating a pocket for each one and place the 2 tablespoons butter with some minced garlic and some of the herbs under the skin in the pockets. Drizzle the oil on the chicken and spread it all over with your hands. Sprinkle with the remaining rosemary and thyme, paprika and salt. Bake in a 350 degree oven for 1 hour and 45 minutes or until a meat thermometer reads 170 degrees. Let stand 15 minutes.(If you like gravy, remove and strain juices into a small sauce pan. Shake water and rice flour in a jar and add to juices. Heat, whisking occasionally, until hot and thick. Add salt and pepper if needed.)
You can truss the chicken using kitchen twine (https://www.youtube.com/watch?v=0lmbkoq-7J4) so that it cooks more evenly but this is optional.