Roast Chicken With Vegetables and Garlic Mashed Potatoes and Celery Root
This is a meal for the meat and potato lovers in your family. The leftovers from this roast makes the best chicken stock (recipe below) you've ever tasted. I've used it for vegetable soup, in chicken tetrazzini and scalloped potatoes. I think the secret is these wonderfully tender brined chickens and the Moscato wine. The carrots and rutabaga pair together very nicely. They become buttery from the chicken juices, and the wine gives them a wonderful new taste.
Rutabagas are sweet like carrots and unlike turnips even though they look very much like them. Rutabagas are members of the cabbage family and are very versatile. You can use them grated or cut up in salads, sauté them, boil them, mash them, steam them and bake them. Their most significant nutrient is vitamin C which is good for fighting infections and heart disease, and like all other crucifers. Rutabagas contain high an antioxidant and anti-cancer compounds.
Celery Root can be eaten raw in salads and cole slaws or cooked it's a great substitute for potatoes or part of the potatoes because it has a lot more nutrition. And using no liquids (usually cream) or just some flavored stock if you want them fluffier, will also make mashed or scalloped potatoes that are much healthier and have fewer calories. Celery root has many health benefits. It's is a great source of fiber, vitamin K which helps bone mass, and also contains some of vitamins B6 and C, and minerals, iron, copper, magnesium, potassium, manganese, and phosphorus. It's good for the digestive system, improves the function of liver and bladder and calms down arthritis pain and gets rid of swelling. It has calming, analgesic, antiseptic and other therapeutic properties.
This is a basic recipe where you can do your own thing making it just the way you like. I ran into a couple at the market who were buying three fennel bulbs and just out of curiosity I asked them what they were going to do with them. They were roasting a chicken and loved the licorice flavoring of fennel. I'm guessing that much of the time, our preferences have something to do with the cultures that influenced our culinary upbringing. So, you can choose whichever root vegetables — fennel, rutabaga, waxy white or red potatoes or fingerlings, parsnips, turnips — and then choose a type of onion — pearl, white, red — or shallots or garlic. After trying then all I found that carrots and sweet potatoes and a head of garlic is my favorite. Carrots and potatoes are carbs. The other root vegetables are better if you are losing weight and leaving out the butter so the calories are less.
Choose the size of the pan according to how many vegetables you use so that it's full and the juices won't evaporate away causing the vegetables to dry out a possibly burn. If you are just cooking a chicken and making separate sides, use a small casserole so you have plenty of the wine flavored au jus.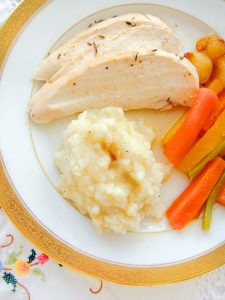 Roast Chicken With Vegetables and Garlic Mashed Potatoes and Celery Root
Chicken Roast
(You can choose whichever root vegetables — fennel, rutabaga, waxy white or red potatoes or fingerlings, parsnips, turnips — and then choose a type of onion — pearl, white, red — or shallots or garlic.)
Ingredients
3 to 5 pound organic chicken (Trader Joe's carries these)
1/2 lemon
3 tablespoons fresh rosemary leaves
3 tablespoons fresh thyme leaves
olive oil
4 carrots, peeled and cut into 3 inch pieces
white or orange sweet potato, cut into 2″ pieces
1 head of garlic cloves, peeled, one minced and the remaining left whole or cut in half
1/2 cup Moscato wine
4 tablespoons cold butter (opt)
salt
paprika (for color, optional)
Instructions
Steam carrots and potatoes for 10 minutes. This little step makes a big difference. Place vegetables in a 3 quart, 9″ by 13″, glass pyrex casserole or other heavy casserole. (The size of the casserole will determine how much juice you will have. If it's too large, even by a few inches, the vegetables may dry out and burn.) Sprinkle with salt and pepper and some rosemary and thyme. Rinse chicken and pat dry with paper towels. Sprinkle the inside with some fresh rosemary and thyme and a couple garlic cloves, place the half lemon inside. Move vegetables to the sides and place chicken in the middle with the breasts facing up. If you would like to add more taste to the meat, loosen the skin of the two breasts creating a pocket in each one. Place the 4 tablespoons butter with some minced garlic and some of the herbs under the skin in the pockets. Drizzle the oil over the chicken and spread it all over with your hands. Sprinkle the chicken with remaining rosemary and thyme, and salt and paprika.* Distribute the remaining garlic cloves. Bake in a 350 degree oven until a meat thermometer reads 170 degrees. Let stand 15 minutes.
*You can truss the chicken at this point using kitchen twine (https://www.youtube.com/watch?v=0lmbkoq-7J4) so that it cooks evenly but this is optional. Tie it whatever way works best for you.
If using a rutabaga and it is difficult to cut, don't use it. It will be tough and woody.
Garlic Mashed Potatoes and Celery Root
Ingredients
4 medium russet or yukon gold potatoes
1 4″ celery root
4 tablespoons butter
1 large garlic clove
salt
pepper
Instructions
Peel and cut potatoes and celery root into 2″ to 3″ cubes and boil until tender. Melt butter and sauté garlic 1 minute. Drain vegetables, sprinkle with salt and pepper and pour melted butter mixture over them. Mash with a potato masher or whip with a mixer.