Shepherd's pie is a lamb pie with a mashed potato crust. It originated in the UK and Ireland in 1791 as "cottage pie." The term "shepherd's pie" didn't appear until 1877. The theory behind the name is shepherds caring for sheep. It's a wonderful comfort food. I have used less meat and added more vegetables to the traditional recipes to add more nutrition to it.
Rutabaga is a crucifer that is high in antioxidants and other nutrients that protect the body from cancer and heart disease. Its most significant nutrient is vitamin C. It is beta-carotene-rich and also an excellent source of potassium and manganese, thiamin, vitamin B6, calcium, magnesium and phosphorus.
Celery root is another cancer and heart disease fighter, an excellent source of riboflavin, calcium, magnesium, phosphorus, potassium, vitamins, A, B6, C and K. Both rutabagas and celery root have fiber which is good for your digestive system.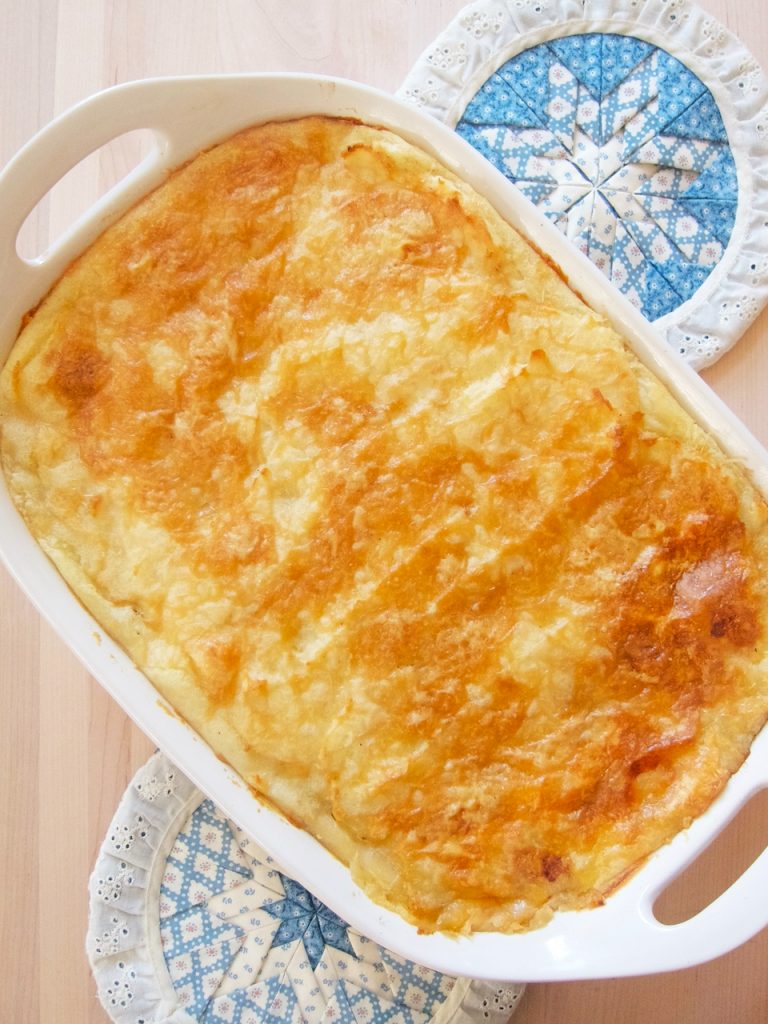 Shepherd's Pie
Lamb Filling
Ingredients
1/4 cup butter
1 1/2 cups diced onion
1 1/2 cups diced rutabaga (Some rutabaga can be too tough and woody. If you have one that is difficult to cut, it may need to be replaced because my experience has been that no matter how long I let it cook it doesn't get tender.)
1 1/2 cups diced carrots
kernels cut off two ears of corn (opt.)
2 pounds ground lamb
3 tablespoons Worcestershire sauce
2 teaspoons salt
1 teaspoon pepper
4 teaspoons (1 tablespoon plus 1 teaspoon) fresh thyme leaves
4 teaspoons (1 tablespoon plus 1 teaspoon) fresh rosemary
2 tablespoons flour (or rice flour)
1 cup beef broth
2/3 cup frozen peas, thawed
Instructions
Saute onion, rutabaga, carrots and corn in 1/4 cup butter for 5 minutes. Set aside. Cook lamb and add the Worcestershire sauce, salt, pepper, thyme, rosemary, flour and beef broth. Add the vegetable mixture, cover, turn down heat and simmer 30 minutes or until vegetables are tender. Stir in peas.
Potato Topping
5 medium sized russet potatoes (or part potatoes and part celery root)
1/4 cup butter
2 large garlic cloves
1/3 cup heavy cream
salt and pepper
2/3 cup (2 1/2 ounces) grated gruyère cheese
Peel potatoes and cut into 2 to 3 inch chunks and boil 20 minutes or until tender. Sauté garlic in 1/4 cup butter for one minute, add the cream and pour into the potatoes while mashing. If using part celery root, peel and cut into 1/2 inch pieces and steam 5 minutes until tender and blend in a food processor. Stir the pureed celery root into the potatoes. Season with salt and pepper.
Spoon the lamb and vegetable mixture into a 3 quart casserole. Spread mashed potato mixture on top and sprinkle with cheese. Bake in a 400 degree oven for 45 to 50 minutes or until hot and golden brown.