Chicken Enchiladas With White Cheddar Cheese and Avocado
Mexican food that isn't deep fried in the wrong kind of oil or smothered in cheese that isn't real cheese is full of nutrient packed ingredients – loads of fresh produce, protein-packed beans, fiber-filled tortillas and healthy spices like chili pepper, garlic and cumin. Mexican food is one of the most colorful and varied cuisines in the world and one of the top most popular cuisines in the US (tacos are right next to hamburgers and pizza!).
Beans and rice, or beans and tortillas, served together make a complete protein, like meat and poultry, meaning it contains all the kinds of molecules called amino acids that are strung together in chains that twist into a three-dimensional structures that make up the proteins that our body uses to build and rebuild itself. Our cells and organs, our muscles and connective tissue and our bones wouldn't hold together without the help of protein. All the enzymes in our body that trigger chemical reactions, and the regularly hormones, like insulin, are proteins. Milk and milk products like cheese are a complete protein. You can leave out the meat in Mexican dishes and still have the protein that your body needs. So you're holding a tortilla and spicy filling and then add the fresh produce and it's so good and so good for you.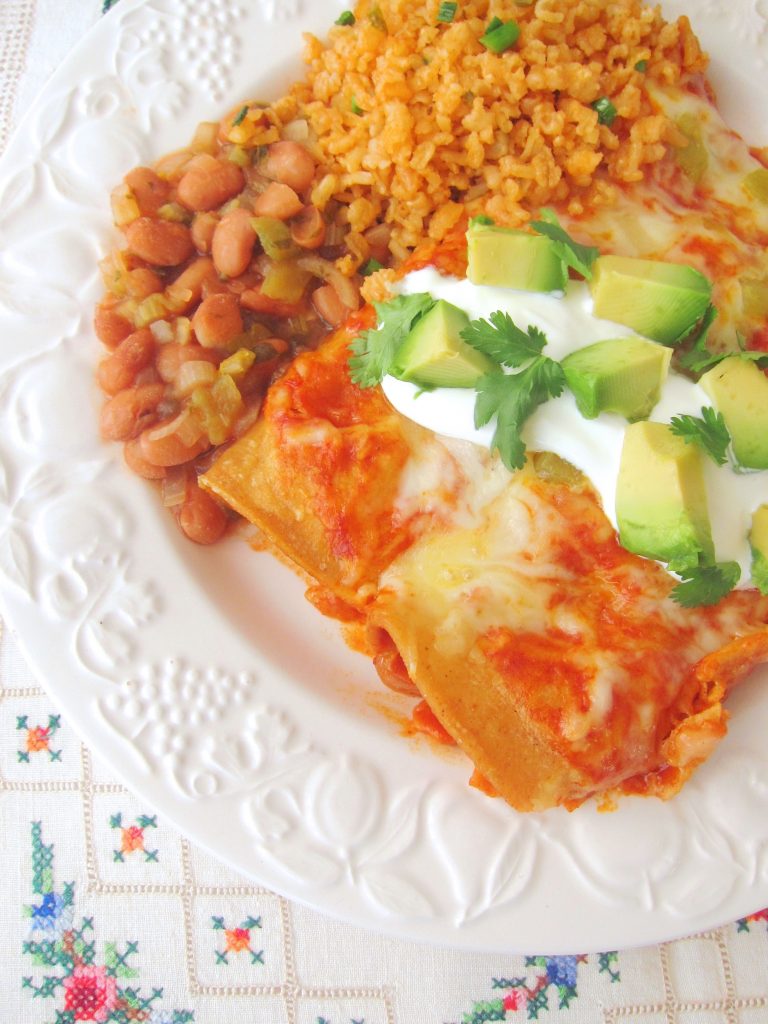 Chicken Enchiladas With White Cheddar Cheese and Avocado
Ingredients
1 pound chicken breasts, cut in pieces
salt
1/3 cup plus 1 tablespoon avocado oil, divided
1/2 cup onions, diced
1/2 teaspoon cumin
1/2 teaspoon coriander
1/2 teaspoon chili powder
8 – 12 corn tortillas (depending on size)
4 ounces mild white cheddar cheese, grated
4 ounces jack cheese, grated
1 1/2 cups La Victoria Mild Traditional Enchilada Sauce
cilantro
sour cream
avocado
Instructions
Heat 1 tablespoon oil in a skillet and sauté onions until translucent. Add spices and cook 30 seconds. Transfer mixture to a small bowl. Cook the chicken pieces until there is no more pink. Drain. Mix the chicken with the onion mixture. Set aside.
Heat 1/3 cup olive oil and fry tortillas a couple seconds on each side and drain on paper towels.
Mix cheeses together.
Spread 1 cup of enchiladas sauce on the bottom of a 9″ by 11″ casserole. Divide the chicken mixture evenly among the tortillas and sprinkle with half the cheese. Roll up and place on sauce in the casserole. Pour the remaining 1/2 cup of sauce on top and then the remaining cheese. Cover with foil and bake in a 350° oven for 30-35 minutes or until the sauce is bubbling and the cheese is melted.
Top with cilantro, sour cream and diced avocado and serve with Spanish rice and beans.
Note: This recipe doubles easily.