Copycat Houston's Thai Salad With Peanut Crusted Chicken or Salmon
The recipe was inspired by the very popular Houstons (now Hillstones) on 2nd Street in Santa Monica that has a delicious Thai Noodle Salad. They used two different dressings which seemed like a lot of extra work so I designed one using all the flavors. They offered a choice of steak or roasted chicken which I changed to a very pretty peanut crusted chicken that is sautéed or a peanut crusted baked salmon. If you want a gluten free noodle salad, this recipe is great with chilled 100% buckwheat soba noodles.
Peanuts are rich in vitamin B, an anti-stress vitamin that can boost the neurotransmitter chemical in your brain called serotonin that makes you feel good. And not only do peanuts contain vitamin B, a spoonful of peanut butter is also rich in magnesium which relaxes muscles and nerves, increases energy levels, and activates the vitamin B resulting in the serotonin production. So I think this dish gives a new meaning to comfort food.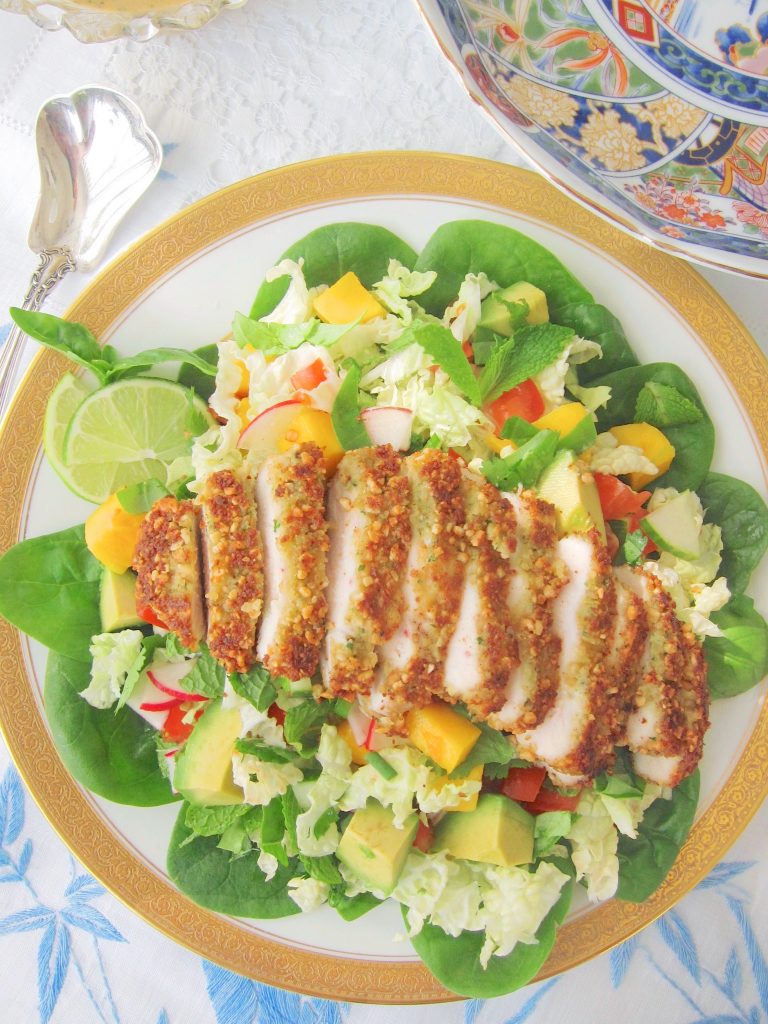 Copycat Houston's Thai Salad With Peanut Crusted Chicken or Salmon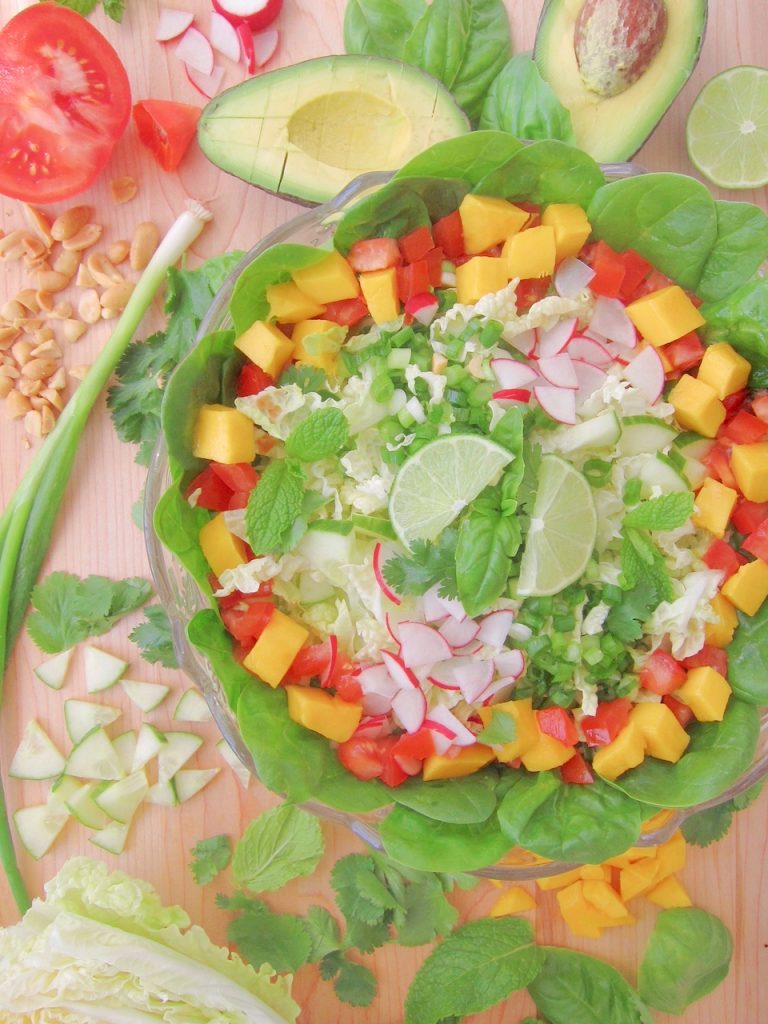 Thai Salad
Ingredients
Napa cabbage, cut in half lengthwise, then sliced thin
spinach
green onions, sliced thin
sliced radishes
cucumber, diced
tomato, diced
avocado, diced
mango, diced
fresh mint, sliced into slivers or small pieces
fresh basil, sliced into slivers or small pieces
fresh cilantro, sliced into slivers or small pieces
lime
100% buckwheat soba noodles, cooked and chilled (optional)
salted roasted peanuts, cut into pieces (optional)
Peanut Crusted Chicken Breasts
Ingredients
4 large chicken breasts cut in half
2/3 cup regular or gluten free fresh bread crumbs* (Nutritious Gluten Free Sandwich Bread June /2014)
2/3 cup peanuts
6 fresh basil leaves
1 teaspoon salt
1/2 teaspoon pepper
1 large egg, beaten
1/4 cup flour or brown rice flour
2 tablespoons unsalted butter and more as needed
3 tablespoons avocado oil or light olive oil (like Bertolli) and more as needed
Instructions
Cut chicken breast into two pieces. Place them in a zip lock bag and pound to an even 1/2″ thick. Place bread crumbs, peanuts, basil leaves, salt and pepper in a food processor and process until crumbly. Put beaten egg in a pie plate or a dish. Sprinkle nut mixture on another place and the rice flour on another. One at a time dust the chicken breasts with the rice flour, dip in the egg, then set in the nut mixture and bring some of the mixture over the top and press the mixture evenly around each piece. Set on a plate in one layer and chill in the refrigerator for an hour. Heat a non stick sauté pan for 5 minutes on medium high. Add the butter and oil. (If you don't have a large enough sauté pan, use two sauté pans so you can do all eight pieces at one time, dividing the butter and oil between the pans). When the butter and oil are hot carefully slip the chicken off the plate into the pan (it should sizzle) and cook 4 minutes on each side. Let rest for 2 to 3 minutes before cutting the pieces into strips.
*I don't use dry or toasted crumbs because I like the crust soft but if you spread the bread crumbs on a plate to dry for a little while, it makes it easier to bread the chicken.
(You can also place the uncooked breasts in a butter casserole and bake them in a 425 degree oven for 20 minutes.)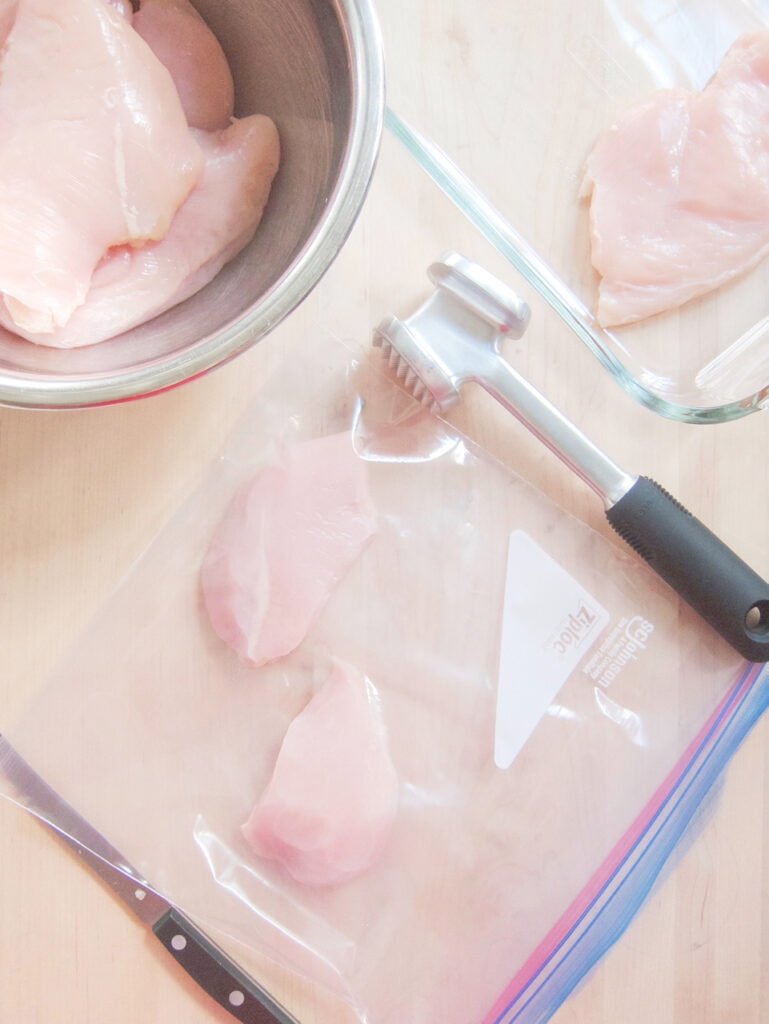 Peanut Crusted Baked Salmon
Ingredients
1 pound salmon
1/4 cup regular or gluten free fresh breadcrumbs
1/4 cup roasted salted peanuts
2 basil leaves
1/3 teaspoon salt
1/8 teaspoon pepper
2 tablespoons olive oil
1 small garlic clove, minced
2 teaspoons mayonnaise
Instructions
Place breadcrumbs, peanuts, basil leaves, salt and pepper in food processor and process until crumbs. Place salmon in a 9″ by 9″ pyrex dish, drizzle with olive oil and spread the oil and minced garlic over the top and bottom. Spread the mayonnaise on the top only, then sprinkle with the crumb mixture. Bake in a 350 degree oven for 18 to 20 minutes depending on the thickness of the fish. Let rest for 5 minutes.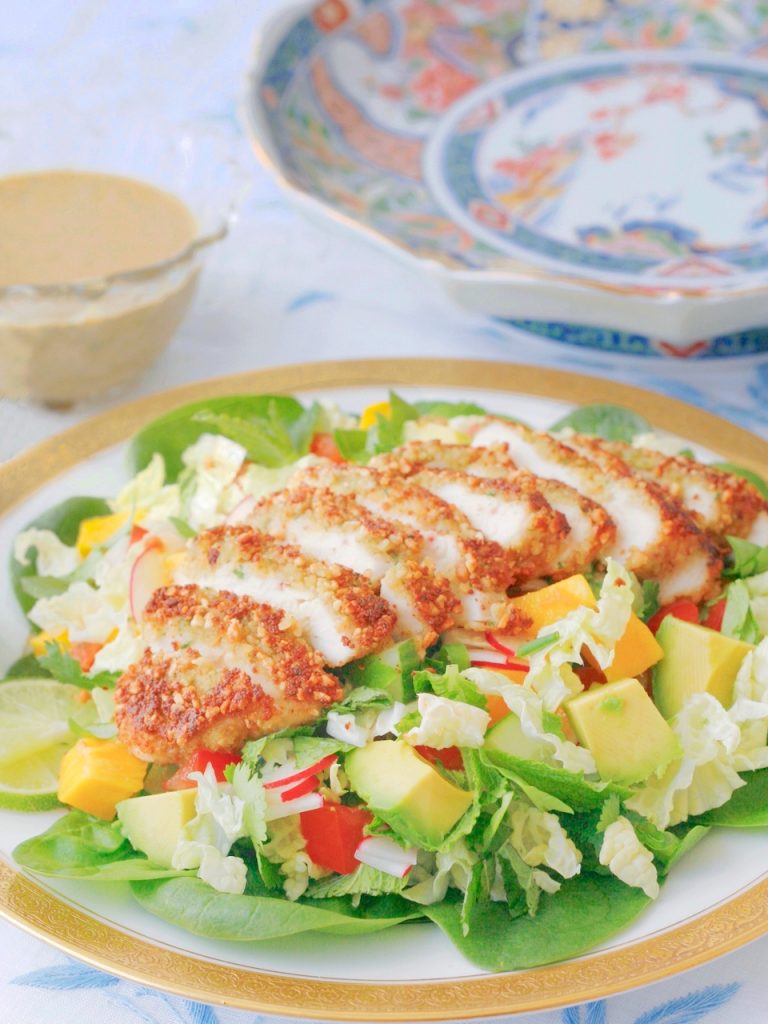 Thai Dressing
Ingredients
1/2 cup unsalted peanut butter (chunky is fine)
1/4 cup rice vinegar
1/4 cup lime juice
6 tablespoons light olive oil
2 tablespoons Coconut Secret Coconut Aminos (soy free 'soy sauce')
2 tablespoons honey
3 cloves garlic, minced
2 tablespoons fresh ginger, cut into small pieces
2 teaspoons salt
1 teaspoon Sriracha chili paste
1/2 cup loosely packed fresh cilantro leaves
Instructions
Blend in a food processor until almost smooth. It's better to use a food processor and not a blender so the cilantro will be small flakes and the dressing will be a nice color. Note: You'll only need half this amount of dressing if you are doing 1 pound of salmon.
Assembly
Arrange the salad on a plate, drizzle with dressing (or keep the dress on the side) and lay the chicken strips across the top or place the salmon along the side of the salad.