Pine Nut Crusted Chicken Breasts
You have probably made pecan or almond crusted chicken breasts but for a delicious change try pine nuts. I love pine nuts on everything, especially when they've been toasted. They are soft and buttery and turn a quick and simple dinner of sautéed chicken breasts, brown rice and steamed vegetables into something special. One of the most difficult things to master is cooking meat correctly. Whether it's on the barbecue or on the stove, in one minute meat can go from the peak of perfection to tough. You have cooked this chicken just right if you can cut it with a fork.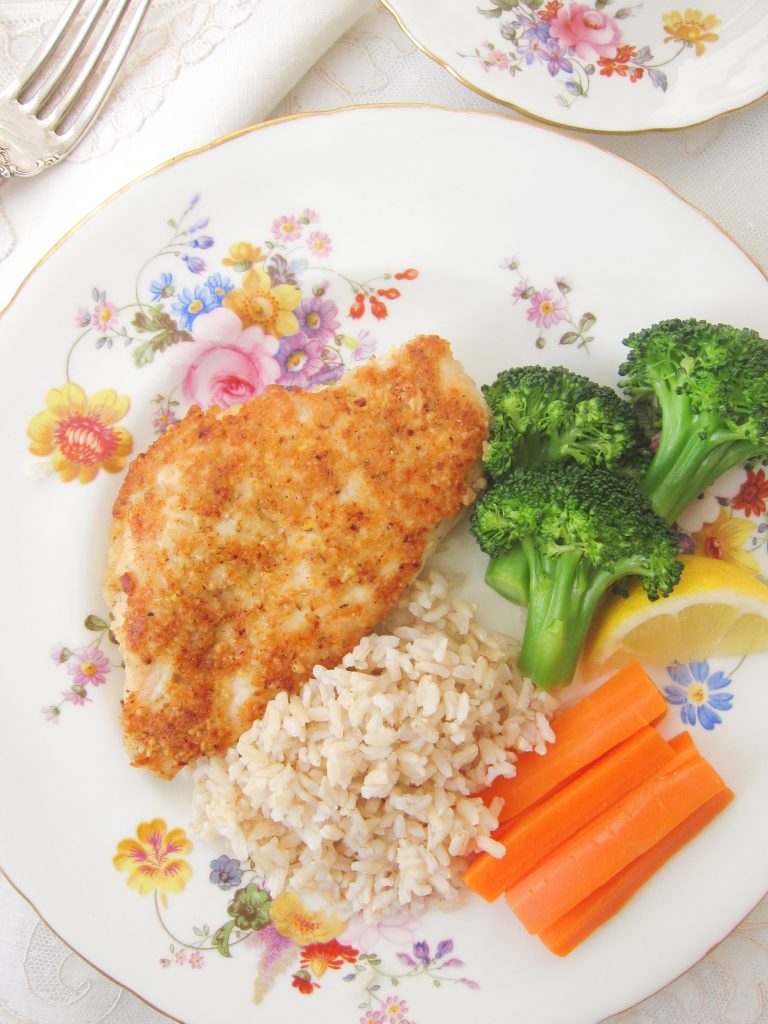 Pine Nut Crusted Chicken Breasts
Ingredients
2 large chicken breasts
1/4 teaspoon salt
1/8 teaspoon freshly ground pepper
3 tablespoons regular, rice flour or tapioca flour works very well for a paleo/keto version. (Don't use Tiger nut flour.)
1 egg, beaten
1/4 cup freshly grated parmigiano reggiano cheese
1/4 cup pine nuts
1/4 cup regular or gluten free fresh bread crumbs* (Nutritious Gluten-Free Sandwich Bread June/2014) or keto/paleo crumbs (Grain-Free Rolls July/2022
1 small garlic clove
1/2 teaspoon Penzey's Mural of Flavor herb seasoning or 3 fresh basil leaves
1 tablespoon butter
1 1/2 tablespoons avocado oil or light olive oil**
lemon wedges
Instructions
Cut the chicken breasts in half at and angle and place them in a plastic bag and pound until they are 1/2 inch thick. This will tenderize the meat and it will cook evenly. Sprinkle with salt and pepper. Spread the dusting rice flour on a plate and put the beaten egg on another plate. Place parmesan cheese, pine nuts, bread crumbs, garlic and Penzey's Mural of Flavor herb seasoning or basil in a food processor and process until crumbs and spread on a third plate. Line the plates next to each other in order. Dust the chicken with the rice flour, dip in the egg, then cover with the bread crumb mixture. Chill for one hour for better handling. Heat the butter and oil in a non stick skillet on medium high, add the chicken pieces (they should sizzle when added to the pan). Cook them for 4 minutes on each side. Sprinkle with lemon juice.
*I don't use stale or toasted crumbs because I like the crust soft. It's not necessary, but if you spread the bread crumbs on a plate to dry for little while, it makes it easier to bread the chicken.
**Trader Joe's Trader Grotto's Sicilian (cold pressed) Extra Virgin Olive Oil is a blend of three olives from Sicily, packaged in Italy in a beautiful bottle. It's light and delicious. Store it in the dark and use up within a month.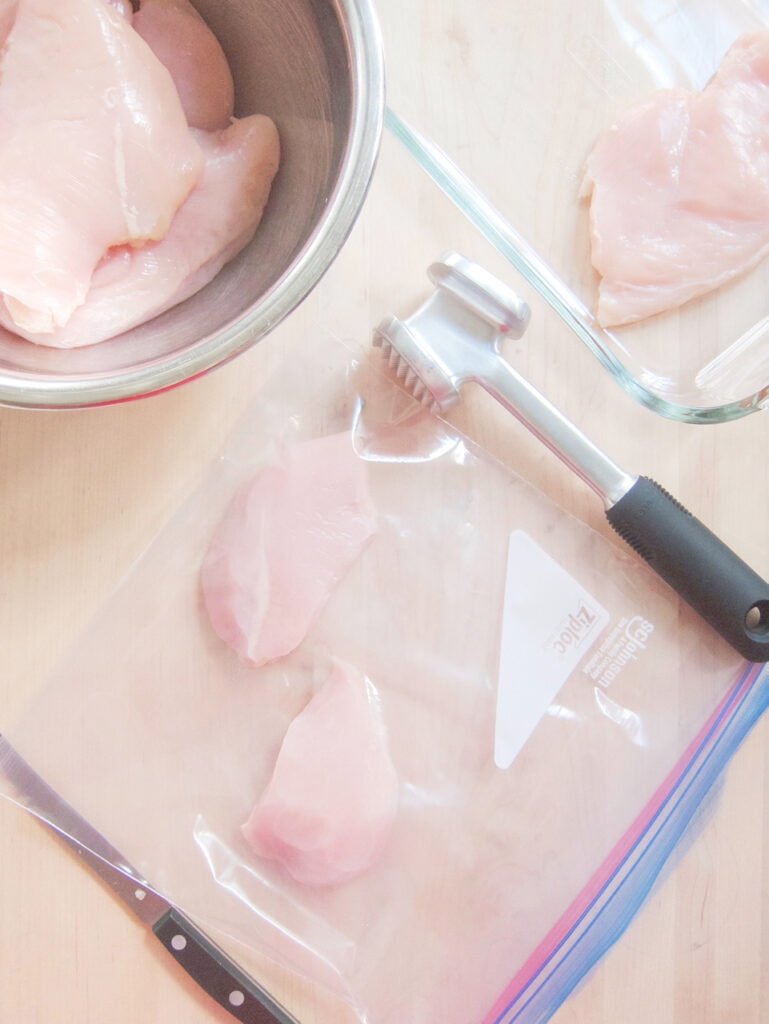 To cook brown rice, fill a pot three quarters full with water and bring to a boil. Rinse the desired amount of rice using a sieve. Once the water is boiling, add the rice. Let the rice boil uncovered for 35 minutes, then remove from heat and drain all the water out. Put a lid on the pot and let stand for 5 to 10 minutes. Remove lid, sprinkle the rice with a half teaspoon of salt and fluff the rice with a fork.