Potatoes Au Gratin With Chicken Broth, Moscato Wine and Nutmeg
You won't miss the cream in these delicious au gratin potatoes cooked in chicken broth flavored with Moscato wine.
Since potatoes have different textures, it's good to know which kind you will like better for which recipe. Like using the right apples for an apple pie so they hold their shape and don't turn to applesauce.
I think the biggest mistake we all make (just once!) in choosing the right potato for a dish and is when we use waxy potatoes for mashed potatoes and over whip them and they get gummy. Yukons are partially waxy so they can be more safely used for mashed potatoes and they are a lot of peoples' favorite potato for that dish. They are just careful not to over beat them. I use russets for mashed potatoes. They are perfect for mashing because they won't get gummy. I also like russets for a potato au gratin made with milk and cream. But for this potatoes au gratin recipe, I found that a more waxy potato like Yukon gold is better.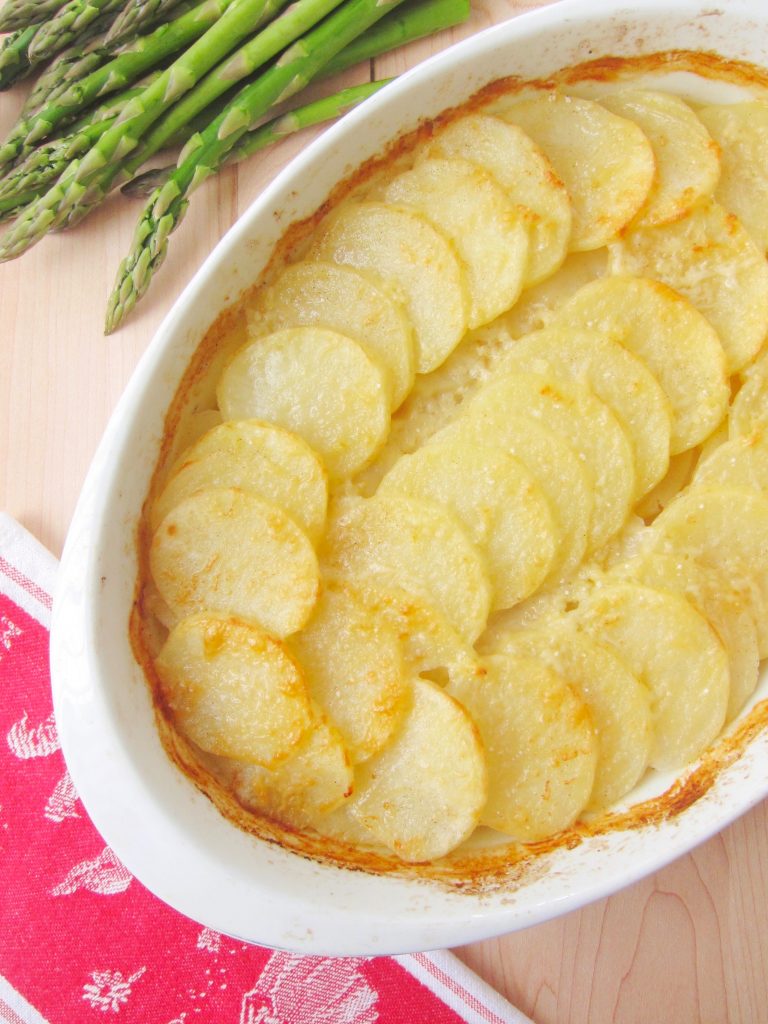 Potatoes Au Gratin With Chicken Broth, Wine and Nutmeg
Ingredients
4 – 5 (about 1 3/4 pounds) yukon potatoes, peeled and sliced thin
salt
white pepper
freshly grated nutmeg
3 tablespoons butter
1 large garlic clove, minced
1 14 ounce can Swanson's Chicken Broth
2 tablespoons Moscato wine
1/2 cup shredded Gruyère cheese
Instructions
Pour chicken broth, garlic and wine into a small sauce pan and boil down to 3/4 cup. Cool. Place 1/3 of the potatoes in a small au gratin or deep dish pie plate. Sprinkle with salt and nutmeg. Repeat two more times. Sprinkle with a pinch of white pepper. Slice the butter into thin pieces and distribute evenly over the potatoes. Pour the chicken broth over the potatoes and sprinkle the cheese over the top.
Bake loosely covered with foil in a 350 degree oven for 1 hour or until potatoes are tender when pierced with a knife. Run under the broiler until golden. Let cool 10 minutes before serving.