Simple Chinese Chicken and Vegetables and Cauliflower Rice
Chinese cooking can involve a lot of ingredients you may not normally have in your pantry, such as fish sauce, oyster sauce, plum sauce, special dried mushrooms, and a wok to cook it right. So this is a simple version of a wonderful cuisine using just a few of their unique ingredients.
Technically sautéing food means that you are not stirring it all the time so that it browns. In stir frying you use high heat and a lot of oil you keep moving the vegetables until they are about three quarters cooked and still crisp and bright in color and they don't brown. This recipe is somewhere between the two. You use medium high heat and the vegetables are stirred often enough so they don't brown and the vegetables get cooked a little more with the steaming but they still have color.
The vegetables that were chosen along with the cashews was from a Polynesian dish that Trader Vics used to serve. It had a lot of diced celery and cashew pieces and the taste of this combination was memorable.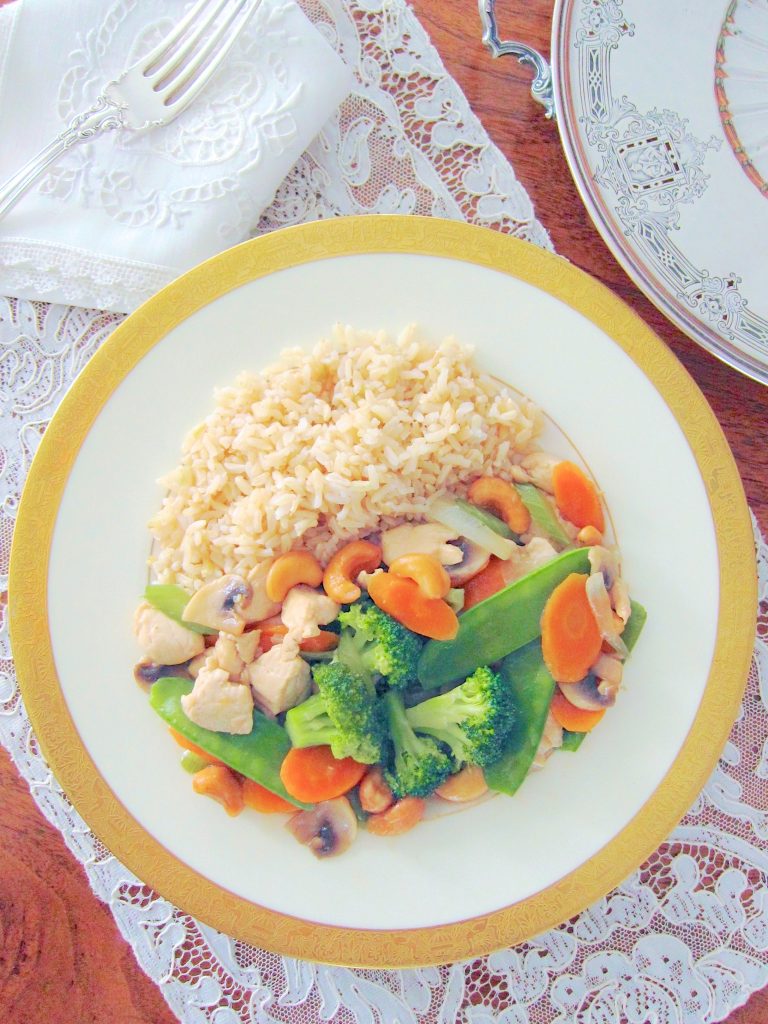 Simple Chinese Chicken and Vegetables
Ingredients
2 chicken breasts or 1 package chicken tenders cut into bite-sized pieces
4 teaspoons sesame oil, divided
3 tablespoons Coconut Secret Coconut Aminos Soy-free Seasoning Sauce (soy sauce substitute)
2 garlic cloves, minced
3 tablespoons coconut, avocado oil or light olive oil
1 onion, sliced and cut into pieces
6 mushrooms, sliced
3 cups broccoli florets and peeled and sliced stems
3 carrots, sliced
3 celery stalks, sliced
4 small bok choy, sliced
40 snow peas, trimmed
2 14 ounce cans chicken broth
2 tablespoons cornstarch
1/2 teaspoon salt (opt)
dry roasted and salted cashews
cooked brown rice (recipe below) or cauliflower rice (recipe below) or quinoa
Other options are canned baby corn, canned bamboo shoots, and canned water chestnuts.
Instructions
Place chicken pieces in a bowl, sprinkle with 2 teaspoons sesame oil, 2 tablespoons aminos and minced garlic. Cover and let marinade in fridge for several hours.
Pour chicken stock into a sauce pan, bring to boil and reduce down to two cups, cool. Pour the reduced stock into a jar, add the cornstarch, shake and set aside.
Sauté the marinaded chicken in a large heavy non stick skillet (a scan pan works great) until the pink is gone, transfer to a plate and set aside. Add the oil to the skillet and sauté the onions and mushrooms for two minutes. Add broccoli, carrots, celery, and bok choy and sauté two more minutes. Cover pan and let steam until broccoli is tender (a few minutes). Add snow peas and sauté one minute. Sprinkle with the remaining sesame oil, aminos and salt. Return the chicken back to the skillet. Push the vegetables and chicken towards the sides of the pan and pour the chicken broth and cornstarch mixture into the middle of the pan and stir until thick then stir everything together. Check seasoning and add more sesame oil, aminos and salt to taste. Sprinkle with cashews and serve along side rice or place on top of rice in a bowl for a brown rice bowl lunch or dinner.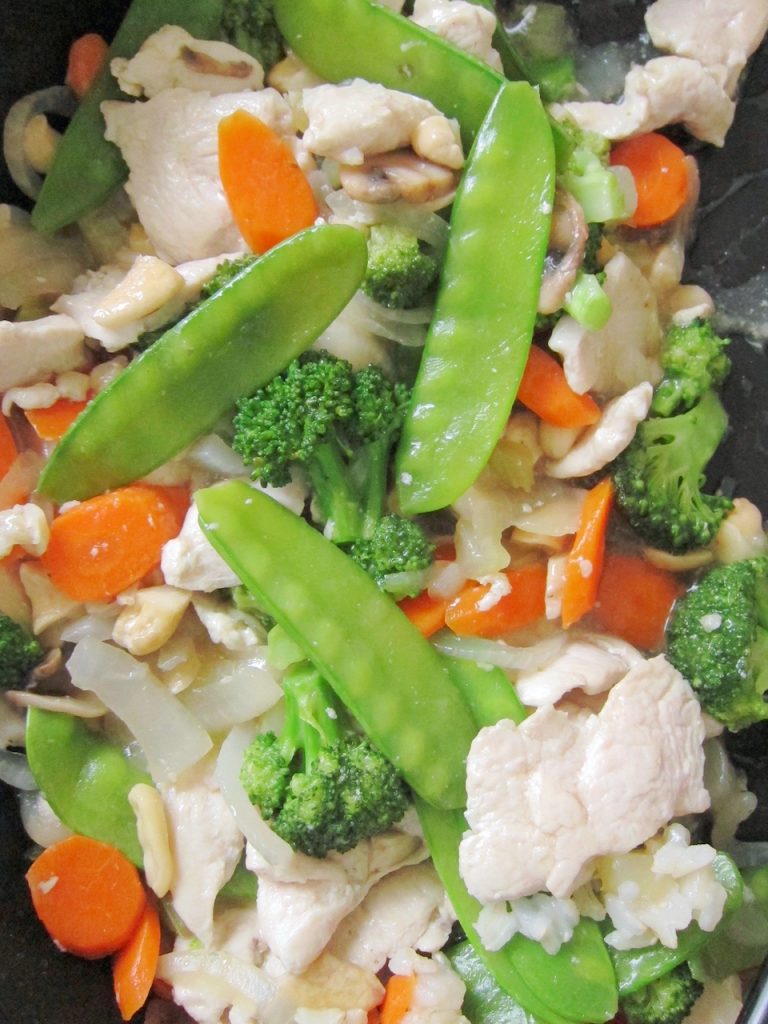 Easy Brown Rice
To cook rice, fill a pot three quarters full with water and bring to a boil. Rinse the rice with water using a sieve. Once the water is boiling, add the rice. Let the rice boil uncovered for 35 minutes, then remove from heat and drain all the water out. Put a lid on the pot and let stand for 5 to 10 minutes. Remove lid, sprinkle the rice with a half teaspoon of salt and fluff the rice with a fork.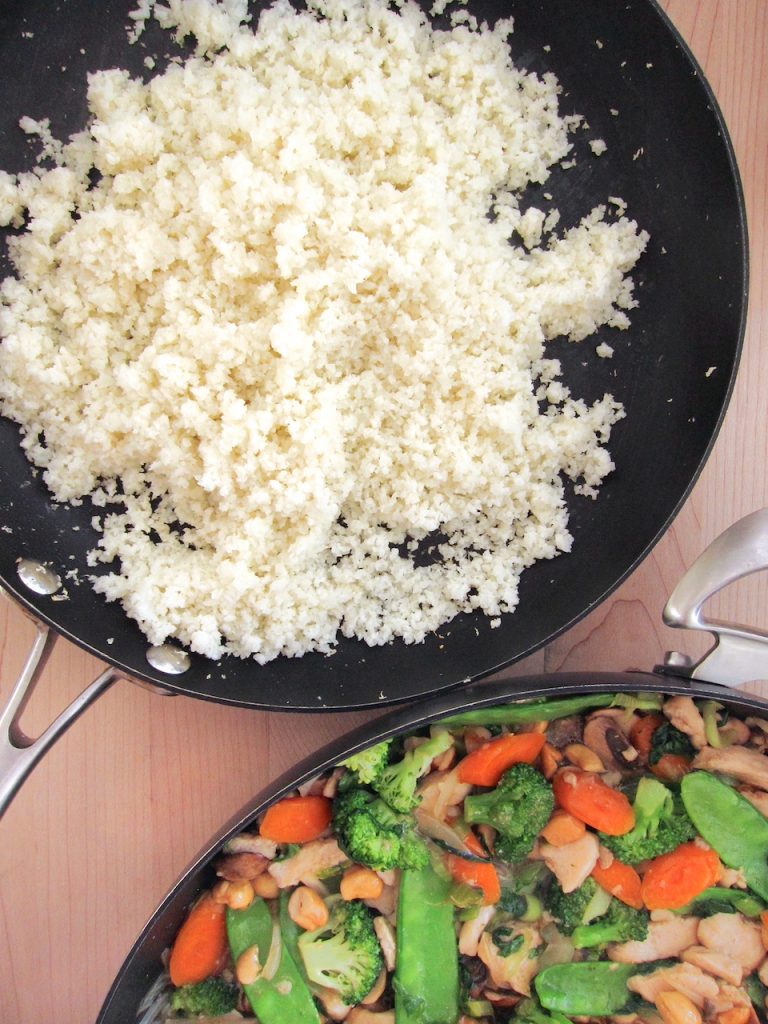 Low Carb Cauliflower Rice
Ingredients
1 head cauliflower florets
1 tablespoon olive or rice bran oil
1/2 tablespoon butter
salt
Instructions
Working in batches, fill a food processor half way with florets and pulse process 4 or 5 times for 2 to 3 seconds, scraping bowl as you go to redistribute the pieces, until evenly crumbled. Heat oil and butter in a skillet that has a cover. When hot, add the 'rice' and cover. Let cook for 5 to 8 minutes, stirring every couple of minutes. The 'rice' should be crunchy.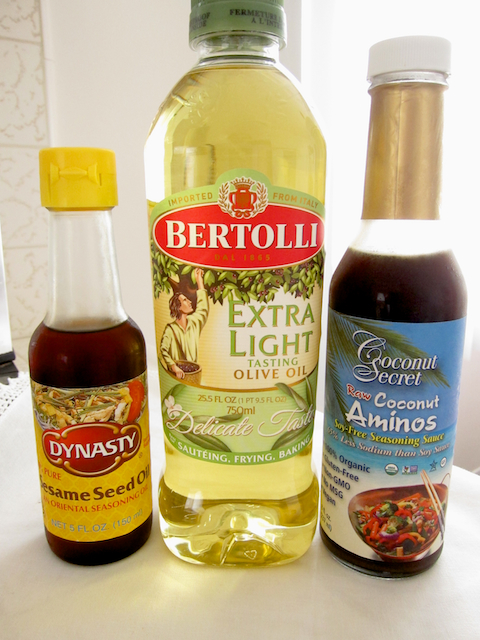 Wild and exotic mushrooms are great for Chinese food.