Indian Curry With Sweet Potatoes, Cauliflower and Bok Choy
When we think of Indian cuisine we think of a lot of variety, colorful spices and condiments like jams, dips, raitas, sauces, chutneys and pickles. There is no end to the creativity and combinations. Because it's all about the flavorful sauces, Indian cooking is great for making vegetarian recipes. Whether there's meat in it or not, you won't notice. Bok choy looks like celery but it's a member of the cabbage family. It's packed with vitamins A and C which helps the body resist infections and fight inflammatory free radicals. Bok choy is also a good source of vitamin K which makes your bones stronger delaying osteoporosis and may also help alzheimer's patients by limiting neuronal damage to their brains.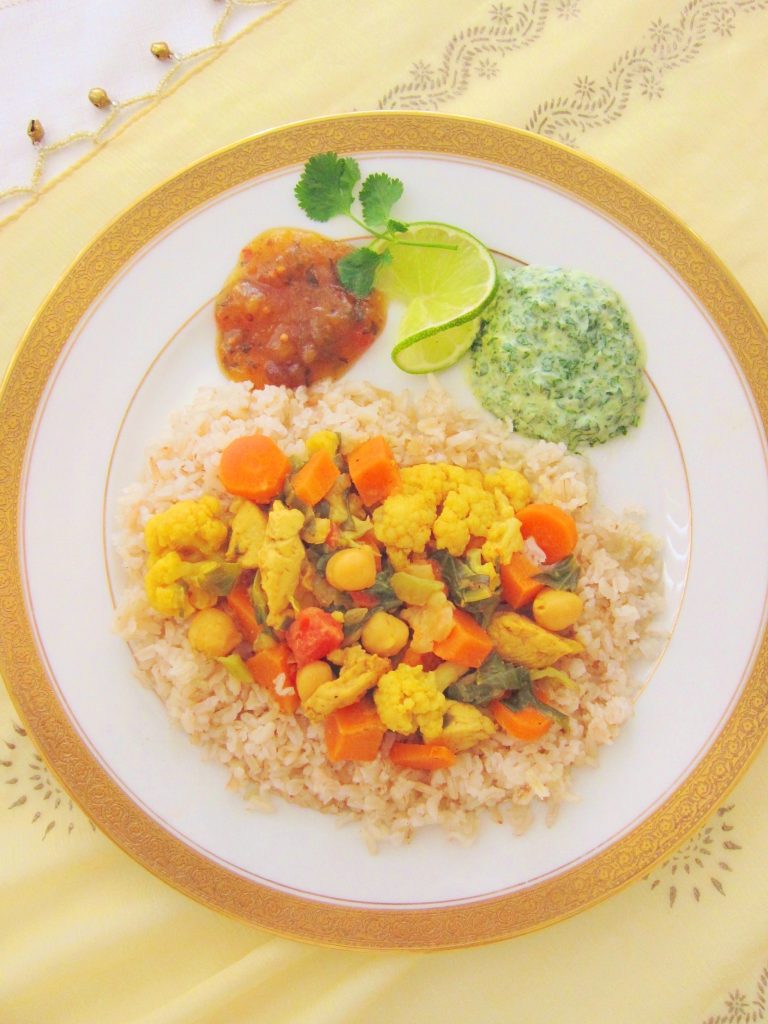 Indian Curry With Sweet Potato and Bok Choy
Ingredients
1 1/2 tablespoon coconut, avocado oil or light olive oil*
2 chicken breasts, cut into 3/4″ pieces (optional)
2 cups diced onion
2 large cloves garlic, minced
2 tablespoons Penzeys' Sweet Curry Powder, or curry powder of choice
2 teaspoons McCormick Garam Masala
1 teaspoon cumin
1 1/2 teaspoon salt
1 14 ounce can Swanson's Organic Chicken Broth
1 14 ounce can mini diced tomatoes
1 sweet potato (or yam), peeled and diced into 3/4″ pieces
2 carrots, sliced
3 cups cauliflower fleurets
5 small bok choy bunches
1 can garbanzo beans
3/4 cup whipping cream
Instructions
Sauté onions and garlic for 5 minutes. Add chicken (if using) and sauté until no longer pink. Add spices and sauté 30 seconds. Add remaining ingredients, except the cream. Bring to boil, turn down heat, cover and simmer until the vegetables are tender, about 40 minutes. Stir in cream.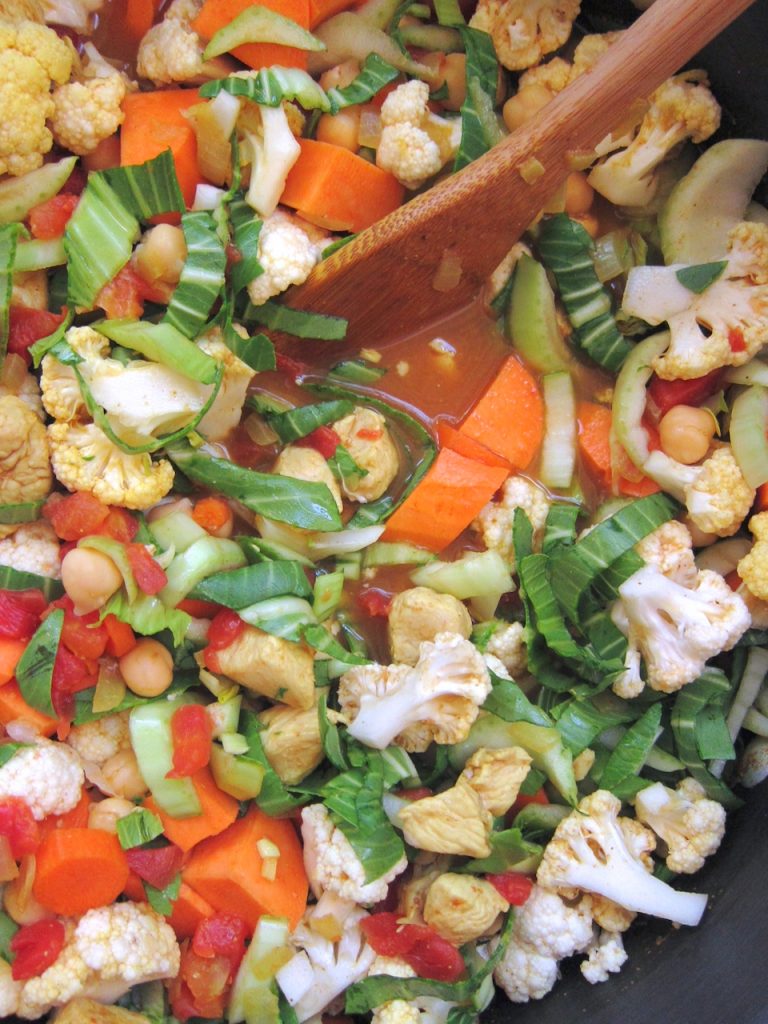 Assembly
You will need:
cooked basmati rice (recipe below)
mango chutney (Stonewall Kitchen Mango Chutney at Whole Foods is good)
Cilantro Mint Sauce (below)
lime
Instructions
Serve over cooked basmati rice with mango chutney and cilantro mint sauce and a squeeze of lime.
*Trader Joe's Trader Grotto's Sicilian (cold pressed) Extra Virgin Olive Oil is a blend of three olives from Sicily, packaged in Italy in a beautiful bottle. It's light and delicious. Store it in the dark and use up within a month.
Easy Brown Rice
To cook rice, fill a pot three quarters full with water and bring to a boil. Rinse the rice with water using a sieve. Once the water is boiling, add the rice. Let the rice boil uncovered for 35 minutes, then remove from heat and drain all the water out. Put a lid on the pot and let stand for 5 to 10 minutes. Remove lid, sprinkle the rice with a half teaspoon of salt and fluff the rice with a fork.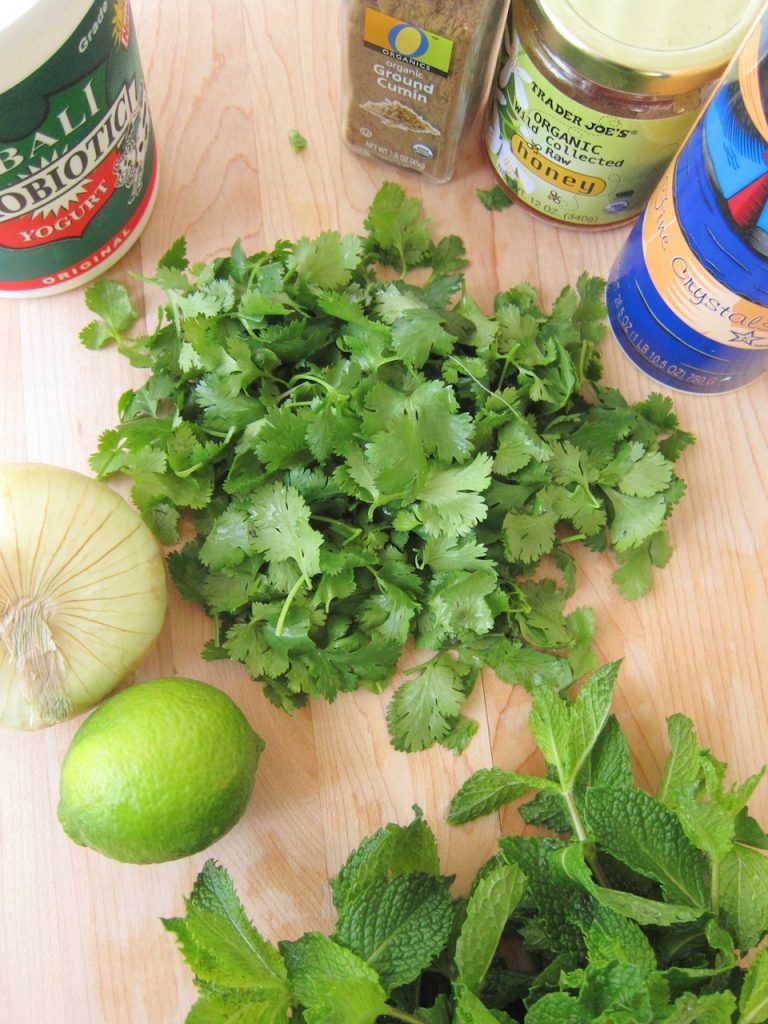 Cilantro Mint "Pudhina" Chutney
Ingredients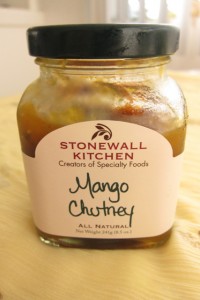 2 cups finely minced cilantro*
1 cup finely minced mint*
2/3 cup plain drained yogurt or lebne
1/2 cup finely chopped sweet onion
2 teaspoons honey
1/2 teaspoon cumin
2/3 teaspoon salt
Instructions
Mix all ingredients in a bowl.
*or mashed into a paste.