Tomato, Fresh Mozzarella and Basil Tramezzino With Herbed Oil
Italians have two names for a sandwich (it's a little complicated). A 'panino' is a a small bread roll and a panini is a sandwich made from one of these rolls like a ciabatta, rosetta or baguette. The word for a sandwich made with sliced bread is a tramezzino. This recipe is for a finger licking, Italian dip tramezzino. It's a bit messy so you really are licking your fingers but you won't have a problem with that because you won't want to miss out on any of the yummy flavor. From Italy we have tomato, basil and mozzarella salads with olive oil but this classic combination has reached new heights when you add herbs to the oil. You can also try a yellow heirloom tomato. They have a sweet mild taste that has the tomato taking more of a backseat allowing the perfect balance of flavors for this sandwich. They are also a meatier tomato like a beefsteak so they slice well and aren't full of juice. For simplicity, you can use just plain olive oil that's used for the classic recipe but it's the garlic herb oil that puts the sandwich over the top. And since dipping the sandwich can be difficult with gluten free bread, you can just remove the top piece of bread, spoon the oil over the sandwich filling and put it back on. Like I said, a bit messy, but worth every bit of the extra fuss.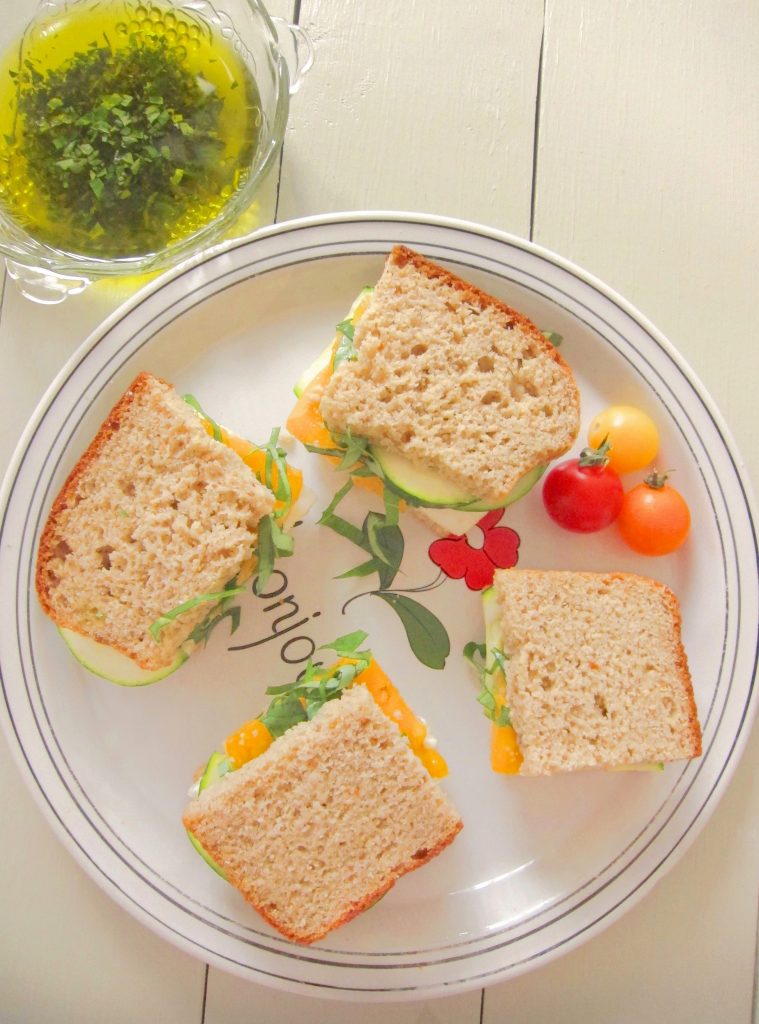 Tomato, Fresh Mozzarella and Basil Tramezzino With Herbed Oil
Ingredients
Instructions
Assemble the sandwich and cut in quarters, halves or leave whole, whichever you prefer. *Stack basil leaves and roll up and slice diagonally with a sharp, straight knife (not serrated). You will need to use but basil immediately because the cut ends oxidize and brown quickly.