Summer Vegetable Tian Au Gratin
Looking for more ways to use the bounty of squash in your garden? Add this fun and pretty recipe to your list.
A 'tian' is a mixture of roasted vegetables cooked in a shallow dish, usually with a cheese or au gratin (with a browned bread crumb topping). It derives its name from a large, round, earthenware pot used in Provence, France but as people moved around and recipes changed, a tian has become known as an Italian casserole. This version of a vegetable tian has potatoes which adds a lot to the dish making it very different. Slice the potatoes very thin so they get cooked, and use a waxy type of potato so the slices keep their shape.
The amounts of the ingredients can be varied. Add more or less of whatever you feel like, for example, more potatoes and less squash. Use more garlic if you like or use basil or oregano instead of rosemary and thyme. To make it a more low carbohydrate dish, omit the bread crumbs and double the cheese.
Serve with fried or scrambled eggs, roast chicken, meatloaf or lamb, beef or turkey burgers.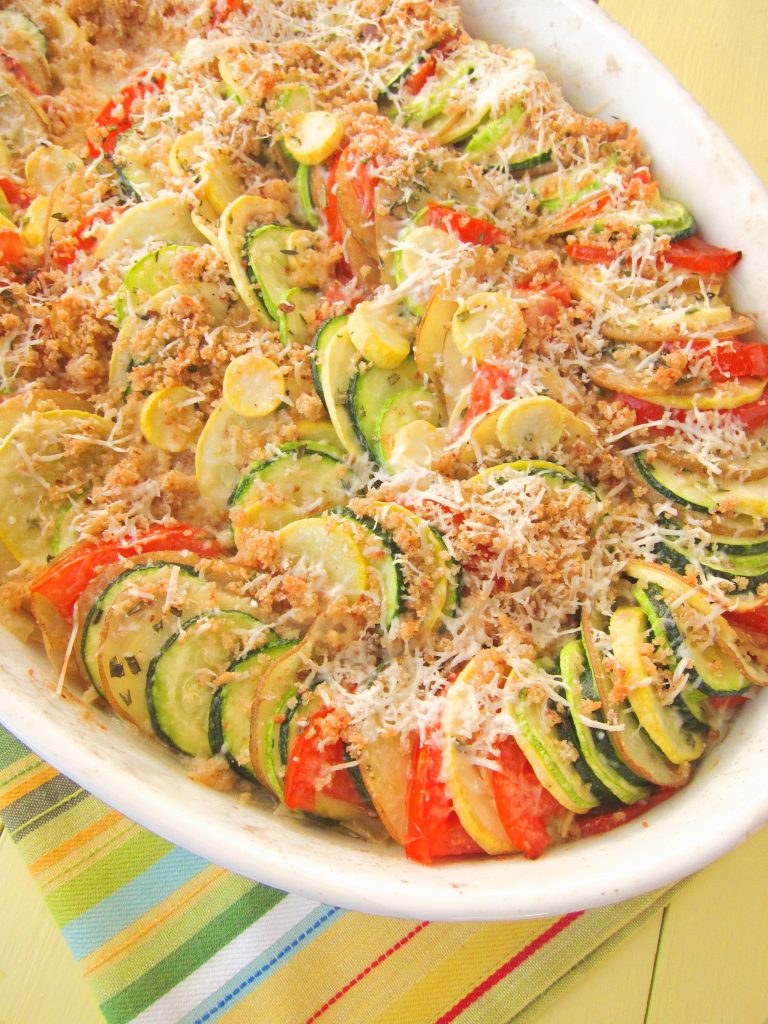 Summer Vegetable Tian Au Gratin
Ingredients
5 tablespoons avocado oil or light olive oil, divided
1 red pepper, sliced into 1/8 thick pieces
1 onion, sliced in half, then in thin wedges
3 garlic cloves
3 zucchini, cut in 1/8″ slices
2 yellow crookneck squash, cut in 1/8″ slices
2 small white or yukon potatoes, sliced very thin
1 medium or 2 small tomatoes, sliced
salt and pepper
1 1/2 teaspoons fresh thyme leaves
1 1/2 teaspoons fresh chopped rosemary
1/2 cup parmesan reggiano cheese
1/2 cup fresh bread crumbs
2 teaspoons butter
Instructions
Sauté red pepper, onion and garlic in 2 tablespoons the oil for 5 minutes, spread in the bottom of a casserole, sprinkle with salt and pepper and set aside. Cut the squash and potatoes into 1/8 inch slices and place in a bowl. Toss with 3 tablespoons of the oil, separating the pieces so they all get coated. Arrange the thinly slices vegetables over the pepper and onion mixture. Sprinkle with salt and pepper and the herbs. Cover with foil and bake in a 400 degree oven for 30 minutes. Meanwhile, melt the butter in a small skillet and add the bread crumbs. Cook until slightly toasted. Remove the foil and sprinkle with the cheese and bread crumbs. Return to the oven and bake an additional 15 minutes.