Tomato and Cucumber Salad With Fresh Dill and Basil
Fall will reach California in a few more weeks and we will be saying goodbye to summer fruits and vegetables including the beautiful heirloom tomatoes. A few farmers still have some summer squash and peppers but some of the fall squashes are in the mix as you wander past the stalls. Every week there is a new sign letting us know it's the last week for a particular peach and this morning I knew it was time to stock up on them.
Some of the farmers have samples of all the different tomatoes. They slice them and sprinkled with salt and pepper. If you don't know it yet, salt and tomatoes go together like peanut butter and jelly. For this recipe post, I've added just a few more ingredients and not too much lettuce, still wanting to feature beautiful heirloom tomatoes.
Turn this salad into a meal by adding chunks of fresh mozzarella cheese or some leftover roasted chicken or baked salmon broken into bite-sized pieces.
The salt myth needs to be shaken up. Sodium is a vital nutrient your body, aiding in digestion, helping maintain fluid balance and cardiovascular function, and it plays an important role in the nervous system, helping neurons send messages to other neurons. Tomatoes are a great way to get the extra salt you need in the summertime to keep hydrated. They taste great with a lot of salt so pass some extra salt around with the salad.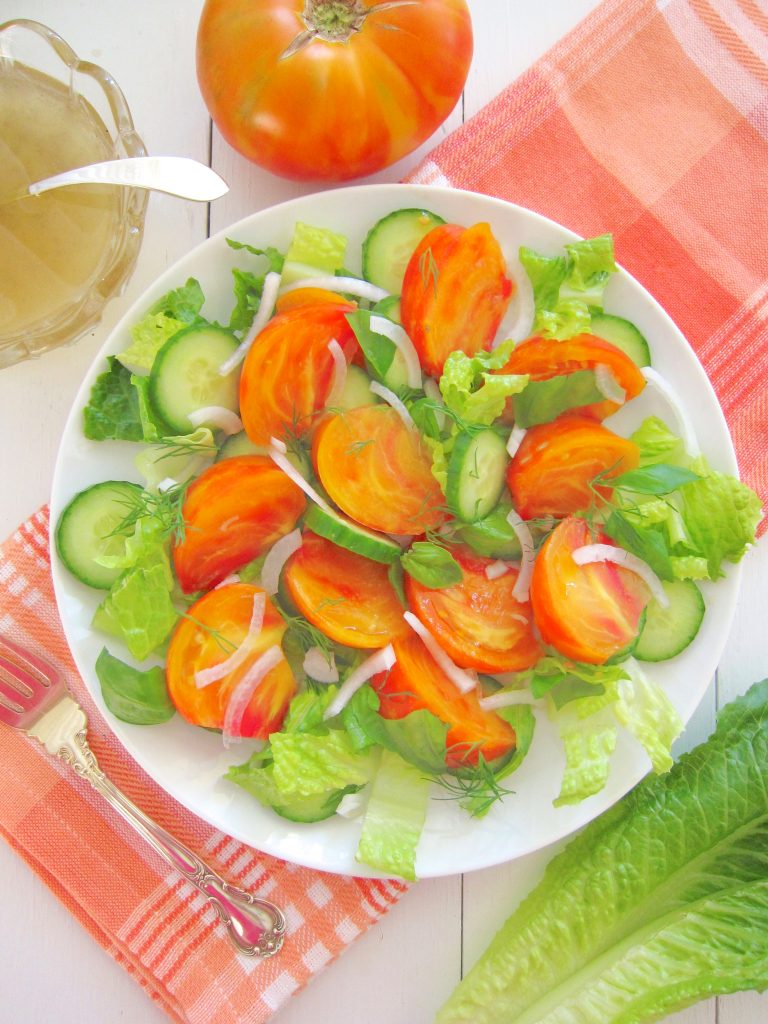 Tomato and Cucumber Salad With Fresh Dill and Basil
Salad Ingredients
good tomatoes in season
persian cucumbers (for regular cucumbers, remove waxy, bitter peels)
sweet onion*
fresh dill
fresh basil
romaine lettuce (optional)

Dressing Ingredients

1/2 cup light olive oil
2 tablespoons Coconut Secret Coconut Vinegar
1 teaspoon honey
1/2 teaspoon salt
1/4 teaspoon pepper

Instructions

Shake dressing ingredients in a jar. Arrange salad ingredients to your liking on a salad plate. Serve with dressing.
*You can soak the onions for 10 minutes or pickle them for 15 minutes to temper the bite of the raw onion and possibly make them easier to digest if you have problems with raw onions.

>