Gluten-Free Almond and Coconut Cake With Whipped Cream and Fresh Fruit
This recipe is a 'lower' carb food for maintaining healthy weight and blood sugar levels because it's sweetened with honey and is made without the grains which convert into sugar. We tend to do things to the extreme and when you start eating a low carb diet, you may think you need to cut out all sugar. That may be necessary in some cases people but cutting out all grains and sugar is not the right thing to do for most people. Our bodies, including our brains, need the sugar from carbohydrates. The problem has been eating too many carbohydrates cause the body to crave the sugar like an addiction.
Taking it a step future, the goal of this recipe, like many of the gluten-free recipes on this website, is a balance between the traditional wheat flour and sugar recipes that have little nutrition and overload you with carbs, and recipes that have gone the opposite direction replacing the wheat flour with something that may or may not be good for you, and a sugar substitute that may or may not be good for you.
Fruit and honey are healthy carbs. To make a cake lower in carbohydrates, this cake is made with coconut flour and almond meal. Coconut flour recipes call for a lot of eggs which has been something that has been sending up a red flag because doctors have been telling people to cut back on eggs because of the cholesterol in the yolks. But just as Time magazine recently told us that butter wasn't the problem behind obesity, doctors have also figured out that the cholesterol has not been the problem with what happens to arteries that leads to cardiovascular disease.
The medical field brought to our attention what they've called "bad" cholesterol when they began dealing with arteries that were clogged with cholesterol. As a result they have been taking tests and if a person had a high cholesterol count, they would be told that we were at risk of blockages resulting in heart attacks. But the issue wasn't the amount of cholesterol, it's the amount of inflammation in the body. No matter what the level, cholesterol will not attach itself to the walls of arteries unless they are inflamed. What doctors had discovered was that cholesterol was attaching itself to inflamed walls acting like a bandage. This is good news for everyone because they have been eating according to misinformation and it's being fixed.
Cholesterol plays several major roles in the body and the vitamin K2 in eggs helps the cholesterol in eggs to be delivered to where it is needed. Cholesterol helps make the membranes of cells. Cholesterol makes the bile acids that work to digest the food in the intestines and it's involved in the production of vitamin D and some hormones like estrogen and testosterone.
Inflammation occurs in the body when toxins damage cells which is called free radical damage. The cells lose an electron and go haywire. Anti-oxidents return the electron counteracting toxin's free radical damaged cells. Avoiding toxins that will cause inflammation is why we don't want to breath bad air and second hand smoke and why we try to eat unprocessed and organic foods.
You will find cakes like these filled with lemon curd or custard and frost it with whipped cream that has been beaten until it is very thick. To keep it lower carb, just fill it with whipped cream which is the very classic sponge cake recipe.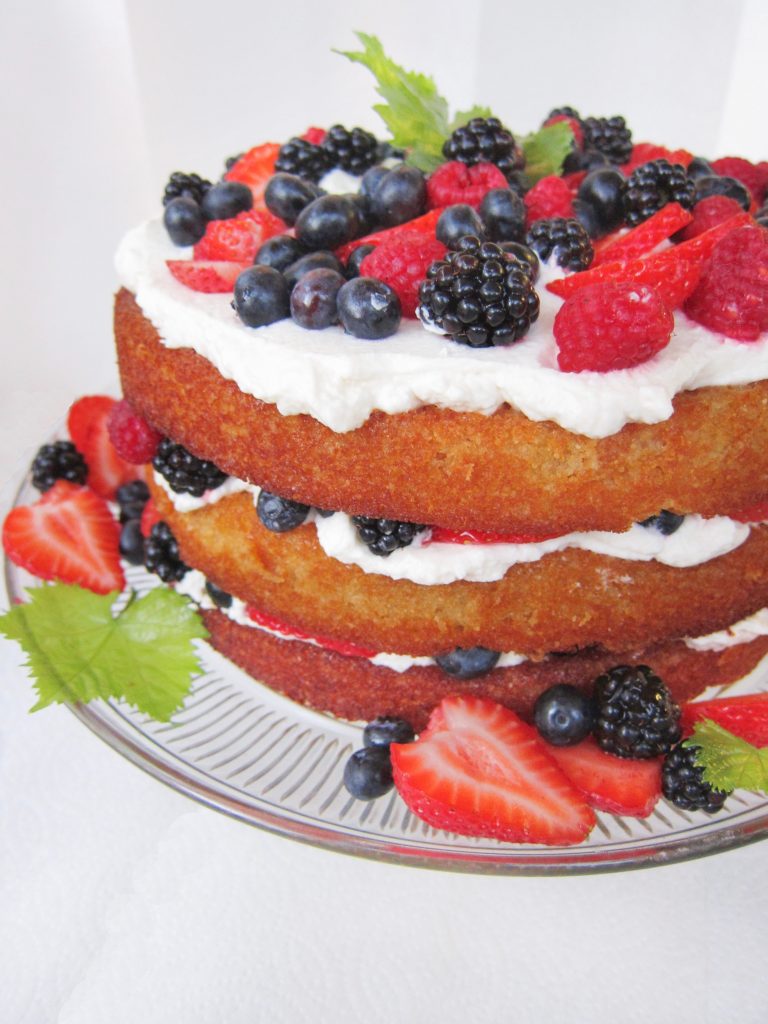 Gluten-Free Sponge Cake With Whipped Cream and Fresh Fruit
Ingredients
1 cup almond meal flour
1 cup coconut flour
4 teaspoons baking powder
1 teaspoon salt
1 1/2 cups unsalted butter
1 1/2 cups honey
8 eggs, slightly beaten
1 cup coconut milk
2 teaspoons vanilla
Instructions
Grease 3 round cake pans, lined with waxed paper and set aside. Mix almond meal flour, coconut flour, baking powder and salt in a bowl and set aside. Cream butter and honey. Add eggs, coconut milk and vanilla and mix. Add flour mixture and mix until blended. Pour into the prepared cake pan. Bake in a 350 degree oven for 20 minutes or until it bounces back when you touch it with your finger. Remove cakes from pans and let cool.
This cake is very tender and light. I use a very large spatula or two large knifes to move the layers and set them on top of each other. It will fall apart if you use your fingers.
Make whipped cream frosting using 2 cups whipping cream, 1/4 cup honey and 1 teaspoon vanilla.
Ice each layer with whipped cream and fresh seasonal fruit. Decorate with fresh mint leaves, grape leaves or other decorative leaves of your choice.