Somerset Chicken Rice Bowl

Somerset is a rural county of rolling hills in South West England. Agriculture is Somerset's major business and it is known for its famous cheeses. Apple orchards were once plentiful and Somerset is still known for the production of a strong cider called 'scrumpy.'
Somerset chicken recipes vary greatly but the sauce always has apple juice or cider in it. Using apple cider gives the dish a stronger apple taste and makes it sweeter. Some recipes include tomatoes giving the dish a very different flavor. Many and perhaps most of the recipes have a rich cream sauce flavored with the cider, mustard and cheese, a company version which sounds so yummy that I will probably be trying out very soon while the fall apples are in season.
This simple and healthy version of the dish is from my grandparent's recipe files. It goes together quickly and is really delicious!
If you are cutting back on sugar and carbohydrates to lose weight or to watch your blood sugar, you can skip the rice, add some chicken broth and turn it into a Somerset Chicken Stew.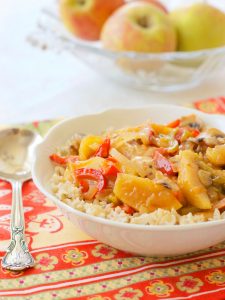 Somerset Chicken Rice Bowl
Ingredients
4 chicken breasts
salt and pepper
2 tablespoons butter
1 tablespoon coconut, avocado or light olive oil*
1 medium onion, cut in slivers**
8 ounces mushrooms, sliced
1 red pepper
1 green pepper
3 small apples, peeled and sliced
1 teaspoon cumin
2 teaspoons paprika
1 teaspoon salt
1 cup plus 3 tablespoons apple juice, divided
1 tablespoon cornstarch
cooked brown rice (recipe below)
Instructions
Slice chicken breasts diagonally and place in a plastic bag and pound to 3/4" thickness and salt and lightly pepper each side. Heat butter in medium hot skillet and lightly brown chicken on both sides and lay in a casserole. Add the oil to the skillet and the mushrooms and onions. Sauté for 10 minutes until the onions are just starting to caramelize. Add the peppers and cook 3 minutes. Stir in the seasonings, then the apple slices and 1 cup of apple juice. Let simmer 10 minutes. Mix 3 tablespoons of apple juice with 1 tablespoon cornstarch and stir into the skillet. Spoon the apple vegetable mixture over the chicken. Cover loosely with foil and bake in a 350 degree oven for 45 minutes.
*Trader Joe's Trader Grotto's Sicilian (cold pressed) Extra Virgin Olive Oil is a blend of three olives from Sicily, packaged in Italy in a beautiful bottle. It's light and delicious. Store it in the dark and use up within a month.
**Cut in half through the middle, then in half through the top and the bottom, then in slivers.
Easy Brown Rice
To cook rice, fill a pot three quarters full with water and bring to a boil. Rinse the rice with water using a sieve. Once the water is boiling, add the rice. Let the rice boil uncovered for 35 minutes, then remove from heat and drain all the water out. Put a lid on the pot and let stand for 5 to 10 minutes. Remove lid, sprinkle the rice with a half teaspoon of salt and fluff the rice with a fork.