Gluten-Free Apple and Cheddar Cheese Tea Cakes
Cheesemaking dates back at least 5,000 years and archeological evidence of the art has been found in ancient Egyptian civilizations. The practice of eating fruit and cheese along with nuts also dates back to ancient times. These combinations are said to aid digestion and for this reason fruit and cheese are commonly served for dessert.
The marriage of apples and cheddar cheese have a long history in England, particularly Yorkshire where putting sharp cheddar cheese on apple pies may have begun. Apples and cheesemaking came to America by European settlers. Now eating a slice of cheese on your apple pie is called eating it New England style.
This recipe is a nutritious makeover of a recipe in the original Dolly Put the Kettle On cookbook. The wheat flour was changed to the gluten-free flours. The white sugar became lower glycemic coconut sugar. Avocado or light olive oil is replacing the butter and coconut milk was added to make it moist.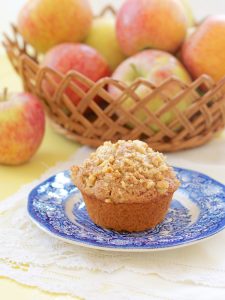 Gluten-Free Apple and Cheddar Cheese Tea Cakes
Ingredients
1/2 cup brown rice flour
1/2 cup gluten-free oat flour
1/4 cup sorghum flour
1/4 cup millet flour
1/4 cup hemp flour or buckwheat flour
1 1/2 teaspoons cinnamon
1 teaspoon baking soda
1/2 teaspoon baking powder
1/2 teaspoon salt
3/4 cup coconut sugar
1/2 cup avocado or light olive oil
1/2 cup coconut milk
2 eggs, slightly beaten
1 1/4 cup chopped apples
2/3 cup grated cheddar cheese
2/3 cup walnuts, chopped
Instructions
Grease a muffin pan and set aside. Whisk together the flours, cinnamon, baking soda, baking powder, salt and sugar in a large mixing bowl. Whisk in the oil, milk, eggs, then the apples and cheese. Fill the muffin pans and sprinkle with the nuts, lightly pressing them into the batter so they will stick. Then sprinkle with a little cinnamon if desired. Bake in a 350 degree oven for 20 minutes.