I was talking to a cardiologist recently about how he teaches his patients to lose weight. I'm going to start with a couple paragraphs from a post last year (Nutritious Gluten Free Sandwich Bread June/2014) and then share what he said to me.
There isn't any one diet that is right for everyone but finding the right balance of the proteins, fats, grains and sugar (carbohydrates or 'carbs') you consume is right for most people. It's not difficult to understand what this balance is for your body once you start thinking about it and paying attention to how you feel.
When you set out to lose weight, you are asking your body to go into its fat storage. There are two things that have caused there to be too much stored fat and that will keep you from achieving your goal. One is if you are eating the wrong amounts of grains and sugar. Grains and sugars are converted by the body into fat and excessive carbohydrates will be added to the stored fat. The second thing is too many calories. Only eating nutritious food doesn't make it okay to eat as much healthy grains, organic fruit, nutritional sugars – such as honey, maple syrup, agave syrup and coconut sugar – as you would like to eat.
You have to have carbohydrates. Your brain can't think without sugar. The carbs released from grains and nuts release slowly into the bloodstream and keep your energy level stable. So if you go on a low carb diet and are not getting enough healthy carbs, you will suffer the same cravings and tired symptoms as you did when you were eating too many carbs causing you to give up on the new diet. It's a balance you are trying to find for your body.
The cardiologist said to focus on the trigger that takes place between your body using some of the stored fat for its energy or using only the carbs you are eating. He said the body will always go for the carbs if they are there but when there isn't enough the trigger flips and it starts to use the stored fat. Notice it doesn't go for the fat you just ate. Low fat diets didn't work because that's not how the body works. The focus is on whether it's going to use stored fat or the carbs you just ate. This doesn't mean you can eat three avocados, a cup of nuts, or too much of any fat because these added calories will become stored fat so you are paying attention to how much fat you are eating in a day, but it's not what you need to be focussed on.
To get your body to flip the switch to using some of the stored fat you want to get rid of, you are going to have some carbs at breakfast, less for lunch and no more carbs for the rest of the day, making sure to have a healthy snack like a small handful of nuts mid afternoon so your blood sugar stays okay. The doctor recommended that dinner be just protein and leafy green vegetable, like spinach and kale, as a salad or hot vegetable.
Figuring out the correct amount of carbs is the trick to finding the balance that is right for your body whether you are losing weight or just want to be healthy. You can't cut back too much on carbs. You need complex "good" carbs — whole grains, vegetables, beans, legumes — in your diet for energy, digestion, metabolism, sleep, fiber, brain and nervous system function (www.onegreenplanet.org "Here's Why You Need Complex Carbs"). As far as the carbs you eat while dieting, cut back on simple sugars as much as you can, including the healthy ones, and only get your sugar from complex carbohydrates.
A great way to maintain your weight and as part of a nutritious diet is to eat a lot of salads. As of this post, there are 32 salads on this website to give you all kinds of ideas for feeling your best. Enjoy!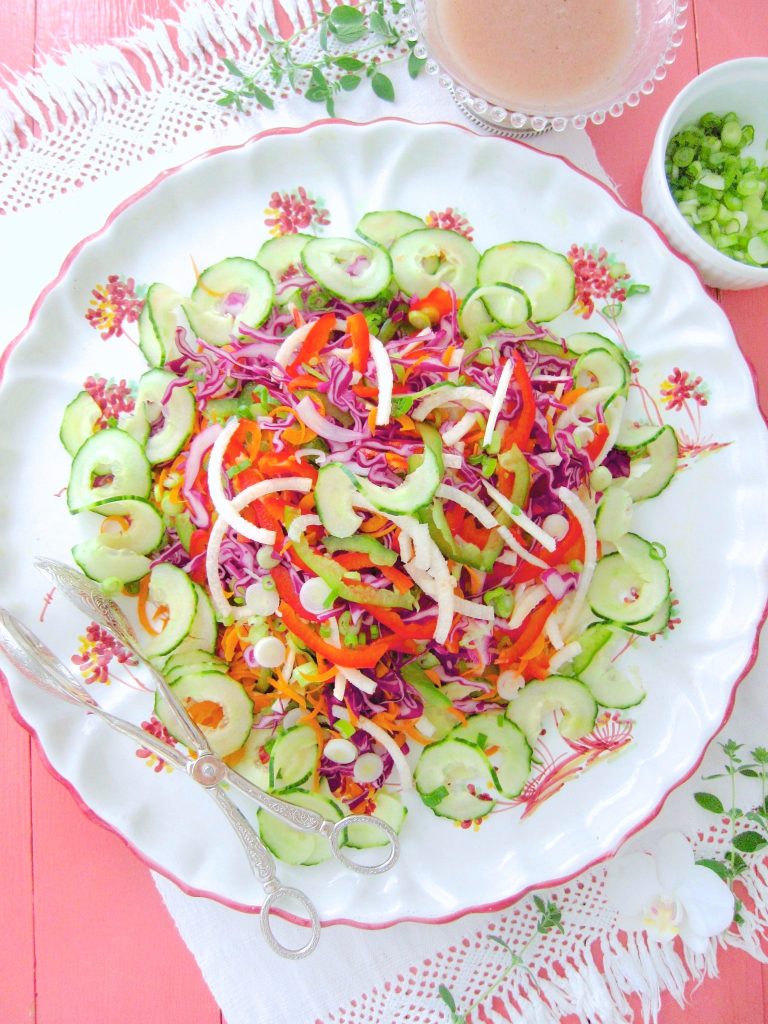 Rainbow Cole Slaw
Ingredients
red cabbage, sliced thin
English cucumber sliced thin
green pepper, sliced thin
red pepper, sliced thin
jicama, sliced thin
carrots, sliced thin
green onions, sliced thin
Instructions
Arrange raw vegetables on a plate. Drizzle everything with dressing.
Dressing
Ingredients
1/2 cup grape seed oil or light olive oil*
1/2 cup red wine vinegar
1 – 2 tablespoons honey
1 1/2 teaspoon salt
1/2 teaspoon pepper
1 large clove garlic
Instructions
Measure all ingredients into a jar and shake until well blended.
*Trader Joe's Trader Grotto's Sicilian (cold pressed) Extra Virgin Olive Oil is a blend of three olives from Sicily, packaged in Italy in a beautiful bottle. It's light and delicious. Store it in the dark and use up within a month.