Glazed Salmon With Caramelized Red Onions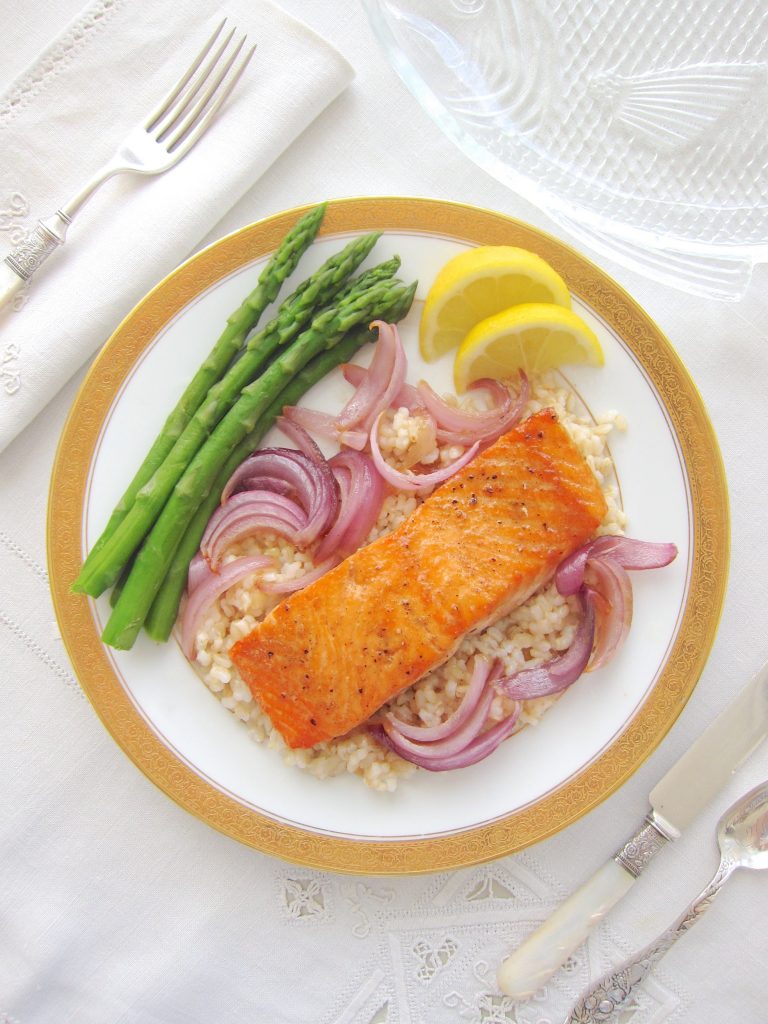 Glazed Salmon
Ingredients
2 6 ounce pieces of salmon
1 tablespoon brown sugar
1 teaspoon salt
1/4 teaspoon pepper
1/4 teaspoon cumin
1/8 teaspoon dry mustard
pinch of cinnamon
coconut, avocado or light olive oil*
1 round red onion, peeled and cut into wedges
lemon wedges
Instructions
Rinse salmon and pat dry with paper towel. Mix the sugar and spices in a small bowl and rub on the top of the salmon. Heat the oil in an oven proof skillet. Place salmon rub side down in skillet. Let it sizzle for 2 minutes or until nicely browned. Turn salmon over and place in a 350 degree oven for 12 -15 minutes depending on the thickness of the salmon.
Add the onions to the skillet with more oil if needed. Sauté until caramelized.
Serve on a bed of rice (recipe below) with the onions and lemon wedges.
If you like your fish fully cooked, you want it to reach the point where it's no longer solid and is flakey when you test it with a fork. Don't over cook or it will be tough.
If your fish comes with skin, it can be left on. However, there is a grey layer of the fish that may have a taste that bothers you. I prefer to remove the skin so I can remove all of this grey layer of the fish.
*Trader Joe's Trader Grotto's Sicilian (cold pressed) Extra Virgin Olive Oil is a blend of three olives from Sicily, packaged in Italy in a beautiful bottle. It's light and delicious. Store it in the dark and use up within a month.
Easy Brown Rice
To cook rice, fill a saucepan with a tight fitting lid three quarters full with water and bring to a boil. Rinse the desired amount of rice with water using a sieve. Once the water is boiling, add the rice. Let the rice boil uncovered for 35 minutes, then remove from heat and drain all the water out. Put the lid on the saucepan and let stand for 5 to 10 minutes. Remove lid, sprinkle the rice with a half teaspoon of salt and fluff the rice with a fork.