If you are watching your carbs or are having a guest over for dinner who is watching their carbs, this is a real treat.
As I was looking at recipes for a cauliflower pizza crust, most of them had you pulse the cauliflower in a food processor, steam it, then put it in towel or cheesecloth and squeeze it dry. So when I ran across a Chef Buck's video where he grates the cauliflower and puts it in a hot dry skillet for 8 to 10 minutes to let off steam, I was intrigued. Also most recipes call for a soft cheese in the crust and he said to use a hard cheese. He called it the "Best Cauliflower Pizza Crust" and he said it would really taste like pizza. So I gave it a try and we all took a bite and said, "Wow!"
The link to his video is below. He uses a hand grater but I used a food processor with a grater attachment which he also said you could use. His dry skillet method is simpler and not as messy. I plan to try using the food processor pulse method rather than grating because it would be simpler and less messy as well.
Having made this a few times now, I realized that the most important thing is the thickness. If it is over 1/3″, it gets doughy. I made it too thick by packing the measuring cup too tight and I've also made it too thin by under filling the measuring cup.
http://www.myfoodchannel.com/cauliflower-pizza-crust/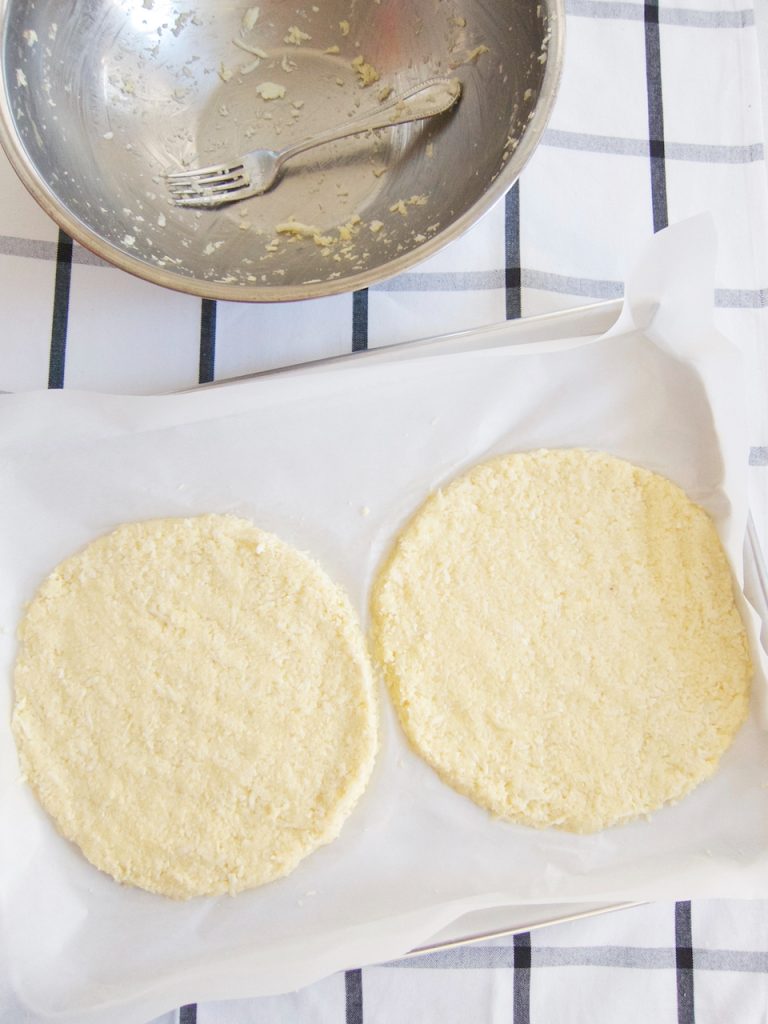 Cauliflower Pizza Crust
Ingredients for 1 10″ pizza
2 cups grated cauliflower florets (fill the measuring cup so there are no spaces but don't pack it too tight or the crust will be too thin or too thick and 'doughy)
1 cup freshly shredded parmesan cheese, asiago or other hard cheese
1 egg

You can add a little salt, garlic powder and oregano to flavor the crust if you don't have these flavors in your sauce or topping.
Sauce Ideas
Hunts Tomato Sauce with basil and oregano or Trader Joe's Pizza Sauce
pesto sauce
Topping Ideas
mozzarella cheese
cut up pepperoni
cooked regular or spicy Italian sausage (remove casing and break into small pieces to cook)
sliced mushrooms cooked with garlic in butter and lightly salted
fresh basil leaves
Instructions
Grate the cauliflower using a food processor grating attachment if you have one. If you grate the stems there will be some larger pieces that you will want to remove. Heat cauliflower in a dry skillet. It will give off steam. Do this for 8 – 10 minutes without browning it. Remove from heat and cool slightly. Beat egg in a bowl. Add the cheese and cooled cauliflower and mix together to form a ball.
Cut a piece of parchment paper (a must, or pizza will stick to pan) to fit a large cookie sheet. Place balled cauliflower onto parchment paper and spread out into a 10″ round 'crust' keeping the crust under 1/3″ (1/2′ is too thick), pushing the edges in with a fork so that the thickness is all uniform, the edges as the same as the center. This is so the edges won't burn.
Place crust into a 400 degree oven for 20 to 25 minutes or until the crust had firmed up and is browning. Remove from the oven, add toppings, return to oven and cook another 10 minutes.
Remove pizza from oven. Slide the parchment with the pizza on to a wood cutting board. Let cook slightly, then cut into slices with a knife or pizza cutter.