Nut Crackers and Sun-Dried Tomato Dip
Nut Crackers
Ingredients
1 1/2 cups almond flour or cashew meal
1/2 teaspoon salt
1/4 to 1/2 teaspoon pepper (to taste)
1/4 teaspoon garlic powder
1/4 teaspoon onion powder
2 egg whites
avocado oil
Instructions
Tear off two pieces of parchment paper and cut to fit a large baking sheet. Place them on the counter and spread the oil in the middle of each piece, leaving a 3″ border without any oil on it.
Place the egg whites in a medium bowl and lightly beaten. Add the remaining ingredients and mix together using the fork.
Gather the mixture together and place it on one of the parchment papers. Spread the mixture into a 8″ by 10″rectangle using a fork. Lay the other parchment over the mixture, oil side down, and use a rolling pin to roll out to 1/8″ thick. Remove paper, and using a knife trim and refit mixture to make straight sides and replace paper and smooth out with rolling pin to smooth out the top. Remove the top paper and transfer to the baking sheet. Using a pizza cutter or knife, make 5 scores down and 7 score across without cutting all the way through.
Bake in a 325 degree oven for 15 minutes. Turn the oven off and with the door closed let them dry out for 5 to 13 minutes until lightly browned. Keep an eye on them so they don't get too dark. If using cashew meal, they can be a little dark. The almond flour crackers are nicer with just a little browning.
Break apart and cool on cookie racks.
Store in an air tight container.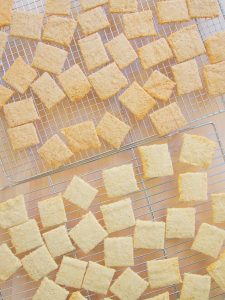 Garlic and Sun-Dried Tomato Dip
Ingredients
16 ounces plain yoghurt*
1 teaspoons garlic, minced
3 tablespoons oil-packed sun-dried tomatoes, chopped
1/2 teaspoon basil, hand rubbed**
1/2 teaspoon oregano, hand rubbed
Instructions
Mix all ingredients and refrigerate.
*Labneh (strained yogurt) makes a thicker dip that won't get watery. Spoon the yoghurt on to the cheesecloth and let it drain overnight in the refrigerator.
**To hand rub an herb, place it in one hand and rub hands together turning herb into a fine powder as you add it to a mixture.
Cracker recipe is adapted from MyLifeCookbook
Dip recipe is adapted from MyLifeCookbook