Holiday Kale Salad With Creamy Rosemary Dressing
A couple weeks ago on my way to an appointment I was going down Chain Bridge Road in Vienna, Virginia, and passed by the most beautiful fall display I'd ever seen. I turned around at the next opportunity to go back to look at it. It was DePauls Urban Farm, a family owned and operated nursery with lovely home decorations and local produce and specialty foods. Everything was wonderfully arranged and it felt so nice just to walk around and look at everything.
Grandpa and Grandma Raymond and Blanche DePaul lived in the charming home on the property starting in 1922. At that time is was a horse farm. After the horse business needed to be moved to a larger location, Cox Farms used the DePaul property for many years as a produce and plant stand before closing and consolidating everything to their 116 acre working farm in Centerville. In addition to a market with their own label and other local foods, they have farm animals, huge slides, Easter egg hunts and hay rides for children. Because Cox Farms had been so successful in Vienna, as they moved on the next generations of DePauls decided they would continue with the nursery and produce stand adding a few new ideas of their own. They are very talented and have made it a very special place.
Inspired by the visit, this salad was made with the honey and apples sold at DePaul's Urban Farm. Chopped kale salads are very healthy and have been very popular for awhile now. Most grocery stores are carrying ready made kale salads that include a creamy dressing which are tasty but like most bottles dressing, not that healthy. I did a post with kale and cabbage with fresh cherries and pumpkin seeds a few years ago. Brussels sprouts was a new edition to the store bought salads and I felt it was time for a new version. This one, flavored with a hint of rosemary and orange peel, would be delicious as a side to a turkey dinner, and leftover cold turkey pieces on the salad would also be great.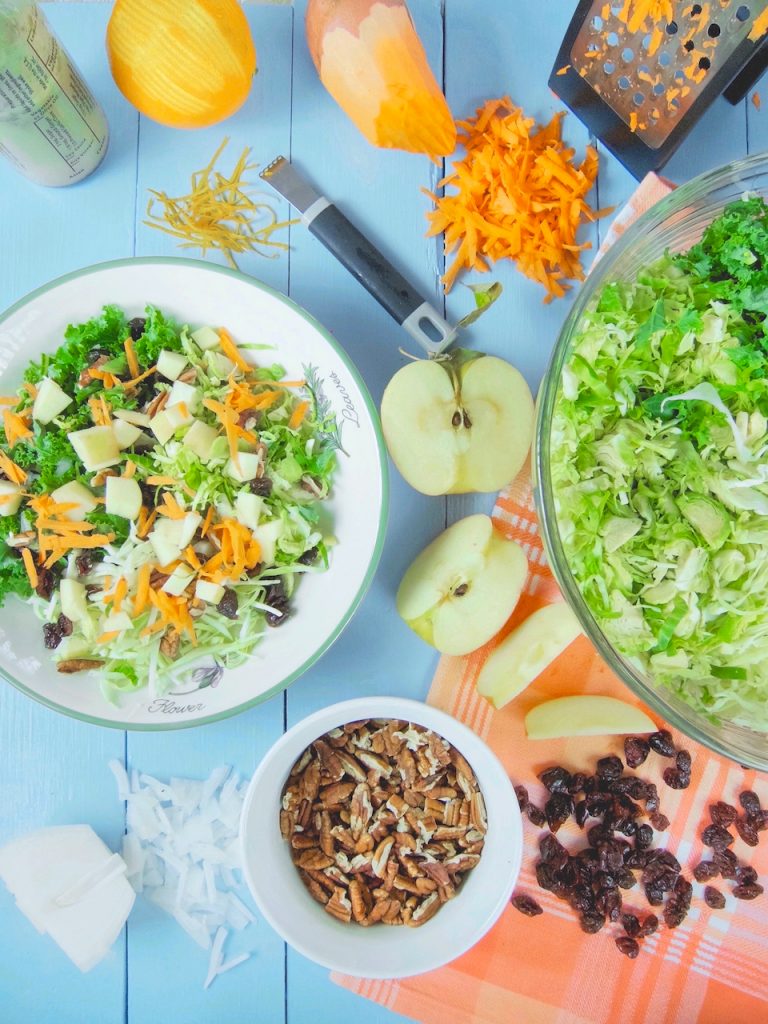 Holiday Kale Salad With Creamy Rosemary Dressing
Salad
Ingredients
5 large kale leaves, center rib removed and chopped
16 ounces Brussels sprouts, sliced
1/2 small green cabbage, sliced
diced unpeeled apples
grated raw sweet potato
sliced sweet onion*
dried cranberries
toasted pecan pieces
orange zest, sliced in small pieces
Instructions
Arrange kale, brussel sprouts and cabbage in a bowl or on a large platter. individual dishes. Sprinkle with apples, onion, cranberries, pecan pieces and orange zest to taste. Drizzle with dressing.
*You can soak the onions for 10 minutes or pickle them for 15 minutes to temper the bite of the raw onion and possibly make them easier to digest if you have problems with raw onions.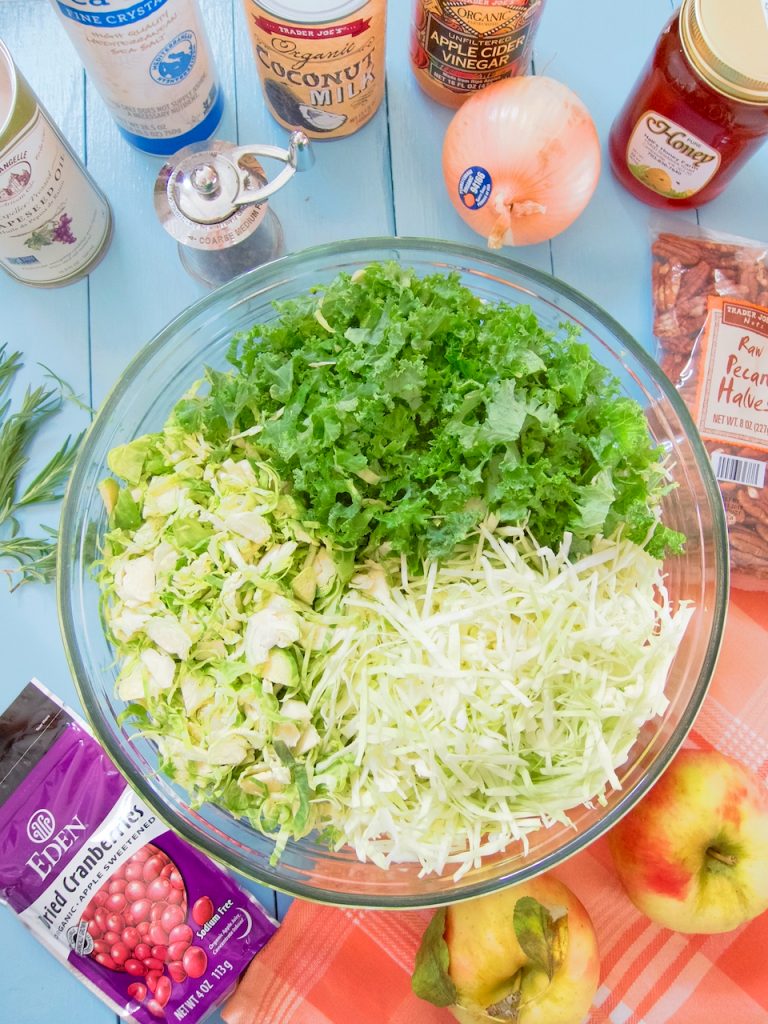 Dressing
Ingredients
1 cup grape seed oil or light olive oil*
1/2 cup coconut milk (**instructions below for coconut milk without guar gum)
6 tablespoons cider vinegar
3 tablespoons honey
2 teaspoons chopped fresh rosemary
1 teaspoon salt
1/2 teaspoon pepper
Instructions
Measure all ingredients in a jar or bottle and shake.
*Trader Joe's Trader Grotto's Sicilian (cold pressed) Extra Virgin Olive Oil is a blend of three olives from Sicily, packaged in Italy in a beautiful bottle. It's light and delicious. Store it in the dark and use up within a month.
**If you are using coconut milk without guar gum, when you open the can you will see that the creamed coconut meat will be separated from the coconut water. Heating it will enable you to blend the two together to make the milk. To make the dressing you will need to make a slightly warm dressing, measuring the heated coconut milk and adding it to all the other ingredients which have been slightly warmed in a saucepan, then shaking them together in a jar or bottle.