Lettuce Sandwich With Salmon and Pesto
Lettuce Sandwich With Salmon and Pesto
Ingredients
lettuce of choice
cooked and chilled seasoned wild salmon (recipe below)
grated red cabbage
grated carrots
sliced green onions
cold cooked white Basmati rice
sliced avocado
salt to taste
pesto (recipe below)
Instructions
Lay lettuce on a plate and arrange salmon, cabbage, carrots, onions, rice and avocado down the middle. Season with a little salt. To serve, drizzle with pesto, and if you are using romaine or green leaf lettuce, bring the sides of the lettuce up, folding the leaves over each other, and eat like a taco.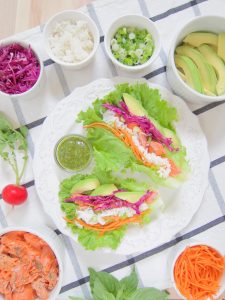 Herbed Salmon
Ingredients
1 – 1 1/4 pounds of wild salmon (long piece*)
olive oil
salt
garlic powder
dried parsley
dried basil
Instructions
Rinse and dry salmon and place in a casserole and drizzle with oil spreading it with your fingers. Lightly sprinkle with salt, garlic powder, dried parsley and basil. Bake in a 350 degree oven for 16 minutes. Keep and eye on it. Wild salmon, more so than Atlantic salmon, gets very tough and flavorless if it's overcooked. You want it nice and tender.
*Salmon is cut through the middle horizontally, bones removed and then either cut across into 3″ fillets, or they package it in the long pieces.
Pesto
Ingredients
1/3 cup pine nuts
1/2 cup olive oil
1 1/2 lightly packed cups basil leaves
1 clove garlic, sliced
1/2 teaspoon salt
Instructions
Put pesto ingredients in food processor and process/pulse just enough so you can still see the pieces of basil and finely chopped nuts.