All you need to know about root-to-stem cooking can be summed up pretty quickly. We've been snapping off, cutting off and throwing away part of vegetables that we thought we weren't supposed to eat, and there is a root-to-stem movement that is re-educating us and offering great recipes for the 'scapes' we've been discarding, some of which, it turns out, have more nutrition than the part of the vegetable we've been eating. Someone mentioned that she saves vegetable parts in the freezer until soup day. What a great idea! Brown the scrapes with onions, add water and simmer. You won't be being wasteful anymore and you will save on your food budget and have fun with new recipe ideas.
Steaming is an easy, simple way to cook all the parts of vegetables. And what you don't want to steam, you can save for the vegetable broth. Vegetables are delicious steamed then served with a sprinkle of salt and some butter or olive oil. Cooking greens this way is turned into something fun by adding the stems or ribs that, if you're like me, you've been throwing away not realizing they were not only edible, but tasty. Give tougher stems a head start in the steamer, then add the more tender leaves. Kale stems/ribs and leaves cook the same and also collard stems/ribs and leaves. The cooking times are all different depending on how tender the greens and stems are.
Rainbow swiss chard is loaded with nutrition — fiber, vitamins A, C, E and K, iron and phytochemicals.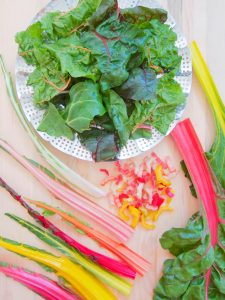 Root-to-Stem Swiss Chard
Ingredients
1 bunch swiss chard
butter
salt
Instructions
Using a knife, cut down the sides of the middle ribs of each leaf. Break the leaves in 3″ to 4″ pieces. Slice the ribs in 1/4″ pieces. When water is boiling in steamer add the cut rib pieces. Cover and steam for 3 minutes. Remove lid and add the leaves. Cover and steam until desired tenderness. Check at 5 minutes to see if it's done, then check again every couple minutes after that. Serve sprinkled with salt and with a dollop of butter or drizzled with olive oil.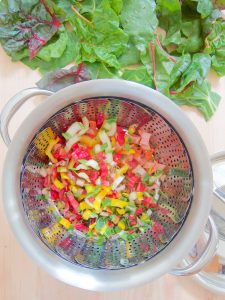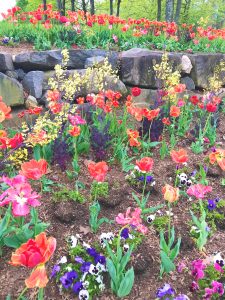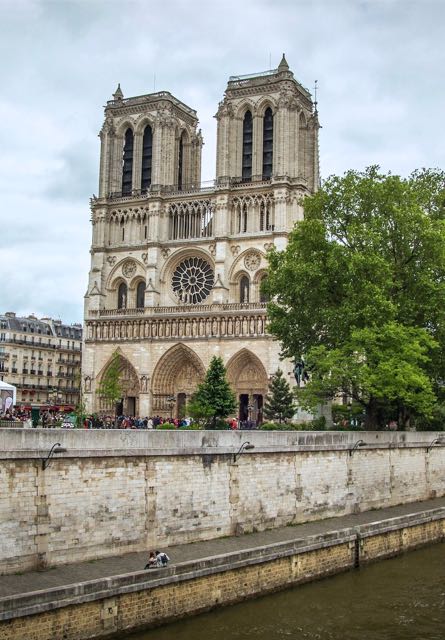 "On the third day He rose again from the dead…"
'Our Lady of Paris' will also rise in glory from her ashes.
Photo of the front of Notre Dame Cathedral by PIVISO
Photo of crucifix and candles at Notre Dame Cathedral by Steve Collis
Photo of alter with Mary and scenes of Jesus' death and burial under her at Notre Dame Cathedral by Shaherald Chiac
Photo of gold cross with Mary at the foot of it holding Jesus in her lap at Notre Dame Cathedral by Dennis Jarvis