Cabbage and Carrot Salad With Cranberries, Mint and Almonds
This is a very pretty salad with an interesting blend of flavors that I adapted from a "Coleslaw" recipe in a recent Fine Cooking magazine. I made several changes to the original recipe, i.e. white balsamic vinegar instead of lemon juice because it's my favorite for sweet salad dressings. I used both green and red cabbage and a little radicchio for color. And the original recipe called for 1/2 teaspoon cumin and 1/8 teaspoon cayenne which I tried but I didn't care for so decided to do something different. I changed the cumin and cayenne to 1/2 teaspoon cinnamon and was much happier. I also tried a 1/2 teaspoon of Garum Masala instead of the cinnamon and thought it was also blended well with the other flavors.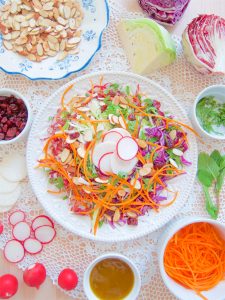 Cabbage and Carrot Salad With Cranberries, Mint and Almonds
Salad
Ingredients
Use any amount of each of the salad ingredients. The only thing I suggested was to go easy on the radicchio since it is very bitter. Make more or less dressing depending on the size of the salad.
green cabbage, sliced thin
red cabbage, sliced thin
a small amount of radicchio and dandelion greens (these can be very bitter), sliced thin (optional)
carrot, julienned
mint, rolled and sliced thin (chiffonade)
sliced almonds, lightly toasted
dried cranberries
Instructions
Arrange salad ingredients on a plate and sprinkle with dressing.
Dressing
Ingredients
1/3 cup olive, avocado or grape seed oil
1/2 teaspoon salt
1/4 teaspoon pepper
Instructions
Measure ingredients into a salad dressing bottle or jar and shake until well blended.