Chicken Salad With Lime, Microgreens and Grapes
This week I ran into a display with samples to try of something new at Whole Foods. (Surprisingly) delicious microgreens.
New Day Farms is calling microgreens "the new culinary frontier" of "endless possibilities," pizza, salads, smoothies, tacos, burgers, sandwiches, soups and toppings. It comes in sunflower and beet, sunflower and kale, sunflower and radish, sunflower and basil and just sunflower. "Microgreens are not sprout or baby green. They are the second stage of a vegetable of herb that is between the two, where nutrients are at their highest concentration."
Unlike sprouts grown in jars, microgreens "are soil grown under sunlight to ensure the highest level of vitamins, minerals, antioxidants and flavor."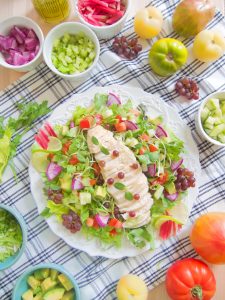 Chicken Salad With Lime, Microgreens and Champaign Grapes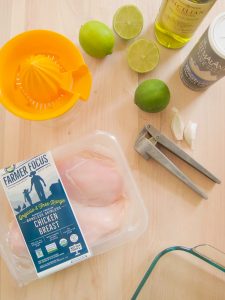 Marinated Chicken
Ingredients
2 chicken breasts
1 tablespoon olive oil
2 garlic cloves
2 teaspoons salt
1/4 cup lime juice
Instructions
Mix the oil, garlic, lime juice and salt in a small bowl and pour into a pyrex dish. Slice chicken breasts through the middle to make them thinner and place them on the marinade flipping them over to cover. Place in fridge for 1 hour.
Heat a large skillet. Add the chicken pieces and cook for 4 minutes, turn over and cook another 4 minutes. Cool and slice.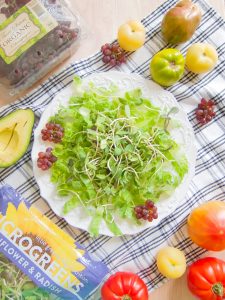 Salad
Ingredients
romaine
microgreens
diced tomatoes
sliced daikon, watermelon or other radishes
diced avocado
diced celery
diced cucumber
sliced green onions
champaign grapes or other grapes
Instructions
Arrange the amount of each of the salad ingredients that you prefer on a plate and drizzle with dressing.
Salad Dressing
Ingredients
1/2 cup olive oil
3 tablespoons lime juice
1 tablespoon honey
1 garlic clove, minced
1/2 teaspoon salt
1/4 teaspoon pepper
Instructions
Measure all ingredients into a jar and shake until blended.