Broccoli Casserole With Bread Crumb Topping
An original comfort food from half a century ago that has remained a favorite for generations, broccoli casserole, like the green bean casserole, was made (and many of the recipes online still are) with canned soups like cream of chicken and cream of mushroom, mayonnaise, and American cheese or Velveeta cheese. These casseroles were so popular they became a traditional part of a Thanksgiving meal.
Since then, we have learned to shop around the edges of the store if we wanted to be healthier. Luckily it was not difficult to convert these cherished casseroles into healthier versions.
Also like the green bean casserole, there are many different versions of broccoli casserole on the internet. They can be made with milk, half and half or heavy cream or a mixture of these, adjusting the amount of flour to get the right thickness of the sauce. There are also custard versions where the cream is thickened by blended in eggs. You can also use most kinds of cheeses. Cheddar pairs with broccoli very well. I tried a few different kinds of cheese and learned that the cheese you use defines how this casserole is going to taste. It has to be a good tasting cheese that is right for a broccoli casserole.
This video by America's Test Kitchen will teach you some things about cheese like the more aged cheeses may not melt as well. They have a display of extra sharp cheddar cheeses, most of which have a strong and tangy taste and are great for snacking and tacos and grilled cheese sandwiches. But for mac and cheese and for this recipe which have a mornay sauce, if you use one of these strong, tangy cheeses, the sauce will taste tangy. Their overall top pick, Cracker Barrel's Extra Sharp, has a lot of flavor but is a mellow cheese. If you do your own taste testing, you will be surprised how very different all the cheddar cheeses taste.
Many recipes online add a little touch of something different. You could try adding a couple teaspoons of mustard or a spice like nutmeg or an herb. Adapting recipes to your particular taste is a lot of fun so do your own thing and enjoy!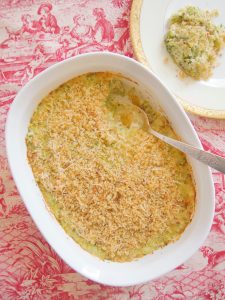 This dish tastes better made the day before.
Broccoli Casserole With Bread Crumb Topping
Ingredients
2 medium heads of broccoli (about 6 cups when cooked and chopped)
1 medium leek, white and light green parts only (slice down the middle, rinse in between all the layers, slice down the middle of each half and slice thinly, removing the dark green parts)
5 tablespoons butter, divided
1 teaspoon salt
1/2 teaspoon pepper
3 tablespoons flour
2 cups half and half or whole milk
1 3/4 cups mellow tasting cheddar cheese (like Cracker Barrel's Extra Sharp Cheddar which says it's sharp but it's mild), grated (If the cheese has a tangy taste, which a lot of cheeses have whether they are medium or sharp or extra sharp, the sauce will taste tangy.)
1 1/3 cups fresh bread crumbs
Instructions
Cut off broccoli florets and peel the stem and cut in half or quarters if they are large. Steam the broccoli for 8 to 10 minutes or until completely tender but not mushy. Place on a cutting board and chop. Transfer to a 2 1/2 quart casserole.
Melt 3 tablespoons of butter in a skillet, add the leeks and sauté 5 minutes stirring often (don't let brown). Add the salt, pepper and flour and cook 1 minute. Stir in the half and half and cook until the sauce bubbles and thickens stirring often, about 5 minutes. Remove from heat and stir in 1 1/2 cups cheddar cheese. Set aside.
Melt the remaining 2 tablespoons of butter in another skillet and add the bread crumbs, stirring until they are coated. Cook stirring often until lightly toasted, about 4 minutes. Set aside.
Fold the leek and cream mixture into the chopped broccoli. Mix the remaining 1/4 cup cheese with the crumbs. Sprinkle the bread crumb mixture over the broccoli. Bake in a 350 degree oven for 30 minutes. Remove from oven, cool and refrigerate overnight.
Cover with a lid or foil and reheat in a 350 oven for 20 minutes or until hot.
*Grate stems for salads.